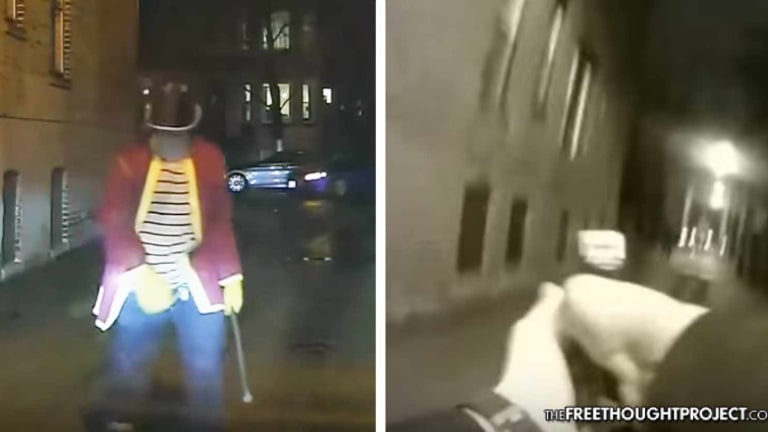 WATCH: Cops Forget Tasers, Use Deadly Force Instead, Shoot Mentally Ill Student Holding a Pipe
Police shot a 21-year-old student from the University of Chicago Wednesday night and in an unprecedented move, they immediately released all the video from the shooting.
Chicago, IL -- Dramatic body camera footage was released late Wednesday night of an officer-involved shooting of University of Chicago student. The student was in an apparent diminished mental state and was holding a metal pipe when the University Police Officer opened fire.
According to authorities, police were responding to a disturbance call of the 21-year-old college student, identified as Charles Thomas, breaking windows with the pipe.
As the Chicago Tribune reports, three U. of C. police officers responding to a call of a burglary in the 5300 block of South Kimbark Avenue encountered a man — later identified as Thomas — breaking car and apartment windows with a long metal pipe, university officials said in an email to students.
According to police Thomas lives in the neighborhood in which he was shot.
When police arrived on the scene, Thomas began walking toward the officer with the pipe in his hand, university President Robert Zimmer and Provost Daniel Diermeier explained in an email.
"Sir, I'm going to need you to drop that weapon. Drop that weapon," the officer is heard saying on a police video supplied by the university. "Don't come at me! Don't come at me!"
However, Thomas -- clearly out of his mind at the time -- continued to advance toward the officer. As the body camera shows, the officer is employing what is known as a "tactical retreat" which is a practice designed to put space between the officer and the suspect in order to give the suspect time to respond to commands.
As the officer backed up, however, Thomas sped up and that's with a single shot was fired -- severely wounding the student.
Although the University is not commenting on Thomas' mental state at the time of the shooting, it is clear from the video that he was not in his right mind. The responding officers agreed.
In the video, an officer can be heard saying, "Twenty-one, mental. He's a mental."
According to police, this officer was trained in crisis intervention and carried out his training exactly how he was supposed to.
As the Tribune pointed out, the university also confirmed the officer, who has been on the force for two years, fired once, which is consistent with his training to shoot to end the threat. The officer involved has had 40 hours of crisis intervention training and eight hours of mental health first aid training.
"This is a difficult incident for our community, and our concern is with all of the individuals involved and their families," Zimmer and Diermeier said in the email issued by the university. "Maintaining our community's safety, security and well-being is of paramount importance. Support services and resources for students will be provided by the college and Campus and Student Life."
According to university spokeswoman Marielle Sainvilus, this is the first shooting involving a U. of C. police officer in the agency's entire four-decade history.
After he was shot, Thomas was rushed to a nearby hospital in critical condition. He is now facing criminal charges in connection with the shooting, including felony aggravated assault of a peace officer and two counts of felony criminal damage to property, according to Chicago police. He also faces multiple misdemeanor counts of property damage.
Although the university is claiming that the officers did everything by the book, the video shows that police likely had other options.
Three officers had Thomas surrounded, why didn't any of them attempt to take him out from behind using non-lethal force? Thomas walked right past two officers before the third fired his gun, why didn't either of them deploy a taser, or pepper spray, or a baton?
What do you think, was the officer justified in shooting the 21-year-old student? Let us know in the comments below.
Body camera:
Dash camera: