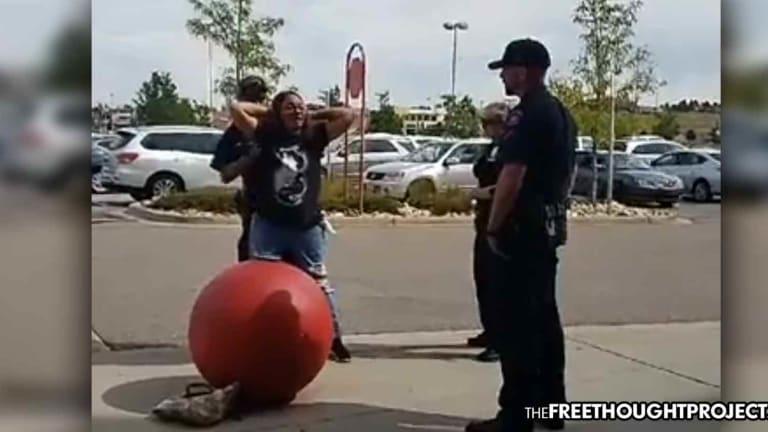 Cops Grope, Humiliate Innocent Pregnant Woman at Target for Trying to Use a $1.50 Coupon
An innocent pregnant woman was detained by police and publicly groped after asking to speak to a manager about a $1.50 shampoo coupon.
Aurora, CO — A video shared with the Free Thought Project this week shows how trying to save $1.50 on shampoo can and will lead to your subsequent detainment and humiliation by police. As the video shows, being innocent and pregnant is no protection from public groping and humiliation.
On Friday, Jazzmin Downs was doing some shopping at Target when a dispute over a coupon led to officers detaining her and groping her in search of a non-existent gun.
"I was never a threat," said Downs to 9 News as she recalled the Aurora Police officers publicly groping her. "There was never any concern of me having a gun, but you see my hand in my pocket, and you yelled gun, and you guys rushed me."
According to Downs, she was attempting to use a $1.50 coupon for Dove shampoo that she had printed out online. The employee told her that they do not accept coupons like this which prompted Downs to ask for a manager.
Downs explained that the manager couldn't have cared less about the coupon, didn't even look at it, and told her to leave the store. When Downs asked why they were denying her service, the manager called police.
A Target spokesperson described Downs as "angry and aggressive," but Downs said she was merely being defensive. Downs said she walked out of the store on her own and started to call the corporate number for Target.
As 9 News reports:
She said she was outside for several minutes before one police officer showed up, and said they had a calm conversation, and he even joked about needing coupons because dog food was expensive.

While he went inside to talk to employees, she said she waited by his squad car.

Several minutes later, she said four more officers showed up.

During this time, Downs said she still had corporate Target on the phone, her purse under one arm, and her other hand in her jeans, holding them up because she's had to unzip them during her pregnancy.

She said she spoke with the officers for several minutes, and then one seemed to take notice that her hand was in her pocket.
"I was still explaining to them what was going on and then he yelled at me stating get my hand out of my pocket and I look at him confused," she said. "When I took my hand out of my pocket, I took the lining with me to show him there was nothing in my pocket, and I put my hand up. Well that wasn't obviously good enough for him and he yelled that they had to search for a gun."
As the video shows, the officer proceeded to treat the pregnant woman like a criminal, demanding she put her hands in the air while groping her. The officer then pushed in on Downs' belly prompting her to react in protest.
"I am four months pregnant and you are shoving in on my baby," Downs says through tears. "I did nothing wrong."
Once they realized that Downs was not the violent robber they accused her of being, she was allowed step away. The officer then attempted to justify the public humiliation by claiming her hand in her pocket made him fear for his life.
"All I want is an answer as to why they did what they did," she said. "They violated me as a human. They violated me as a mother. They violated me as a pregnant woman. They violated me just in general for no reason and they had no explanation but we were in fear of you or you made me nervous."
Showing the entirely unnecessary nature of Downs' treatment, at the end of the video, the officer tells the expectant mother that she didn't know why they were even there.
"We just came here; we have no idea what had happened," the officer said. Yet they still felt it necessary to humiliate the pregnant woman.
When asked about the incident, Aurora police said the officers responded appropriately but will look into the policy of how they pat down pregnant women in the future.
Bitch ass Aurora police department!!!!! Please share!!!! I was there the whole time so for the people assuming shit keep your bullshit comments to yourself. She did nor was trying to do anything illegal!!! Just a young black girl in a racist world!!! This happened at Target 15700 E Briarwood Cir, Aurora, CO 80016 apparently my video has been stolen so I need to let it be known that I OWN ALL RIGHTS TO THIS VIDEO!! ME TIFFANY GOODLOE

Posted by Tiffany Goodloe on Friday, August 23, 2019