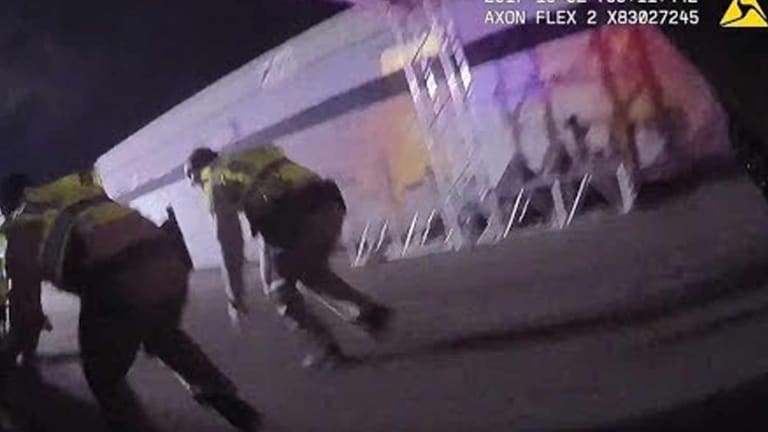 Pure Chaos: Las Vegas Police Release First Body Cam Footage from Shooting
The first body camera footage has just been released by Las Vegas Police. It shows the sheer chaos and terror at the scene as they search for the shooter.
Las Vegas, NV — The Las Vegas Metropolitan Police Department has released the first body camera footage from the horrific massacre that left 59 people dead and more than 500 injured.
In the footage, police are seen huddled down by a wall. To show just how chaotic it was, the wall they thought they were taking cover behind, was actually facing the shooter.
"That wall faces Mandalay Bay and they are hunkered down behind that wall after the initial volley of shots," and LVMP spokesperson said.
As confusion and over where the shots are coming from mounts, police are then seen telling civilians to run away from their position.
As the video progresses, the short clips released by police show they appear to figure out where the shots are coming from and then take protective actions.
The footage was released Tuesday night during a press conference with the LVMPD. It was compiled from several body cameras worn by law enforcement at the scene. Police said they are still going through a significant amount of footage from the incident, according to RT.
During the latest press briefing, Undersheriff Kevin McMahill revealed that the shooting lasted up to 11 minutes and involved more than a dozen volleys of gunfire.
Prior to releasing the body camera footage on Tuesday, images were released by a local Boston news outlet that were allegedly taken from inside the hotel room used by Stephen Paddock to murder so many people.
As ZeroHedge reports:
Somehow, Boston 25 News has obtained exclusive photos from what they describe as "police sources" purportedly showing the guns used during Sunday night's massacre in Las Vegas, where a 64-year-old shooter with a room full of weapons fired on a country music festival from the 32nd floor of the Mandalay Bay casino and resort, killing 59 people and injuring more than 500.
Boston 25's Jacqui Henrich obtained the photos early Tuesday morning, and they clearly show the gun on the floor of the Mandalay Bay hotel room, along with many rounds of ammunition.
A hammer that was presumably used to break the windows of the room, which was on the 32nd floor, can be seen beside the gun. The bipod used to stand the weapon on as the shooter sprayed the crowd with bullets is also in view.

Las Vegas police said the shooter, Stephen Paddock of Mesquite Nevada, had 23 guns inside his hotel room, including semiautomatic rifles. An additional 19 guns were discovered in his home in Mesquite, along with thousands of rounds of ammunition. Meanwhile, explosives were found in his car, suggesting he may have been planning something even worse than the worst mass shooting in modern American history.

Paddock killed himself as police entered his hotel room, Boston 25 reported.

While none of the weapons in the photos are fully automatic arms, the "bump stock" that was used by the shooter to mimic automatic-weapons fire can plainly be seen attached to the butt of one of the shooter's rifles, as the Tribunist points out.

In another picture from the attacker's hotel room, multiple guns are visible.

* * *

In a development that only deepens the mystery surrounding Paddock's motives, NBC news is reporting that the man who will go down in history as the Mandalay Bay shooter lost a slip-and-fall lawsuit against a Nevada casino in 2014. He reportedly still owed $270 in court fees at the time of his attack.

Security video from the Cosmopolitan Hotel shows Paddock slipping and falling on Oct. 30, 2011, as he walked from a hotel shop towards a high-stakes area in the casino. Paddock said he had slipped in a puddle of liquid and sued the hotel in 2012, initially asking for $100,000, according to an attorney for the hotel.

Footage showing Paddock slipping and falling...

The lawyer met Paddock when he testified in a deposition for the lawsuit. Paddock enjoyed a special high-roller status with perks at at least one Vegas casino, the lawyer said, but he was unkempt in his appearance, looking slovenly and "bizarre" during the deposition.

However, the lawyer said there was "nothing about Paddock that would ever indicate someone who was unstable."

"This is not a guy that I would have looked at and thought, 'He's going to commit a crime one day."

Paddock's suit ended up in arbitration in 2014. According to the decision, Paddock reported incurring more than in $32,000 in medical bills, and also wanted to be paid for pain and suffering. Security video shows him getting medical attention and then being stretchered out of the casino.

"As a result of the fall," said the document, "Mr. Paddock allegedly sustained a tear to his hamstring as well as a sprain/strain injury to his wrist" and elevated blood pressure. The hotel maintained that Paddock had failed to prove negligence because "there was no actual or constructive notice of any liquid in the area of the sundry shop."

The arbitrator confirmed that the video does show Paddock slipping and falling, but also noted a custodian can be seen passing the same spot about a minute before Paddock's accident, followed by about 20 hotel customers, and none of them "appear to have noticed anything on the floor [or] tried to avoid a wet area."

According to Paddock's brother Eric, Paddock was a millionaire thanks in part to real estate holdings in California. Caesar's Entertainment had granted him a "Seven Stars" designation as a frequent gambler "with status" at its casino properties, according to a source familiar with the investigation. Seven Stars is the highest level that a high roller can achieve and is only granted by invitation.

In the weeks prior to his death, according to multiple senior law enforcement officials and a casino executive, Paddock had gambled large sums of money at Vegas casinos. Currency transaction reports show that Paddock had recently gambled more than $10,000 a day.