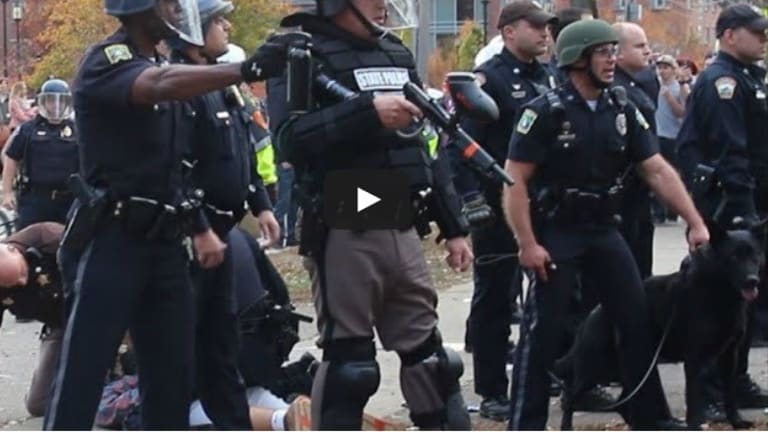 Riot Police Shoot At Houses In Keene And Attack Innocent Bystanders
"How many times did you need to punch me in the face?"
As we reported on Monday, a series of riots broke out over the weekend in Keene, New Hampshire during an annual college event that brings thousands of people into the town each year.
Compared to protests and riots that are tied to political and social movements, the police reacted to the mayhem with more restraint than would be expected.
However, a large number of people, many of whom were innocent, were still assaulted and injured by police this past weekend in Keene.
As rioters destroyed property in multiple residential neighborhoods, police were busy blocking innocent people from traveling and breaking up private parties.
In the video below, taken by activist Alex Moushey, police can be seen shooting pepperballs at residential houses, and attacking a man who was just walking down the street.
Long after the riots were over, police had set up checkpoints throughout the town, which prevented anyone in the area from traveling, even those who had no involvement in the riots.
In a video released this week, 3 young men are seen walking down the street when they encounter police. The police order them to go into their houses, and they respond by saying that they were hungry, and then they continue to walk toward their destination.
A large group of police immediately descend upon the three students and throw them to the ground, placing them in handcuffs. Cop Block activists followed the police as they carried the students to a large white van. As he is being arrested, one of the students can be heard shouting at the officer, "how many times did you need to punch me in the face?"
It is important to remember that while there were criminals on the streets committing crimes against property and individuals, that does not give the police the right to indiscriminately attack and arrest innocent people for being in the wrong place at the wrong time.
**Special thanks to Free Keene for providing on the ground coverage of the riots and police activity at this year's Pumpkin Festival.**
John Vibes is an author, researcher and investigative journalist who takes a special interest in the counter culture and the drug war. In addition to his writing and activist work he is also the owner of a successful music promotion company. In 2013, he became one of the organizers of the Free Your Mind Conference, which features top caliber speakers and whistle-blowers from all over the world. You can contact him and stay connected to his work at his Facebook page. You can find his 65 chapter Book entitled "Alchemy of the Timeless Renaissance" at bookpatch.com.