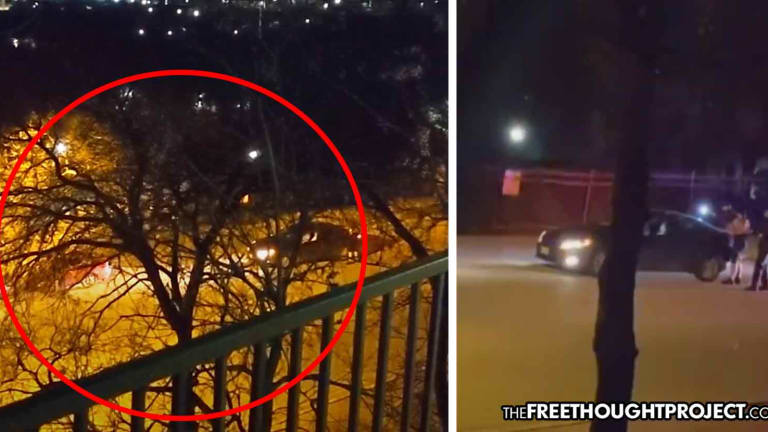 Road Rage? Off-Duty Cop Opens Fire from His Car, Shoots Mother & Father with Baby in Back Seat
In what appears to be a case of road rage, an off-duty cop opened fire on a family from his personal vehicle, killing the father and wounding the mother as their infant son sat in the back.
Austin, TX — Though police will not speculate, the video below of an off duty cop shooting a father and mother, appears to be an incident of road rage. An Austin man, Alexander Gonzales, 27, is dead after an interaction with an off-duty cop that started on a highway. The officer claimed Gonzales cut him off and brandished a gun, so he followed the man and shot at him six times — as they drove down the road — hitting Gonzales and his female passenger.
"The officer fired at the suspect at this point. Multiple rounds were fired by the officer," Austin Police Chief Brian Manley said. 
Though police claim Gonzales pointed a gun at the off-duty cop, they admit he never fired it. What's more, they refer to Gonzales as the suspect despite the officer shooting him. It is now the officer's word against the dead man's word.
Bystander video captured the moments after Gonzales came to a halt. When the off-duty officer opened fire on Gonzales, he also shot an innocent woman in the passenger seat. Luckily, the one-year-old baby in the back seat did not also become a victim.
As the video shows, Gonzales is walking around the car and appears to be confused. At this point, he's already been shot and has no idea that the man who shot him is a cop, other than the off-duty cop in plain clothes and in his personal vehicle, claiming he is a cop.
"Do not make me shoot you again, man!" the off-duty cop yells.
When police show up, Gonzales — likely disoriented from being shot — does not listen to their commands and instead walks around to the passenger side of the car.
The other officers can be heard yelling, "Put your hands up!" and its Spanish translation, "Manos arriba!"
Gonzales could have simply been checking on the baby's mother who was lying on the ground. However, because he did not listen to their commands, another officer opened fire on him, dumping multiple rounds into the man, killing him on the spot.
"As he reaches into the vehicle the on-duty Austin police officer fired shots at him, striking him at that moment and then he goes down," Manley said.
Police did not say Gonzales was holding a gun at the time and only claimed that they found "what they believe is his gun."
"We have located a firearm where this scene ended where the car is right now and that is believed to be the same firearm," Manley said.
The unidentified woman who is reportedly 33-years-old was transported to a hospital where she is in critical condition. Police also transported the baby to the hospital where they claim to have attempted to contact family members to care for him.
"We also know that there was an infant child in this car who was not injured who was also transported to the hospital with APD victim services and are working on placement arrangements for that child," Manley said.
Though the incident appears to be a clear cut case of road rage gone awry, police are treating the situation as if the officer did no wrong. They also said that the fatal shots were captured on body camera footage as well.
"Well I'm not going to speculate about what led up to any of this, Manley said. "I can only put out the facts that we know right now and that is as our officer turned onto Wickersham he said this car cut around him, pulled up beside him and again pointed a firearm at him."
Had the off-duty officer simply called in the license plate, Gonzales would be alive today and able to plead his case. However, that did not happen and Gonzales is dead because the officer decided to chase him down and shoot him and the baby's mother.