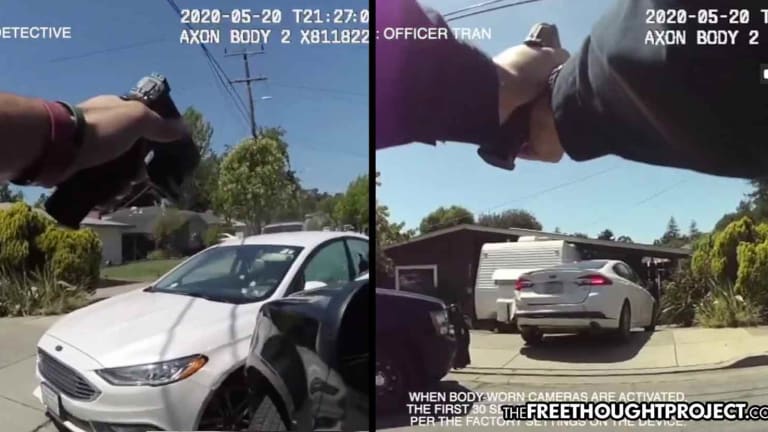 WATCH: 3 Cops Surround Unarmed Man, Block Him In, Fill Him With Holes for Backing Up
For backing out of a driveway, three cops surrounded a man and opened fire, shooting him more than a dozen times.
Hayward, CA — Stoney Ramirez, 23, was a person of interest in the death of a man at a homeless camp in Hayward, California in May. Police eventually located Ramirez 3 weeks later, and moments after finding him, he'd be shot more than a dozen times for backing out of a driveway.
Police have not yet said how they were able to link Ramirez to the May 1 killing or what the man's connection to the neighborhood was. However, when they found him on May 20, parked in a driveway in Hayward, they unloaded on him before they could find out if he was guilty or not.
For nearly three months, police withheld the body camera footage. When asked why, the department claimed it initially withheld the footage to "preserve the integrity of the investigation."
"We take the use of force very seriously, especially when it results in death," Hayward Police Chief Toney Chaplin said. "We're sharing this information with our community, so you have as much information as possible to create additional transparency as the Department continues to investigate this matter."
As the video shows, Ramirez refused to get out of the car. This may have been due to the fact that the car was stolen, so he was planning his escape.
"Keep your hands up!" an officer says, gun in hand. "Hands up!"
Shortly after police ordered him out, Ramirez tried to make that escape.
Ramirez first backed up and rammed the police SUV behind him, before pulling forward and backing up again. As the man backed up a second time, he essentially pinned himself in. Despite the fact that he appeared to be trapped, police decided to open fire anyway.
From the footage we can see that two officers open fire behind the vehicle, hitting Ramirez. Likely due to the fact that he'd just been shot and was dying, Ramirez didn't or couldn't put the car in park so another officer in front of the vehicle fired several more shots through the windshield, ensuring this young man's death.
A passerby described hearing the gunfire. "I had heard twelve shots, and it was like eight shots and then quickly four more," said Nicholas Gary. "As far as what [police] told me, they said that there was someone in pursuit and that a car was rammed. And then shots were fired, but that's kind of vague and they wouldn't really tell me anything after that."
According to Hayward police chief Chaplin, an investigation into the shooting is now underway. They ensure the public that this will be an unbiased examination of what took place.
The Department recognizes and respects the value of all human life and dignity without prejudice to anyone. Vesting officers with the authority to use reasonable force and to protect the public welfare requires monitoring, evaluation and a careful balancing of all interests. The Hayward Police Department objectively reviews and evaluates all reportable uses of force and reportable show of force incidents.

This department conforms to the Alameda County Officer Involved Shooting Protocol for investigating officer-involved shootings. Officer involved shootings and in-custody deaths are investigated in a thorough, fair and impartial manner.
TFTP is predicting that the "investigation" into this incident will result in all the officers being cleared and Stoney Ramirez' death, justified. We will update you when the results are released.
Below is a video showing how dangerous it can be to run from trigger happy cops.