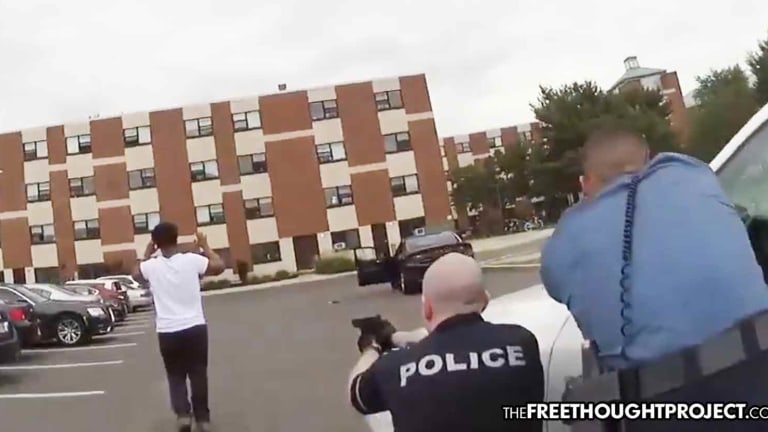 WATCH: Innocent Students Held at Gunpoint Because they 'Fit the Description' of a Non-Existent Person
Two innocent students were held at gunpoint and detained in a harrowing video because they fit the description of a non-existent gun wielding man.
Philadelphia, PA — Harrowing footage has just been released by the Glassboro police department showing multiple officers treat innocent students like dangerous criminals. During the confusion the students' lives were threatened as cops held them at gunpoint with AR-15s.
According to police, the two innocent students, Altif Hassan and Giovanna Roberson fit the description given by a man who claimed he saw a "black guy, racing cars" and holding a gun.
Earlier this month, police were at a T-Mobile store conducting an investigation into an unrelated shoplifting claim when the man rushed in, interrupted them and began ranting about a black man with a gun.
"I'm not prejudice but when it fits, it fits," says the unidentified man, whose face is blurred in the newly released footage. "Black guy, racing cars sitting in front, coming out of a store with a gun laughing his head off."
"I thought he was gonna shoot at me," he said.
"Officer, you see that Charger right there? He just came out of the store with a gun in his hand," the man tells the officers who then, without question, followed the black Dodge Charger and pulled it over.
During the stop multiple officers responded with several of them holding AR-15s trained on the two innocent students.
As officers barked orders at Hassan, he was given conflicting commands as one officer yelled stop while another yelled back up. Had Hassan made one wrong move, he could've been killed.
The stop happened on October 1, but the body camera footage was released by them Tuesday night in a show of transparency. Police gave the following statement in regard to the incident.
On October 1, 2018 at approximately 4:28 p.m. Glassboro Police Officers were conducting an active shoplifting investigation at a retail establishment located within the Collegetown Shopping Center located on N. Delsea Drive. While interviewing witnesses at this location, a concerned citizen entered the store, interrupting their investigation, and reported that he had just observed a heavy – set black male, with "puffy hair" pointing a black handgun at a vehicle that was parked in the fire lane and thereafter entered this vehicle and got into the driver's seat. This concerned citizen identified the vehicle as a black Dodge Charger and pointed it out to police officers while observing it leaving the shopping center traveling toward the south exit at Heston Road.
An officer who was already in the area for the unrelated shoplifting investigation immediately made observation of this vehicle as it was traveling on Heston Road. Officers maintained direct visual contact with the vehicle until it was eventually stopped in the area of North Campus Drive on the property of Rowan University where further investigation was conducted. During this incident, the on-scene officers utilized their training and followed established protocol to ensure the safety of everyone involved in this incident.

At the conclusion of the investigation, no handgun was located within the vehicle and the young male and female occupants were provided with the details of why this action was taken. The occupants, who are Rowan University Students, were compliant with the officers' directions and the situation was resolved without further incident.

Officers have an obligation to investigate when this type of information is provided regarding a serious threat of an alleged armed subject in our community for the safety of all involved including the people that are subject of the investigation.
During the stop, Hassan did not hold back and expressed his frustration at being held at gunpoint and nearly killed.
"You all are about to find out that you stopped me for no reason," Hassan said. "You had guns on me!"
Hassan had a receipt in his car from the eyeglass store he had just left. Police found no gun and both Hassan and Roberson gave the exact same details as to where they had been. After being held at gunpoint and detained for around 20 minutes, their car searched, and interrogated, the innocent students were finally let go.
When watching the videos below, we are reminded of the power of false accusations, irrational fear, and the see something, say something society in which we live. This man's description, which was clearly false, could've led to the deaths of two innocent students. But, we can rest assured, because he told police that he's "not prejudice, but when it fits, it fits."
10/9/2018Motor Vehicle Stop on 10/1/18Glassboro Police Department is making available to the public the following thirteen (13) Body Worn Camera Videos and two (2) still screen shots showing the described vehicle and actions taken during the incident as it occurred on October 1st, 2018. Some portions of the videos have been redacted.(Personal/Privacy redactions for these were all personal information or images, un-involved bystanders, the home location of the original witness who reported a gun, interior shots of the student's car, and information from other cases that can be overheard on the radio. The Security redactions were all either the LEO computer screen in the police vehicles, images in non-public areas in the police department, and the home location of the original witness).Subsequently the vehicle stopped was occupied by two Rowan University students. The videos, which will be posted to the Glassboro Police Facebook page, provide footage from the entire incident, from start to finish. The videos are being offered in the spirit of complete transparency and to demonstrate the Police Department's compliance with appropriate protocols and training for dealing with this type of incident. In addition, Borough and Rowan Officials will form a committee that will meet on a regular basis to communicate and dialog to form a bridge to move forward. This committee will include Rowan, Borough and SGA officials.Content Warning: These videos may contain language which may be considered to be vulgar, offensive or inappropriate for minors. Viewer discretion is advised.Thank you.Franklin S. Brown, Jr.Chief of PoliceGlassboro Police Department1 South Main StreetGlassboro, New Jersey 08028856.881.1501 (x88181)

Posted by Glassboro Police Department on Tuesday, October 9, 2018
10/1/18 BODY CAMS - THREE OF FOUR

*** PART THREE OF FOUR ***10/9/2018Motor Vehicle Stop on 10/1/18Glassboro Police Department is making available to the public the following thirteen (13) Body Worn Camera Videos and two (2) still screen shots showing the described vehicle and actions taken during the incident as it occurred on October 1st, 2018. Some portions of the videos have been redacted. (Personal/Privacy redactions for these were all personal information or images, un-involved bystanders, the home location of the original witness who reported a gun, interior shots of the student's car, and information from other cases that can be overheard on the radio. The Security redactions were all either the LEO computer screen in the police vehicles, images in non-public areas in the police department, and the home location of the original witness).Subsequently the vehicle stopped was occupied by two Rowan University students. The videos, which will be posted to the Glassboro Police Facebook page, provide footage from the entire incident, from start to finish. The videos are being offered in the spirit of complete transparency and to demonstrate the Police Department's compliance with appropriate protocols and training for dealing with this type of incident. In addition, Borough and Rowan Officials will form a committee that will meet on a regular basis to communicate and dialog to form a bridge to move forward. This committee will include Rowan, Borough and SGA officials.Content Warning: These videos may contain language which may be considered to be vulgar, offensive or inappropriate for minors. Viewer discretion is advised.Thank you.Franklin S. Brown, Jr.Chief of PoliceGlassboro Police Department1 South Main StreetGlassboro, New Jersey 08028856.881.1501 (x88181)

Posted by Glassboro Police Department on Tuesday, October 9, 2018