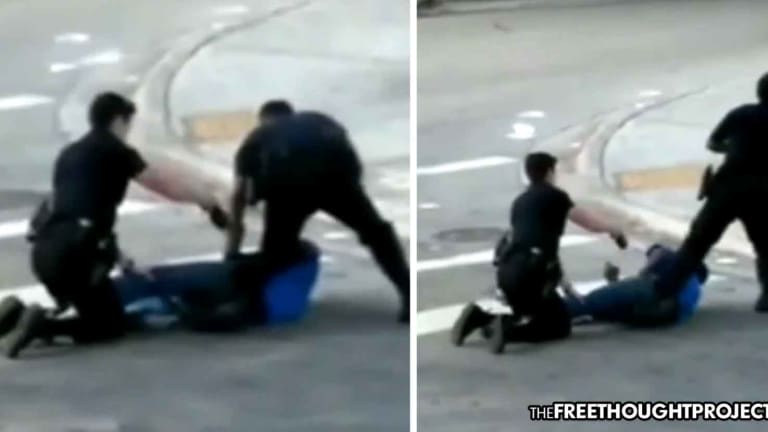 WATCH: While Trying to Taser Man on the Ground, Cop Hits Her Partner Instead—Dropping Him
A police officer attempting to taser an unarmed man lying on the ground, accidentally shot her own partner in the arm, causing him to drop like a ton of bricks.
Miami, FL — A video that plays out like a slapstick comedy surfaced out of South Florida this week showing a Miami police officer taser her partner as the two cops attempt to arrest a man. While the scene appeared to be comical, the officers were apparently involved in a rather serious take down, making the accidental taser deployment into another officer particularly irresponsible.
Kenia Fallat, a spokeswoman for the Miami Police Department, told Local 10 News the officers were arresting Rigoberto Castillo, a 26-year-old homeless man who was allegedly given a pipe used to smoke crack from another man, Lazaro Perez, 56.
When police saw the interactions, they moved in to arrest the pair. Perez ran while Castillo allegedly dropped the pipe. That's when the officers moved in to arrest Castillo, which is when the video picks up.
"Stop it, You're doing this for no reason," Castillo yelled at police as they attempted to arrest him.
As the officers, identified in the arrest report as E. Rodriguez and G. Casiano, had Castillo on his stomach, at which point Rodriguez attempted to deploy the taser in Castillo's back. However, she completely misses and shoots her fellow officer in the arm.
When the taser hit Casiano, he screamed out in pain and then dropped to ground. The officer was not affected long term and quickly hopped back into the struggle as Rodriguez finally deployed the taser into Castillo.
According to the arrest report, it took officers several attempts with the taser to get Castillo under control. Police claim Castillo continued resisting even after they put him in handcuffs and so they were forced to hog tie him.
As the video shows, more than a half dozen cops swarm Castillo and begin punching and kneeling on him.
Castillo was then arrested and charged with possession of narcotics and resisting arrest.
As TFTP has reported, police officers shooting their partners is not all that uncommon — especially with guns.
Officer Lane Butler was fighting for her life earlier this year in an Indiana hospital because one of her fellow officers pulled his gun on a dog and shot her instead.
According to police, officers were responding to a complaint of criminal mischief on a Tuesday morning in January when the shooting happened. Police were at a woman's apartment to see if a person wanted on a warrant was inside. Police noted that the woman was cooperative and let officers search her home.
Before the officers entered the home, the woman warned them that her large dog was inside and in a cage. Butler and two other officers, LaFrene Butler and Aaron Wright, then entered the home and began searching it. As they searched the home, however, the dog reportedly escaped from the cage and the officers then fled the residence.
As the officers fled, Wright pulled out his pistol in a futile attempt to defend himself from the dog. Instead of shooting the dog, however, the officer shot Butler in the back as they walked out the door. Butler was wearing a bulletproof vest, but the round went in just above the protected area in her upper back.
After he negligently shot his fellow cop in the back, the department announced that Wright will face no discipline. 
Also, as we reported in 2016, an NYPD sergeant accidentally shot a plainclothes narcotics detective while trying to kill two unarmed suspects during a drug bust. Showing how often this sort of thing happens, detective Jon Gladstone was one of three NYPD officers shot by possible friendly fire that year.