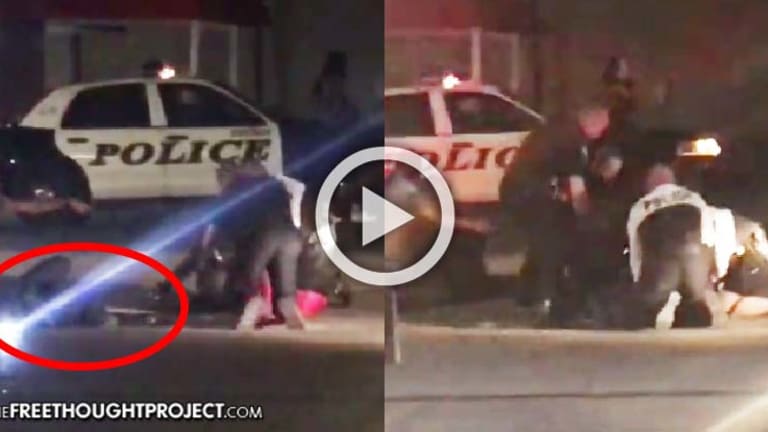 WATCH: Cop Allegedly Tasers Herself, Then 6 Cops 'Rodney King' a Man Lying Down
A chaotic scene was captured on video of Tuscon police officers beating a man after a police officer allegedly tasered herself.
Tucson, AZ — A video uploaded to LiveLeak early Wednesday morning is causing massive controversy online, leading many to ask why a man was brutally beaten by up to a half-dozen cops for several minutes — after he was already on the ground.
The video was posted to LiveLeak and titled, "Tucson cops pull a Rodney King," and the scenario it shows is quite similar to that historical police beating of Rodney King back in 1991.
The uploader, who goes by the handle, nadiigirl, uploaded the video with the following description.
In beginning of video, a women cop accidentally tases herself and six cops end up beating a black man that was already down. I had to take out sound because of certain remarks that are made around me. I hope this can help someone in some way. Happened after 2am on 4th Ave, Tucson.
As the video begins, a police officer in a white jacket can be seen struggling with a man in a red jacket on the ground. At this point, a female officer, also in the struggle, stands up and appears to deploy a taser which then appears to hit herself and possibly the man and the other officer. The female officer then falls backward from the effects as the officer in white jumps from the jolt.
After the female officer collapses, the scene is calm for a brief moment — before all hell breaks loose.
As someone attends to the female officer, the man in a red jacket can be seen lying entirely still on the ground. Then, at one point, officers appear to take particular interest in the man on the ground. They swarm him and begin punching and kneeing him.
As the officers continue to beat the man, he appears to react in an attempt to defend himself. The reaction appears to prompt officers to dole out more force. For several moments, more officers arrive and join in on the beating until the man is seen lying motionless as officers appear to search him.
What caused this sudden onslaught of officers to begin beating this man is unclear. It is indeed possible that this man had a weapon and this is what caused the officers to react the way they did. However, at no time in the video below can we see officers remove a weapon or anything else from the man.
The Free Thought Project has reached out twice to the Tucson Police department for a statement. However, we have not received a response from either of the inquiries. We will update this story as more details emerge.
[author title="" image="https://tftpstagingstg.wpengine.com/wp-content/uploads/2016/03/magorist-e1456948757204.jpg"]Matt Agorist is an honorably discharged veteran of the USMC and former intelligence operator directly tasked by the NSA. This prior experience gives him unique insight into the world of government corruption and the American police state. Agorist has been an independent journalist for over a decade and has been featured on mainstream networks around the world. Agorist is also the Editor at Large at the Free Thought Project. Follow @MattAgorist on Twitter, Steemit, and now on Facebook.[/author]