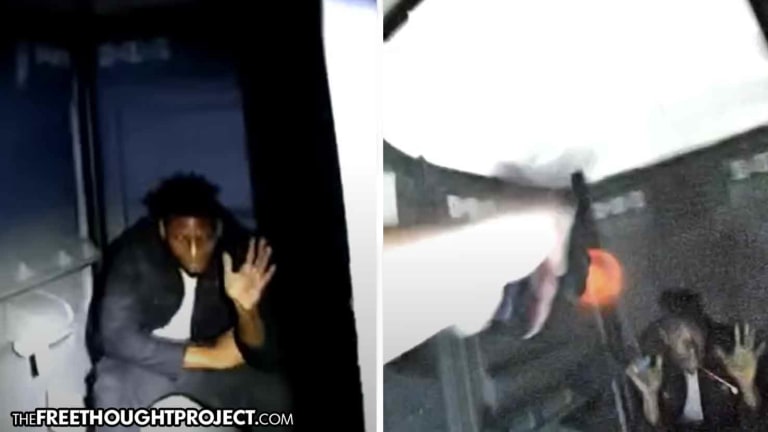 WATCH: Cop Opens Door to Porta-Potty Immediately Kills Unarmed Man with His Hands Up
An unarmed man was sitting in a porta-potty and put his hands up with an officer opened the door, despite surrendering, the cop executed him.
Fontana, CA — Harrowing video has been released this week showing the execution of an unarmed man, sitting down inside of a portable toilet. Daverion Deauntre Kinard was gunned down by Fontana officer Johnny Tutiavake on Feb 13 — the day before his 29th birthday.
Illustrating the serious nature of the shooting is the fact that before the family even filed a lawsuit, the city offered up a million dollar payment for Kinard's death. But after seeing the body camera footage and knowing that Kinard spent his last moments alive putting his hands up and surrendering to the police before he was executed, $1 million doesn't even come close to the damages his family should seek.
According to police, they were looking for a burglar that night. Investigators said a man in a black hoodie was seen attempting to break into an unoccupied home. When police arrived on the scene, they found the home with an open window and saw a man in a black hoodie inside.
"Hey! Hey! Don't move," an officer yells as he sees the man in a hallway. The man, identified as Kinard then runs off. According to police, officers chased him through the neighborhood as he scaled three walls, ran through backyards, and eventually took refuge in a nearby porta-potty.
As the search continued, officer Tutiavake joined in and located Kinard in the portable toilet about 1,000 feet from the home he was just in, according to Fontana police chief Billy Green.
As the body camera video shows, Tutiavake opens the door and Kinard's body language indicated he knew he was caught and he was ready to give up. Nevertheless, this frightened officer closed the door to grab his pistol before reopening it once more.
When Tutiavake opened the door the second time, Kinard fully surrendered putting both hands up with his palms out so Tutiavake could see he was unarmed. Despite Kinard showing both of his hands, the officer opened fire. It took less than 3 seconds for the entire execution to unfold.
Chief Green would later claim that Kinard was holding a "metallic object" which was nothing more than a plastic lighter. But this was only released after the department released the body camera footage.
The department has refused to even acknowledge whether or not Tutiavake claimed to have seen the lighter in Kinard's hand.
After the video shows the officer fire a single deadly shot, the pro-killing edit done by police then shows a very grainy and blurry still image of Kinard holding a tiny object in his hand which was apparently the lighter. They clearly didn't spend any time attempting to capture a clear still image. However, TFTP did.
In our still image capture, it is entirely evident that Kinard was surrendered. His thumbs are away from his fingers and his hands are in the air. Hovever, was given no time to comply with any orders, nor were any orders given before Tutiavake killed him.
Chief Green said this week that the shooting is still under investigation by both his department and the San Bernardino District Attorney's office. According to the Sun, Jacquelyn Rodriguez, a spokeswoman for the DA's Office, said her agency has not received Fontana's investigatory report. District Attorney Jason Anderson will determine whether the shooting violated criminal law, while Fontana's internal investigation will determine whether the shooting violated department policy.
As for the killer, Tutiavake is not on leave and remains on active duty.
The full video with the heavily propagandized police narrative can be seen here.