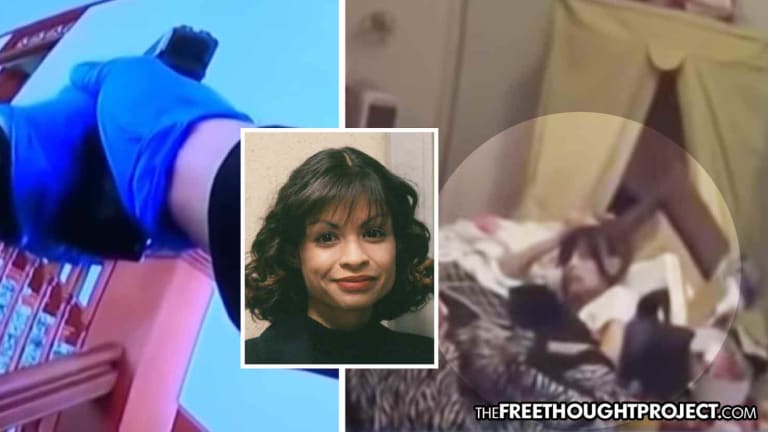 Mother of 'ER' Actress Sues After Police Kill Her During Welfare Check, As She Had a 'Seizure'
After the cops who killed her daughter — former ER actress Vanessa Marquez — were not held accountable, the victim's mother has filed a lawsuit.
Los Angeles, CA — All too often in this country, police are called out to check on the health of an individual who may be physically or mentally troubled. And, all too often, instead of providing that person with help, police show up and hurt, arrest, or even kill them. This process is known as a welfare check and a former actress from the hit show "ER" became one of many victims to receive this 'help' in 2018. Video from the incident was held for nearly two years and was only released this year. After failing to see the officers held accountable for killing her, the victim's mother is now suing.
Vanessa Marquez, 49, hadn't harmed anyone when police showed up at her South apartment on that foreboding day back in August 2018. The landlord had simply become concerned that she may have fallen ill and wasn't taking care of herself, so he called police for help. Sadly, this help came in the form of government issued bullets.
"This is exactly the kind of lethal and unnecessary police action that has led so many in the country to call out for police reform,'' plaintiff's attorney Vicki I. Sarmiento said. "This was a situation in which Ms. Marquez was in her home minding her own business and instead of receiving assistance from medical professionals, she was shot to death.''
Authorities from the South Pasadena Police Department released their review of the case along with officer worn body camera footage of the incident in March. According to KTLA, the review released by the Los Angeles County District Attorney's Office determined that Officers Gilberto Carrillo and Christopher Perez, who fired their weapons, "acted in lawful self-defense and defense of others."
Adding to the troubling nature of this call for help was the fact that according to Los Angeles County Sheriff's Department Lt. Joe Mendoza, when police arrived at the apartment of Marquez on that Thursday afternoon, she was having a seizure.
"It appeared that the female was gravely disabled," Mendoza said.
According to the video, Marquez is heard telling police something about a "seizure" and pleading with cops "don't take me to the hospital."
"She was suffering from some problems, eating disorder,'' Sgt. Mendoza told reporters at the scene. "When they (officers) arrived, she was suffering a seizure.''
A few minutes in to the standoff, the officers tell Marquez that they are indeed going to take her to the hospital. Officer Camillo can be heard telling Marquez that she is not under arrest but will be taken for an examination with a mental health professional at Huntington Memorial Hospital.
"Oh, my God. No," she said, before all hell broke loose.
While they continued talking to her, Marquez grabbed what officers thought was a semiautomatic handgun, Mendoza said. So they retreated out of the room.
"Perez first saw the gun in Marquez's left hand as she exited her apartment and crossed the landing. Like Carrillo, Perez also heard the sound of a firearm magazine being loaded, and looked to other officers who acknowledged the sound. Perez observed Marquez descending the staircase in what he perceived to be an aggressive manner, 'definitely angry' and 'charging' at them with the handgun drawn," the district attorney's office said in the memo.
After seeing Marquez's weapon, both Carrillo and Perez fired multiple shots.
After the shooting, the officers examined Marquez' weapon, which was later revealed to be a toy gun.
"Based on all the available evidence and the foregoing analysis, we find that Officers Carrillo and Perez acted in lawful self-defense and defense of others," the memo concluded.
According to the Times, Marquez was best known for her recurring role as nurse Wendy Goldman on the popular medical drama "ER," which ran for 15 seasons until 2009. Marquez appeared on the show from 1994 to 1997. She also starred as student Ana Delgado in the 1988 film "Stand and Deliver," which told the story of East Los Angeles math teacher Jaime Escalante.
According to Variety, Marquez said that she suffered from immune disorders, including celiac disease, and that she experienced chronic pain and was "homebound."
"A person only has so much strength and I'm afraid I've used all mine up," she wrote in a social media post in January 2017. "Why couldn't my dream have lasted for more than just those few years?"
Toni McGhee, a friend of Marquez, wrote in a statement that Marquez just wanted to spend her last days alive in her home and die there.
"She told me she wouldn't mind passing away at home and haunting the beautiful building she lived in as she was in love with where she lived ..." McGhee wrote.
While she certainly got her wish of dying in her home, she was definitely not allowed to simply pass away.
According to NBC Los Angeles, Marquez made headlines in 2017 when she took to Twitter to accuse former "ER'' star George Clooney of blacklisting her from the show for speaking out about harassment on the set.
"Women who don't play the game lose career. I did,'' she wrote. She alleged she was racially and sexually harassed on the set.
Clooney denied having her barred from the show, telling E! News he "had no idea Vanessa was blacklisted.''
Sadly, police providing help during welfare checks turns out to be anything but. As TFTP recently reported, an Arizona family has learned the hard way what calling the police to help a relative can often look like as their grandmother was hospitalized after a welfare check. Showing their incompetence, the welfare check was for another family member but the police assaulted the innocent grandmother anyway. Luckily for the 84-year-old grandmother, she escaped with her life after being thrown to the ground and attacked by cops. Marquez cannot say the same.