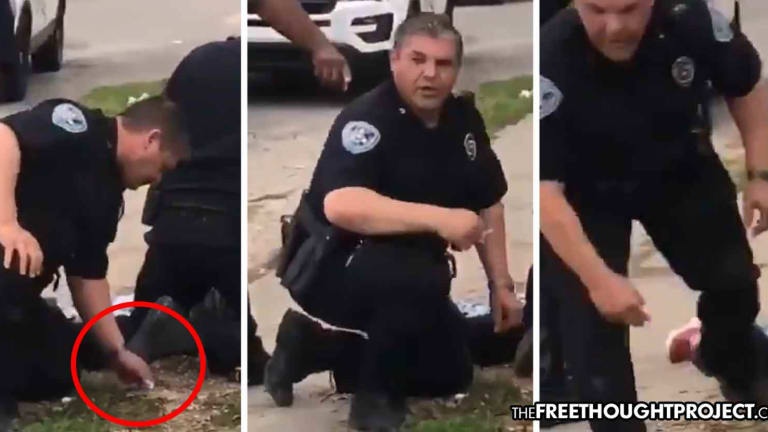 WATCH: Cop Loses It, Chases Woman Who Filmed Him Allegedly Planting Crack on Man
A video uploaded to social media this week shows a cop run after a woman who is filming him allegedly planting drugs on a suspect.
Jefferson Parish, LA — On a near-regular basis, the Free Thought Project reports on police officers who have an affinity for framing innocent people by planting drugs on them. While some of these cops are held accountable, others, like Baltimore police officer Richard Pinheiro Jr., continue to collect their paycheck, even after being found guilty. A new video posted to Twitter last night appears to show a Louisiana cop engaged in the same flagrant behavior.
The video was uploaded to Twitter by Jasmine K, who noted that it was taking place in her neighborhood in Jefferson Parish which is just across the Mississippi River from New Orleans.
"THIS IS WHATS GOING ON IN OUR NEIGHBORHOOD! JP PUTTING DRUGS ON PPL!!!" she wrote on Twitter.
As the video shows, a man is on the ground in handcuffs and surrounded by officers.
One of the officers in front of the man appears to be looking around on the ground for something. The whole time he appears to be holding a small baggie with a white substance inside it. He then quietly drops it in front of the man on the ground, prompting the man to speak out.
"What is that?" the man asks. "You just put that on the ground! That ain't mine."
The woman filming corroborates the man's fears and let him know that she is recording.
"I'm recording," the woman says. Her friend then reiterates several times that "she's recording," which gets the cop's attention.
The cop looks over at the women with apparent anger in his eyes and then gets up to go after them. The women appear to be on their own property and took off running back into the house as the video ends.
TFTP reached out to the Jefferson Parish Sheriff's Office in regard to this incident. However, we have yet to receive a response.
It is important to note that this man could've simply dropped the drugs and the cop could've just been picking them up. However, his actions of holding them discreetly in his hand before putting them down on the ground were certainly suspect. The man's immediate reaction of surprise was also indicative of being framed.
Also, the cop's reaction to the woman filming him certainly looked like he had just been caught in the act and appeared to be furious about it. What's more, as stated above, this sort of thing happens all the time.
A single corrupt cop can have an effect on ruining the lives of countless innocent people. In fact, dozens of innocent people who were rotting in jail have been freed and their charges erased after the corrupt cop who put them there was caught on his own body camera planting meth on an innocent grandmother. As TFTP has reported, Jackson County Sheriff's Deputy Zachary Wester has since been fired and arrested, and a slew of lawsuits are now rolling in.
Last year, this most insidious police officer was arrested on 52 counts of planting meth and other street drugs on entirely innocent motorists he would randomly pull over. Now, even more victims have been discovered and he was just hit with dozens more charges.
According to the Tallahassee Democrat, prosecutors filed an amended information charging Wester with two dozen additional counts involving five more of his alleged victims. The charges stemmed from traffic stops in 2017 and 2018 in which drivers or passengers were arrested on drug charges including possession of methamphetamine and marijuana.
During the initial investigation, Wester's coworkers searched his vehicle and found a wealth of unmarked evidence, including 42 pieces of drug paraphernalia, 10 baggies of meth and five baggies of marijuana. The items were similar to those he planted on drivers, investigators said.
As TFTP reported, Wester's fall from law enforcement grace and roughly 120 people who were exonerated are due largely in part to the diligence of a single person, assistant state attorney at the 14th Judicial Circuit, Christina Pumphrey.