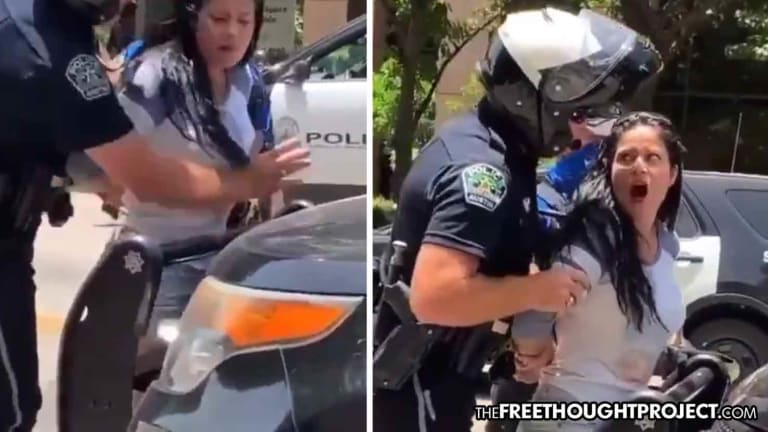 WATCH: As Onlookers Demand He Stop, Cop Repeatedly Gropes Woman's Breasts
Onlookers reacted with anger as a police officer repeatedly groped a woman's breasts while arresting her for a traffic violation.
Austin, TX -- A disturbing video has been shared with the Free Thought Project which shows an Austin Police Department officer repeatedly groping a woman's breasts. The officers actions were so disgusting that it prompted onlookers to demand he stop. He did not.
"Don't you f***ing touch her like that" and "Get your f***ing hands off her," were a few of the words directed at the officer as he groped the handcuffed woman's breasts.
In the short video, the woman is heard telling the officer multiple times that "I want a female officer." She does not get one. Instead she gets the officers hands and wrists shoved into her breasts over and over.
According to the Austin Police Department's Policy Manual, officers must conduct person searches "with dignity and courtesy."
In the video below, dignity and courtesy are entirely absent. According to the APD manual, the officer should explain to the person being searched the reason for the search and how the search will be conducted. It also states the following guidelines for instances in which an opposite sex is conducting the search.
"Officers needing to search a person of the opposite gender should do so in front of a Mobile Audio Video (MAV) recording system, if available; otherwise an officer of the same gender as the person should be requested."
The Austin Police Department issued a statement after the arrest, claiming that the officer did nothing wrong when he shoved his hands into the woman's breasts.
They claimed the woman, identified as Rosalinda Nuno Trevino, had committed multiple traffic violations when she followed officers in her vehicle and requested their badge numbers during a protest.
The Austin Police Department (APD) is aware of a video that is circulating involving the arrest of 40-year-old Rosalinda Nuno Trevino for multiple hazardous traffic violations.

Regarding Case# 20-1860985, on July 4, 2020, Austin Police Department Motor Unit Officers were riding their motorcycles behind a protest march to keep people safe from vehicular traffic. Ms. Trevino was driving a white SUV behind these motor officers. Ms. Trevino began to follow the officers very closely with her vehicle and honk her horn continuously. She drove through empty parking spaces and attempted to move her vehicle around the officers' motorcycles. Officers told Ms. Trevino to stay behind their motorcycles to ensure the safety of the people marching. Ms. Trevino then stopped her vehicle, ran up to an officer and requested his badge number, which the officer provided.

At the intersection of 2nd Street and Congress Avenue, Ms. Trevino started to honk the vehicle horn a second time and drove through a red light. Ms. Trevino then stopped her vehicle again and approached officers. Ms. Trevino was placed under arrest for the multiple hazardous traffic violations to include, running a red light, failure to yield the right-of-way to pedestrians, improper use of a horn and failure to maintain an assured clear distance. As a crowd began to form, officers moved Ms. Trevino to the front of an officer's vehicle to conduct a search before transporting her to jail. While conducting the search, he advised Ms. Trevino that a female officer was not available. He conducted the search in front of a police vehicle where a vehicle camera could document and at least one other officer was present, as required by APD policy.
According to a GoFundMe which was set up for Trevino, she was using her vehicle as a "safety barricade" to assist a child and an elderly person with a cane who were walking with the other protesters. Trevino reportedly tried to provide them with a ride because they were too tired to walk and that is when police "pulled her from her vehicle," searched it without a warrant, and groped her, according to the post.
What's more, according to a petition on change.org, the officer who was seen groping Trevino has been "terrorizing and stalking" her for 9 years, even claiming the officer had raped her.
He began stalking her, showing up at her house unannounced while he was on duty, peering his head in the door, calling her 24/7 demanding to see her and go on dates even though she was clearly uncomfortable. Things got worse when Linda and her boyfriend broke up, as he saw there was no barrier or anyone to "respect" anymore. One night, when Linda had taken sleeping pills, he let himself in and they began talking. She fell asleep on the couch and woke up naked, having been raped.
Below is the video.