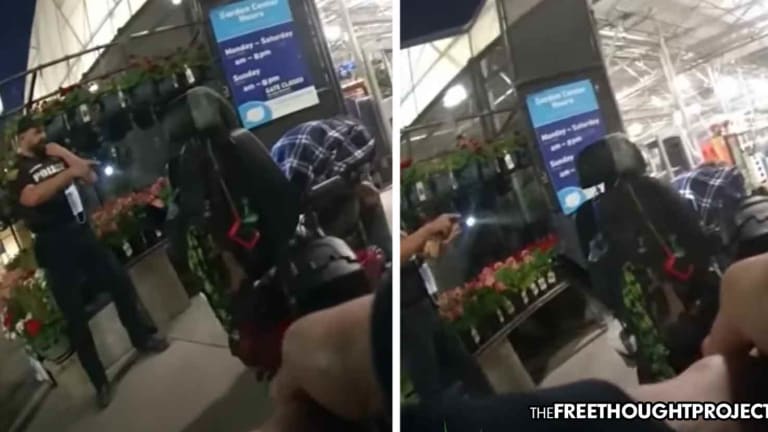 WATCH: Cop Executes Elderly Man in a Wheelchair with 9 Shots in the Back—Now Charged
After harrowing video showed him execute a man in a wheelchair with 9 shots to the back an Arizona cop has been charged.
Tucson, AZ — Richard Lee Richards, 61, was accused of stealing an item from Walmart last November and instead of due process and having his day in court, he was executed on the spot. An investigation began after video was released showing an officer dump 9 rounds into the man as he scooted by him — in his wheelchair.
Now, 9 months later, and officer Ryan Remington, the clearly trigger happy officer, has been charged after he decided to open fire on the disabled elderly man because he didn't immediately stop when told to do so.
On Thursday, Remington was issued a summons to appear in court and is now facing a charge of manslaughter.
"This tragedy greatly impacted the Tucson community and this department. Today, we received notice that Ryan Remington has been indicted by a grand jury and faces criminal charges. This is now a matter for the courts to adjudicate," Tucson Police Chief Chad Kasmar said in a statement.
KOLD reported that prosecutors said Remington faces a sentence of between three to 12 ½ years if he's convicted. Remington's attorney Mike Storie said his client was looking forward to an unbiased jury considering the case. John Bradley, a lawyer for the victim's family, said the family plans to proceed with a separate civil suit against Remington in the next few weeks.
At the time, Richards execution was captured on store surveillance footage and police body camera footage and it is disturbing to say the least. The idea that it took this long to charge Remington speaks to the nature of the thin blue line protecting their own — even their own who execute elderly men in wheelchairs.
According to police, Richards, who was a paraplegic, was accused of stealing a toolbox from Walmart. When officers confronted him in the parking lot, he refused to stop and continued on, attempting to enter a nearby Lowe's Home Improvement store.
As Richards rolled his wheelchair through the entrance to Lowe's, Remington bypassed his taser, baton, pepper spray, and all other less than lethal means, and immediately drew his firearm.
"Do not go into the store, sir," Remington is heard saying on the body camera footage. But Richards did not listen, continuing to roll away from him in his wheelchair.
Though it is not visible in any of the videos, police claimed Richards was in possession of a knife which is why Remington resorted to deadly force. Instead of simply grabbing the wheelchair and tasering the man, the cowardly officer decided to execute Richards. The shooting was so egregious that even the Tucson Police Chief at the time, Chris Magnus said he was "deeply disturbed and troubled" by it.
"His use of deadly force in this incident is a clear violation of department policy and directly contradicts multiple aspects of our use of force and training," then-Chief Magnus said.
The shooting unfolded on November 29, and Remington was fired shortly after — but not charged, until now.
Tucson Mayor Regina Romero decried Remington's actions, calling them "unconscionable and indefensible."
"The county attorney has my full support as they proceed with their investigation," she said in a statement at the time. "It is moments like this that test our resolve to ensure justice and accountability."
Naturally, Remington's police union-appointed attorney disagrees with the chief and the mayor and instead of condemning his client's actions of executing a man in a wheelchair, attorney Mike Storie praised his response. Storie then went on to tell reporters that the chief and mayor's comments were a "politically motivated rush to judgment."
After admitting that he hadn't seen the full video, Storie went on to justify Remington's actions, claiming that the officer "attempted to de-escalate the situation" until Richards's actions — in a wheelchair — gave him "no choice but to use deadly force."
When watching the video below, Storie's statement becomes outright laughable. Nevertheless, he is standing by Remington and claiming that the video supported his stance.
Storie went on to further justify the 9 shots fired into the back of a man rolling by in a wheelchair by claiming they were in accordance with police training.
"Officers are trained that if they perceive a serious and imminent deadly threat," Storie said. "They are to fire multiple times until they perceive the threat is removed."
As you watch the video below, try to imagine what kind of person views a man in a wheelchair, holding a knife, as a serious enough threat that they would open fire on him from behind, executing him.