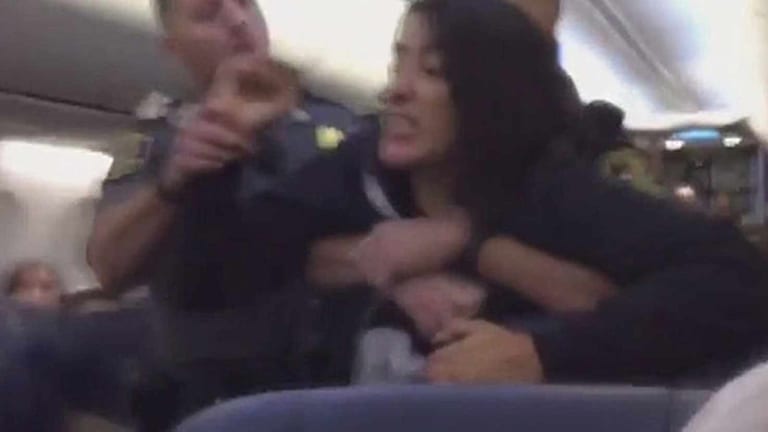 WATCH: Cops Drag Woman Off Airplane Over Pet Allergy Complaint
Multiple police officers boarded a plane this afternoon to remove a woman who said she has a deadly allergy to dogs.
Baltimore, MD — (RT) Southwest Airlines has apologized to a passenger after video of the woman being dragged off a flight by law enforcement officers went viral.
The woman was removed from the plane after she told flight crew that she had a pet allergy upon hearing there were animals on board.
According to the airline there was an emotional support animal and one pet on the flight from Baltimore to Los Angeles International Airport.
When the passenger could not provide any medical certificates to backup her claim, airline staff asked her to leave and called in Transportation Authority officers when she refused to comply.
Footage recorded by a fellow passenger Bill Dumas shows the officers forcibly removing the woman while she protests loudly, explaining she is flying to see her Dad who is having surgery.
Dumas told NBC that the woman claimed she had a "deadly allergy" to dogs and asked that the two animals on board be removed.
The passenger, who claimed to be a professor, is also heard accusing the officers of "ripping (her) pants" and shouting "don't touch me" as one officer wraps his arms around her while he pulls her up the aisle.
At one point in the clip he repeatedly shouts "walk" before pushing her towards a row of seats.
Officers and members of the crew can also be heard in the video telling passengers attempting to record the scene to put their phones away.
Southwest Airlines offered a public apology to the woman and said they would contact her directly, however they reiterated that she did not have the proper medical certificate to stay on board.
"Our policy states that a customer (without a medical certificate) may be denied boarding if they report a life-threatening allergic reaction and cannot travel safely with an animal on board. "
"Our flight crew made repeated attempts to explain the situation to the customer, however, she refused to deplane and law enforcement became involved," a Southwest Airlines spokesman said in a statement.