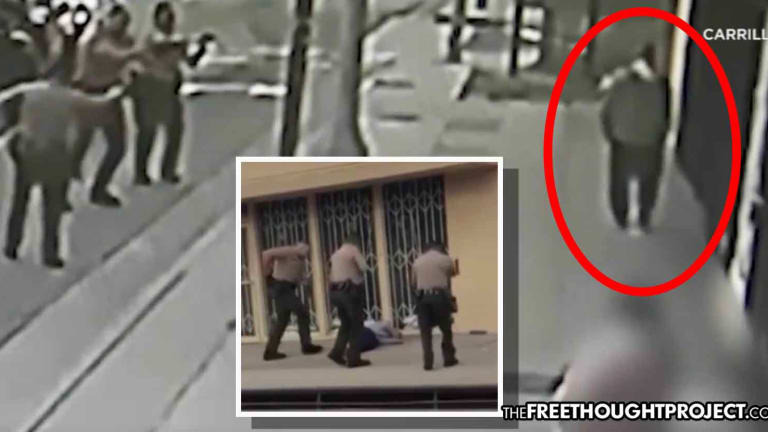 WATCH: Cops Dump 16 Rounds into Unarmed Man for Walking Down the Sidewalk
Disturbing video captured the moments multiple cops surrounded an unarmed man and dumped 16 rounds into him like a firing squad attempting an execution.
South Gate, CA — Daniel Canizales, 23, is suing the city of South Gate after multiple officers opened fire on him as he walked down the sidewalk—unarmed. On Wednesday, after his attorney announced the lawsuit, video of the incident was released, showing the entirely unnecessary use of deadly force.
The incident unfolded earlier this year on January 29 as police responded to an alleged disturbance in front of a storefront. When police showed up, Canizales was walking down the street.
As the 23-year-old unarmed man walked down the street, multiple police officers surrounded him with guns drawn. According to witnesses, South Gate police officers ordered Canizales to put his hands up several times, but he just continued to walk down the street.
As the video shows, Canizales made no sudden movements, was attempting to walk away from the officers, and did nothing to provoke officers to begin shooting him. But they did anyway.
Instead of deploying their tasers, or simply grabbing his hands, multiple officers opened fire on the unarmed man. He was shot 16 times, with 13 of those rounds hitting the left side of his body, shattering his bones. Miraculously, Canizales survived the shooting. However, doctors told him that he may never be able to walk again.
"He will need lifetime medical attention for his left knee cap and that's why we're here today, to seek justice because what these officers did was totally against the law," attorney Luis Carrillo said.
Yes, Canizales should have complied with the officers' orders to show his hands. However, does his poor decision to keep walking give police permission to act like executioners on a firing squad?
"Officers can shoot someone if the person is an imminent threat to their safety. What imminent threat to these officers safety was Daniel when he walking down the street with his arms visible and no gun is there?," Carrillo asked.
The fact that deadly force was used as a first resort on this unarmed man is disturbing to say the least. Canizales was merely suspected of a misdemeanor, was unarmed, and multiple cops tried to kill him for it.
"The nerves are damaged permanently. That hurts to know that my brother might not be able to walk anymore," Canizales' brother, Alejandro Somoza said, who spoke on behalf of his family about what they have had to deal with.
According to the report, the Los Angeles Sheriff's Department is now investigating the shooting by the officers. None of their names have been released nor have they released their current employment status.
"It's just real sad and depressing, you know, I just thank God that I'm here," Canizales said at a press conference on Wednesday. Indeed, it is.
"We want justice, we want justice because the man was unarmed when he was shot," Carrillo said. "He was not being pursued from an armed robbery or attempted murder or anything like that. What those officers did was totally against the law, and worse, they didn't follow or were not trained properly as to police procedure and proper police tactics, you don't just shoot an unarmed man in broad daylight!"
As you watch the video below, remember that police outnumbered Canizales, had him surrounded, had tasers on their hips, could have tackled him, or done any number of less lethal options. However, they chose to try to kill him—for walking away.