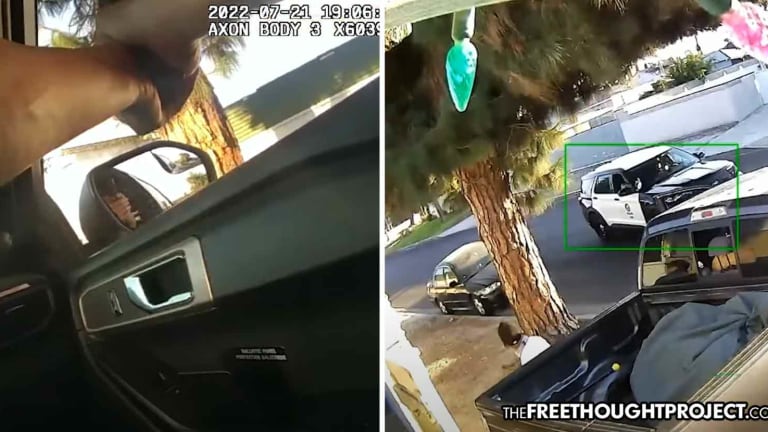 WATCH: Cops Now Conducting Drive-by Shootings in LA on Unarmed Pedestrians
With cops like these, who needs gang members?
Los Angeles, CA — A rather damning video was recently released showing LAPD cops conducting a literal drive-by shooting. The incident unfolded in July and it is nothing short of shocking.
According to police, two officers conducting a patrol claimed to have seen a known gang member so they pulled over to carry out a stop and frisk. The alleged gang member was later identified as 37-year-old Ramon Mosqueda and police approached him as he was exiting the driver's side of his truck.
Without warning or provocation, one of the unidentified officers brandished his pistol while the patrol car was still in motion and began firing from the passenger side of the patrol car. Masqueda had his back turned and was looking over his should when the officer attempted to kill him.
He was unarmed.
After being shot at for no reason, Masqueda justifiably decided to run away and a SWAT team was called out to apprehend the unarmed man. Despite the fact that he was unarmed, police would justify the drive-by shooting by claiming "he appeared to be holding a firearm." He was holding a lighter.
Police released the following statement after nearly murdering an unarmed man for no reason.
On July 21, 2022, at 7:00 p.m., Foothill Division uniformed Gang Enforcement Detail (GED) Officers were conducting patrol in the area of 7800 Radford Avenue, officers observed a known gang member exiting the passenger side of a parked vehicle in the front driveway of a residence in the 7000 Radford Avenue. When officers attempted to conduct a pedestrian stop on the suspect, he appeared to be holding a firearm. An Officer-Involved-Shooting (OIS) occurred, the suspect fled through the side yard of the residence to an unknown location. A perimeter was established, and Special Weapons and Tactics (SWAT) personnel responded to the scene to assist in apprehending the suspect. After a thorough search it was discovered the suspect had escaped the area.
Below is the video the LAPD most certainly does not want you to see. As of the writing of this article, not a single media outlet has reported on this incident.
Police in Los Angeles are notoriously corrupt and while this case may be unrelated, rogue cops in precinct gangs have carried out beatdowns and drive-by shootings like this one before. As TFTP reported, many whistleblowers have come forward with allegations that gang members — who are also cops — control different precincts in the county.
In 2020, a lawsuit exposed an atmosphere of gang violence within this station by a group of rogue deputies who call themselves the "Executioners."
According to the claim, as reported by witnessLA, the Executioners operate at the Compton station –CPT, for short — "with impunity," its members using violence, threats, and retaliation against other deputies, supervisors, and "members of the public" in order to strengthen the profile of the organization, and its influence at the station
One whistleblower LASD deputy recently brought attention to what the Los Angeles Times reported as "a band of deputies with matching tattoos that wields vast power at the Compton station" and "celebrates deputy shootings." Austreberto Gonzalez, the LASD deputy who filed the claim against Los Angeles County, said the cops in the alleged gang each have "tattoos of a skull with Nazi imagery and an AK-47." The claim also alleges that the Executioners' "members were involved in setting illegal arrest quotas and threatening work slowdowns — which involve ignoring or responding slowly to calls — when they did not get preferred assignments."
In the claim, Gonzalez details stalking and harassment by this gang of rogue cops who put graffiti on their own station, calling him out for being a "rat." Illustrating how deep the corruption goes is the fact that after Gonzalez reported the stalking to Internal Affairs, instead of investigating it, IA gave the information to the gang who then responded with violence.
"I think the scariest thing," said Gonzalez' lawyer, Alan Romero, "is that he did what he was supposed to do. He called the authorities, and they betrayed him. They turned him right over to the gang. It's a whistleblower's worst nightmare."
Also, in July of 2019, the FBI was investigating the East LA branch of the LA County Sheriff's Department whereby Bandito gang members had full control of "station operations". The report states the Bandito gang member/police officers "put others' lives at risk by not sending backup to help on dangerous calls, enforced illegal arrest quotas, and carried out other forms of harassment".
The culmination of scandals resulted in several deputies claiming they were beaten, choked and nearly killed by fellow officers who were also tattoo-wearing members of the Bandito gang.