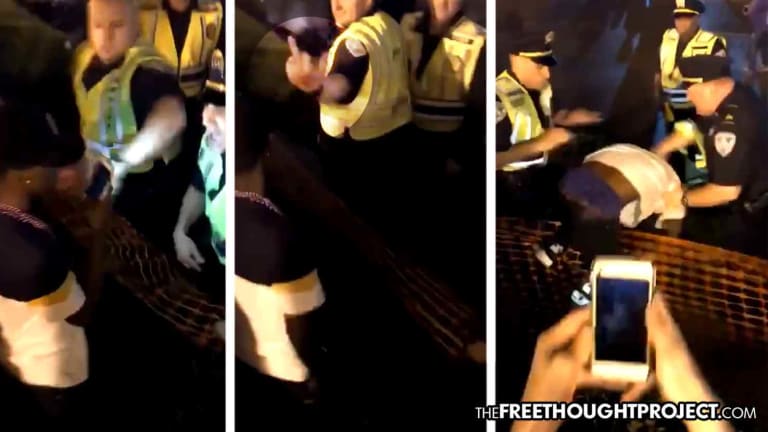 WATCH: Cops Smack Man's Phone Out of His Hand, Flip Him Off, Then Beat the Hell Out of Him — For Filming
For filming the police an innocent man was insulted and then assaulted by multiple cops who then falsely arrested and charged him.
New Orleans, LA — Filming the police is entirely legal, in every state. However, all too often, we will see police officers overstep their authority and arrest, attack, and assault innocent people for the constitutionally protected act of documenting their behavior in public. As the following case out of New Orleans illustrates, police officers will go to extreme and often violent lengths to make sure they are not being filmed, up to and including beating and falsely arresting an innocent man.
On the night he was arrested and attacked by police, Jacobi Cage had done nothing wrong, committed no crime and was simply filming police who had just broken up a fight at a parade. Being innocent, however, was no defense.
As the video below shows, Cage was filming when an unidentified deputy told him to step back. Cage listened to the deputy and took a couple of steps back but this apparently wasn't enough for Det. Nicholas Broussard who was so offended by Cage's First Amendment right, that he smacked the phone out of Cage's hand, sending it flying behind him.
After assaulting Cage and destroying his property, for good measure, Broussard flipped Cage the bird and walked away. Though flipping the bird is legal, we've seen cops arrest people for it time and again. But Broussard's brothers in blue chose to ignore his flipping of the bird and only noticed when Cage returned the gesture.
As Cage returns the middle finger to Broussard, his brothers in blue attack. JPSO Sgt. Keith Dowling grabs Cage by the shirt, dragging him over the mesh barricade before smashing him face-first into the pavement.
Cops then pile on top of Cage like a pack of coyotes as they punch, kick, and knee him — for filming.
"The police just grabbed me and started punching me," Cage said. "I had a busted lip. My nose was crooked. I had a torn rotator cuff from football and they reinjured that. I felt like they were about to pull my arm off."
Downing would claim in the arrest report that Cage threw a punch at the officer, so he had no choice but to attack and arrest Cage. Downing also failed to mention the fact that his fellow officer slapped Cage's phone from his hand. Unlike Downing, however, the video does not lie.
After Cage was arrested and finally released from jail — facing six months in prison for assaulting an officer — he had no idea that the video of his arrest existed. It was his word against the corrupt cop.
As Nola.com reports:
After spending several hours in the parish jail, Cage was released with a summons. He returned home that night feeling angry and helpless. A graduate of Destrehan High School, Cage had never been in legal trouble before. Now he was facing up to six months in jail.

As Cage lay in bed that night, he noticed 

man just recording got assualted and arrested for nothing pic.twitter.com/Ef3z2WVfAI

— Chubbs? (@chubbs504) March 2, 2019
" target="_blank" rel="noopener">a video on Twitter titled: Man just recording got assaulted and arrested for nothing. Cage hit play. He said he began to cry, in relief and shock, as he watched the 38-second clip, which has now been viewed more than 284,000 times.
The video would prove Cage's innocence but the police department didn't care. They pressed on with the case. Cage's attorney Stephen Haedicke told the newspaper that the Sheriff's Office still attempted to use the criminal case as leverage to push Cage to accept a lower settlement in a lawsuit brought about by Cage. Unfortunately, it worked. It would take two years for the district attorney to finally drop the charges. And, ten months after that, in October, Cage's lawsuit would be settled for a measly $40,000. When Nola.com asked him if justice had been served, Cage responded with an unapologetic, "No."