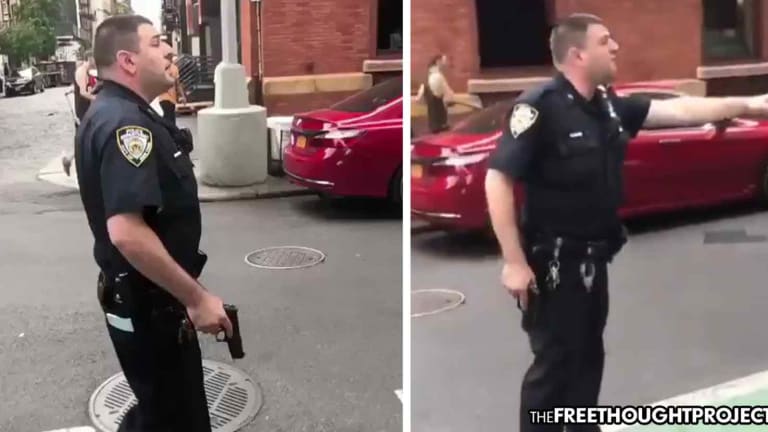 WATCH: 'Go Shoot Your Heroin and Die!' Cop Pulls Gun at Methadone Clinic, Threatens Patients
An NYPD cop was caught on video threatening people outside of a methadone clinic, telling them he would "knock them out."
New York, NY — A gun wielding NYPD cop has become YouTube famous this week after he was filmed out front of a methadone clinic yelling at patients, ordering them to "shoot your f--king heroin and die." The unidentified officer is now under investigation according to the NYPD.
The video was shot at the end of last month and shows the officer approaching a group of men in front of the methadone clinic.
According to the person who took the video, the officer was responding to a minor disturbance. However, according to witnesses, all hell broke loose once he arrived. Instead of calming the situation, the cop pulled his service weapon and used it to intimidate the men in front of the clinic. "Take a f--king walk right now," the cop shouts as he holsters his weapon. "I'll knock you the f--k out." "There's no reason to pull out a gun," one of the men says as the officer turns to walk away. The cop storms off and yells, "Go shoot your f--king heroin and die," the video shows. "This officer responded to a minor scuffle at a methadone clinic in SOHO today with his gun out & ready to use on folks seeking help. He then told these human beings to 'shoot your f----- heroin and die,'" the Twitter user wrote. Over the weekend, the NYPD was forced to respond to the video after it subsequently went viral. The NYPD released a statement to Gothamist, saying, "The commanding officer has been made aware of the video and is looking into it." According to Patch, the altercation occurred roughly two blocks away from a methadone clinic on Lafayette Street near Spring Street. An employee at the Lafayette Medical Approach was aware of the video but declined to comment further. As the Gothamist noted, the footage has sparked outrage online, with police reform advocates and public defenders questioning why the officer has not been disciplined yet, and whether this qualifies as productive "community policing." "I can only wish my clients' cases got investigated as thoroughly as allegations of misconduct against police officers," wrote Rebecca Kavanagh, a staff attorney with the Legal Aid Society. Below is that video.

As TFTP has previously reported, heroin is one of the most hated drugs on the face of the planet, many of us have lost friends, loved ones and family members to heroin addiction, and it leads us to the conclusion that "something must be done" to stop it.
Sadly, this "something" usually comes in the form of fines, arrests, prison time and other hardcore police state tactics. However, these tactics have proven that they do not work because it has been a serious issue for over 50 years and things have only gotten worse. The drugs have gotten dirtier and more dangerous, and the black market has gotten more violent, as the prison time associated with these drugs has continued to climb.
Heroin addiction is a serious problem, but as counter-intuitive as it sounds, the best way to prevent heroin overdoses is to actually legalize it and treat people like this clinic does in NYC. Certain areas of the world, like Portugal, where all drugs have been decriminalized, there are far fewer overdoses than there are in prohibition countries. The Washington Post reported that drug overdoses are extremely rare in Portugal, and they have some of the lowest rates of addiction in the world.
People have the impression that under drug legalization, things would just be out of control and drug addicts would be addicts everywhere, but this is not what actually happens.
Currently, under the state of prohibition that most of the world experiences, the treatment, and help that addicts receive is severely limited, mostly to punishments and highly regulated inpatient and outpatient programs. In an environment of prohibition, the strategy is punishment instead of harm reduction, which is actually a much more humane, realistic and effective way of handling serious social problems like heroin addiction.
Examples of harm reduction tactics would be needle exchange programs, drug testing kits at raves, or supervised safe injection sites, just to name a few. Teaching condom use for sexual education, instead of abstinence is another example of how harm prevention is applied to other social issues.
As the war on marijuana dies down, police are seeking to turn their attention on heroin so they can still continue to generate income off of helpless drug users. Often times, they target methadone clinics as they are target rich environments. Luckily, however, many community workers and addiction counselors are starting to realize that police state tactics are not the solution.