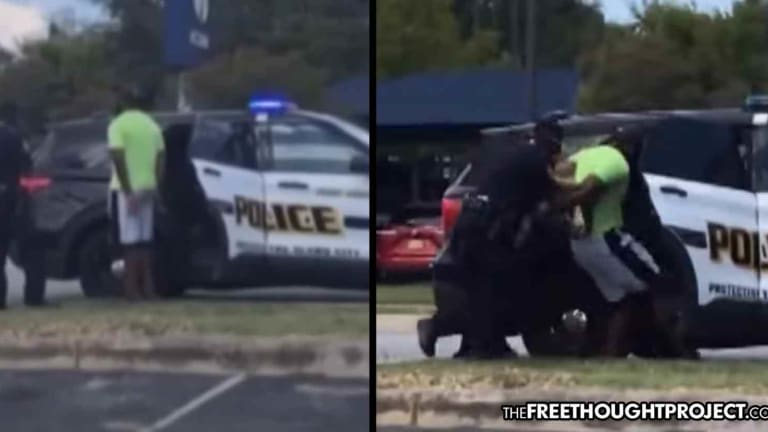 WATCH: Innocent Business Man Kidnapped by Cops for "Jogging While Black"—Thrown in Jail
Mathias Ometu, 33, was arrested by police for 'jogging while black' in San Antonio, Texas. He had committed no crime and it was the police who were in the wrong.
San Antonio, TX — Fitting the description, in the land of the free, is an all too common phrase used by public servants to justify the horrific abuse of innocent people. Time after time, the abuse turns deadly, and these innocent people are killed, permanently injured, or lose their freedom. As the video below illustrates, being entirely innocent is no defense against your subsequent kidnapping and assault.
Mathias Ometu is a successful insurance adjuster with no criminal past. However, all that has now changed after incompetent police officers claimed he "fit the description" of a criminal and moved in to assault, kidnap and cage him. Ometu was jogging at the time.
The interaction was caught on bystander video and shows a compliant Ometu standing peacefully by police after being placed in handcuffs.
"The only thing he did was not give his name. He was just jogging," witness Jennifer Rodriguez, who filmed the incident, says in the footage. "I walked right past him."
"I can't believe this is happening right here," he boyfriend, Victor Maas, chimes in as sirens blare in the background.
"His crime was jogging while black. They made up any reason to harass this guy," Maas wrote on Facebook regarding the footage.
According to police, officers stopped Ometu and told him they had "reasonable suspicion to believe" he "matched the description of an alleged strangulation family violence incident," the report said.
However, the person police were looking for was Darren Anthony Smith Jr. Smith has hair, Ometu is bald. Ometu also has a full large beard while Smith is clean shaven. Smith also has light skin while Ometu is darker. Mistaking these two for each other was a clear act of incompetence.
When police detained Ometu, he exercised his 5th Amendment right to remain silent. He refused to give police his name or any other information about himself. Not only is this a clearly established constitutional right, but a person being detained or questioned by police in the state of Texas is not required to provide identifying information, the Texas Penal Code states.
Nevertheless, police used Ometu's constitutional rights as a reason to escalate.
The police report said Ometu refused to give his name and date of birth after several requests and his "demeanor became aggressive." However, video shows the innocent man standing calmly outside of the cruiser for over six minutes. It wasn't until these armed men attempted to kidnap Ometu did any confrontation happen. Ometu refused to get in the patrol vehicle and was then "placed in the patrol vehicle" after a "long struggle," the report said, "using only open hand techniques," according to police.
The "open hand techniques" were apparently applied to Ometu's throat as we can hear him tell police they are choking him as he's shoved into the back of the police cruiser. What's more, the only "resistance" Ometu appears to assert is sticking his legs out so police can't close the door.
"You're choking me. You're choking me. You're choking me," Ometu yells as the cops shove him in the car while handcuffed behind his back.
Remember, prior to police kidnapping him, Ometu had committed no crime and was not required to give police any information. He was complying with their orders the entire time before they moved to kidnap him for no reason. Many people will defend the officers in this instance because Ometu didn't give his information. But flexing one's constitutional rights is never a reason to arrest someone. "Fitting the description" is not a crime.
Adding to the utter incompetence which encompassed Ometu's arrest is the fact that after he was thrown in a cage, he was assigned a public defender — who died in 2011.
Naturally, the police defended their actions, releasing a statement about the danger of the situation when dealing with the suspect. But they failed to mention that the "suspect" was not Ometu.
"The suspect fled before police arrived, but the victim provided officers with the suspect's information and officers also obtained information that the suspect was also wanted for a felony robbery warrant," the statement read. "The individual contacted was in close proximity to the call and he matched the physical and clothing description provided by the victim. That was the only reason he was stopped and questioned as the officers legitimately believed he was the wanted suspect."
The statement also said the department is aware of "several videos of the incident that have been posted online" and that the incident "will be reviewed administratively to ensure all policies were followed."
The fact that Ometu was innocent did not save him from facing charges. He was subsequently arrested and charged with assault on an officer. He was held in jail for two days before friends and family came up with the $20,000 to bail him out.
"'You can't just arrest someone for anything," Victor Ometu, Mathias' father said. "I imagine he's scared. He's never been in trouble before."
" width="560" height="315" frameborder="0" allowfullscreen="allowfullscreen">