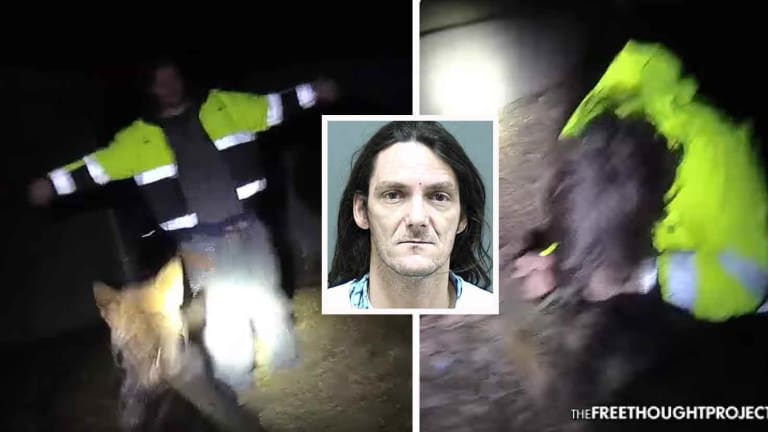 WATCH: Man Charged With Assaulting an Officer for Biting a Police K9 as It Tried to Bite Him
Insane body camera video released this week shows the arrest of an intoxicated man who fought back against a police K9, up to and including biting the dog back.
Racine County, WI — One of the oddest police videos to ever cross the radar of the Free Thought Project was released this week showing a police officer release his K9 on an apparently disorderly man only to have the man bite the K9.
The incident began just before midnight on Monday as police received a call from an address in which 44-year-old Leland O'Malley was attempting to go inside. O'Malley was not attempting to break and enter, nor rob the place, he was apparently intoxicated and merely no longer welcome at the home.
When deputies with the Racine County Sheriff's department arrived on the scene, they found O'Malley still banging on the windows and doors of the home and moved in to confront him. One of the deputies, Deputy Dave Fisher had his K9 partner, Murphy with him.
"It appeared to me he was not in the right state of mind," said Racine County Sheriff Christopher Schmaling.
According to police, O'Malley was not following instructions. However, the video shows that when officers confronted him, O'Malley complied with their commands to "come forward" and "step out."
When O'Malley rounds the side of the house, that's when all hell breaks loose. O'Malley is apparently so intoxicated that he is falling forward and stumbling which the officer perceives as "charging."
"Don't rush at me…the dog will bite you if you come too close," the officer said while asking O'Malley to move away from the house.
When O'Malley gets to the front of the home, he appears to get briefly tripped up and entangled in some corrugated drain pipe and loses his balance. He then takes two slow steps forward.
The deputy, obviously in fear for his life then releases his K9 after O'Malley takes another step forward.
Why deputy Fisher's partner did not have a taser trained on O'Malley in case an incident like this occurred remains to be seen. However, what happened next was entirely unexpected.
Instead of the dog latching onto O'Malley, O'Malley grabbed the dog by the collar and latched on to him. The two then fell to the ground where O'Malley began fighting to keep the dog at bay.
At one point we can see O'Malley choke the K9 and then move in to bite him. When Fisher saw his K9 in danger, he jumped into the fray to separate the pair.
Fisher is heard screaming at the suspect, "Stop fighting my dog" before pulling the pair apart. Then, without incident, illustrating how docile O'Malley actually was, he was easily placed in handcuffs and arrested.
Remarkably enough, neither the dog nor the intoxicated O'Malley was injured.
"So here's the bright side. I don't have a deputy sheriff that's injured or killed. The dog is not injured. So this is a win-win," Schmaling said. "The suspect, we did not have to use another level of force to overcome his resistance."
O'Malley was charged with two counts of disorderly conduct, one count of resisting arrest and one count of striking a police officer.
Considering how most police K9 interactions we report on here at TFTP end up, O'Malley should consider himself lucky he ended up in a jail cell and not the hospital or an early grave.