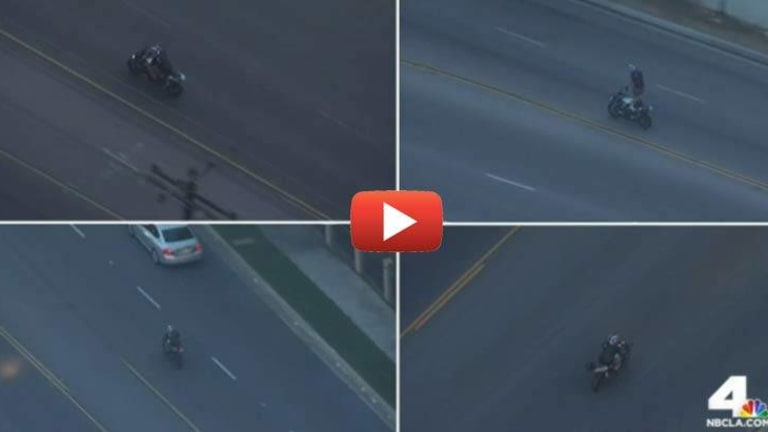 WATCH: Motorcyclist Taunts Police as he Performs Dangerous Stunts During High-Speed Chase
Rancho Cucamonga, CA -- A man has been arrested and is facing a $100,000 bond after leading police on an hourlong pursuit.
The 22-year-old Rancho Cucamonga man, Phillip Resendez was booked for driving on the wrong side of the road and failure to yield.
Resendez led police through two Southern California counties during the chase, most of which was caught on video.
To illustrate how unconcerned he was with police chasing him, Resendez stopped and adjusted his earbuds, before taking off again.
Reaching speeds upwards of 100 mph, Resendez certainly posed a danger to other around him and his actions were irresponsible.
Despite posing a danger to others, a crowd gathered in his support at the gas station where surrendered to police. They cheered as he was walked past them.
This case was similar to the video the Free Thought Project reported on in October.
Helmet cam footage of a "stunt biker" was posted to YouTube in October which shows a biker tell a CHP officer to "shoo away." After a brief exchange of words, "you're not wanted, "and a few hand gestures, the CHP officer actually leaves.
This video was taken on I-680 in Milpitas according to the California Highway Patrol.
The officer was trying to pull over the lead biker for "pulling a wheelie."