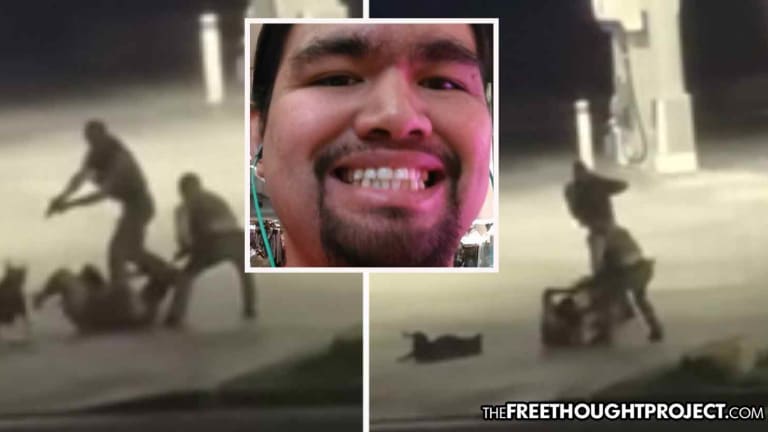 WATCH: Police Cross Paths With Innocent Mentally Ill Man, Kill His Dog, Put Him in ICU
An innocent mentally ill man was standing in a parking lot harming no one when police approached him, killed his dog, and beat him to the point of hospitalization.
Inyo County, CA — A disturbing video illustrating the problem with police in America and their inability to deal with the mentally ill, surfaced over the weekend. What it shows is that when your only tool is a hammer, people in a mental health crisis and even their dog will be pounded like nails. George Barlow, 32, and his dog, learned this the hard way over the weekend when their paths crossed with Inyo County Sheriff's deputies.
According to police, "on July 24 shortly after 2:00am Inyo County Sheriff's Office received a report of a domestic violence restraining order violation at 969 Tu Su Lane. Upon arrival of the deputies, neither the reporting party nor the suspect could be located. While looking in the area, the deputies noticed a male subject across the street at the Chevron station, which was closed; the subject was agitated and yelling."
The man yelling was Barlow. He was alone, was not the person police were looking for, breaking no laws, and had harmed no one. Despite these facts, police decided to initiate a confrontation with him which proved to be deadly for his dog and put Barlow in ICU.
Police claim that when they approached Barlow, he "charged the deputy with his pit bull closely behind him." This is not seen on the video posted to social media. The video shows a shirtless Barlow with his hands up, clearly frightened of what is going on and just trying to get away. According to the police statement:
The deputy continually ordered Barlow to stop charging. When Barlow came within 10 feet, the deputy deployed his Taser. Due to the heavy clothing Barlow was wearing, the Taser had no effect on Barlow. Barlow removed his heavy sweater.

The second deputy responded to the Chevron at this point and after Barlow refused to follow commands, he deployed his Taser striking Barlow in the upper abdomen. This caused Barlow to fall to the ground. Before the deputies were able to handcuff him, Barlow sat up and removed the Taser darts.
After tasering the man who was doing nothing but standing in an empty parking lot, police then pulled out their batons and started wailing on him. Naturally, this caused Barlow to attempt to protect himself from the officers, and his dog as well. As Barlow grabbed the police baton to stop it from smashing in his skull, one of the officers can be heard on the video saying, "shoot the dog."
Moments later, an officer shot Barlow's dog causing Barlow to jump up and run away. When police caught up with Barlow in the parking lot next door, they released their dog this time, which was not nearly as nice as Barlow's pit bull.
In the second video, Barlow is seen on the ground as the dog can be heard snarling and tearing into his flesh. The attack was so over the top that the people filming began yelling at the officers to get their dog off of him. The deputies didn't listen.
Barlow's injuries were so severe that according to his family, he is currently on life support. They have since launched a GoFundMe for Barlow, who they say is a victim of racial bias in policing as he was a Native American..
My cousin George Barlow did not deserve to be brutalized like this, nobody does. Law enforcement in Payahuunadü has a history of brutalizing Native citizens and we receive little to no justice.

I've been assaulted twice and both times law enforcement put the blame on me. The story is the same for many other Indigenous people in my community.

Prayers up for George! We grew up together and the first thing I think of is his big smile and his infectious laughter. Please join my community in holding @inyosheriff accountable. Call the numbers in the 3rd and 4th slide to demand justice for George Barlow.

This is what I said when I called—"I want to demand that the officers who brutalized George Barlow on July 24th on the Bishop Reservation be held accountable for the injuries they inflicted upon him. And for shooting and killing of his dog. Law enforcement agencies continue to mistreat the Native community and it needs to stop."
Below is the disturbing video.