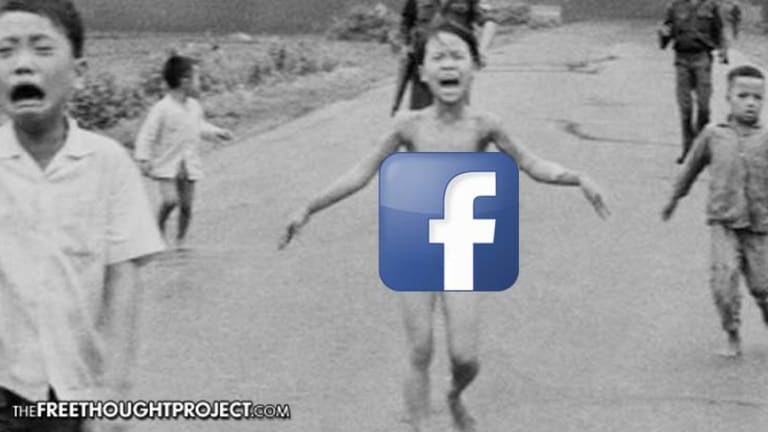 Facebook's Censorship of Iconic Image Infuriates the World -- Internet Lets Zuckerberg Have It
Facebook censorship not only removed one of the most compelling war images of all time, it then censored the prime minister of Norway for it.
Facebook infuriated the Internet, again, first by the censoring one of the most iconic images from the Vietnam War posted by Norwegian author Tom Egeland — then, by subsequent post deletions of the same powerful image posted in support of the paper by the country's politicians and even Norway's prime minister.
Mark Zuckerberg, Facebook, you are not the world's all-powerful censor, and — no matter to what degree frothy-mouthed Puritanical zeal played a role here — you cannot claim to want to provide the world's news by picking and choosing which topics you feel people should and should not discuss.
It's tiresome. It's totalitarian. And, it's moves like this, that will ultimately force even the most conventional among us to jump ship for a less rigid social media vessel.
"Dear Mark Zuckerberg,"AftenPosten editor-in-chief Espen Egil Hansen penned in an op-ed about the removal of Kim Phuc's naked and panicked escape from a napalm bomb, as captured in a Pulitzer Prize-winning photograph by Nick Ut on June 8, 1972. "I am writing this letter to inform you that I shall not comply with your requirement to remove a documentary photography from the Vietnam war made by Nick Ut.
"Not today, and not in the future."
Ut's stunningly expository image jolted the planet to the realities of the controversial war and is widely credited with bringing the conflict to an end. Understandably so, considering Phan Thị Kim Phúc was a mere nine years old when the Associated Press photographer snapped the picture — ultimately cementing in the international mind the petrified and distraught face of war as experienced by a wholly innocent child.
That image — the horrific aftermath of an errant napalm bombing near a Buddhist pagoda in the village of Trang Bang — has since reinvigorated countless anti-war campaigns, starkly plastered on innumerable magazine covers, mainstream and independent media articles, literature, textbooks, and other learning materials. Egeland thus included the photo among seven he said "changed the history of warfare."
But never mind all that. Mark Zuckerberg is here to save us from Kim Phuc's naked body — no matter the altogether imperatively crucial extenuating circumstances.
Facebook, of course, didn't end its authoritarian takedown with posts of one of the planet's most famous war photographs — the megalomaniacal banhammer extended to include posts pointedly critical of the deletions, including one from Kim Phuc, herself.
In fact, Egeland, responsible for conveying her criticism to Facebook, has been banned by the social media hegemon from posting anything at all.
"Listen, Mark, this is serious," Hansen continued. "First you create rules that don't distinguish between child pornography and famous war photographs. Then you practice these rules without allowing space for good judgment. Finally you even censor criticism against and discussion about the decision — and you punish the person who dares to voice criticism."
Even, apparently, Erna Solberg — the Conservative prime minister of Norway — who since rightly called for Facebook to "review its editing policy" amid a rapidly amplifying wildfire of controversy.
"I appreciate the work Facebook and other media do to stop content and pictures showing abuse and violence," Solberg stated in her now-deleted post, the Guardianreported. "But Facebook is wrong when they censor such images."
"I say no to this type of censorship," she added.
Following the absurd deletion of her post, Solberg said, "It is highly regrettable that Facebook has removed a post from my Facebook page. What they achieve by removing such images, good as the intentions may be, is to edit our common history. I wish today's children will also have the opportunity to see and learn from historical mistakes and events. This is important.
"I hope Facebook uses this opportunity to review its editing policy, and assumes the responsibility a large company managing a broad communication platform should take."
It would behoove Zuckerberg, whom Hansen called "the world's most powerful editor" — both from business and common sense standpoints — to take note of public outrage before the tiresome and inexplicable censoring relegates Facebook to the virtual dust bin of useless things.
Censorship, after all, does infinitely more to obviate the censor's motives than anything — and during this time of countless military conflicts and increasing public disdain for war, removing an iconic anti-war image is far from an opaque move.
"I think you are abusing your power," Hansen warned Zuckerberg in the editorial, "and I find it hard to believe that you have thought it through thoroughly."
Hansen emphasized Facebook's positive achievements in facilitating international conversations on timely topics, but cautioned Zuckerberg against selectively filtering potentially offensive topics and images — particularly given widely varied cultural and religious differences.
Such positive notions, perhaps once warranting praise, however, have notably been waylaid in recent months in favor of sweeping and unexplained censorship by the ubiquitous social media platform.
Hansen implored of Zuckerberg that "if you wish to increase the real understanding between human beings, you have to offer more liberty in order to meet the entire width of cultural expressions and discuss substantial matters."
In fact, coping with Facebook's tireless tricks constitutes little more than a groan-worthy daily chore for those whose business is spreading news and sparking discussions about pertinent — though often contentious — issues. As with any chore, once the burden becomes onerous, solutions will be sought — and Facebook's heavy-handed censorship has an increasing number of people ditching the platform in favor of others where freedom of speech and expression is reality, rather than hollow mission statement.
Little recourse is provided those who fall victim to Facebook's virtual book-burnings, leaving many — as in the case of the Vietnam War image — relegated to ranting on the same platform guilty of censoring. On Egeland's posting of Kim Phuc's criticism and subsequent banned account, Hansen wrote:
"If you take the liberty to challenge Facebook's rules, you will be met — as we have seen — with censorship. And if someone will protest against the censorship, he will be punished, as Tom Egeland was."
The irony of this cycle cannot be downplayed.
Duly noting doubts Zuckerberg would even happen upon his letter, Hansen admonished the censoring of Norway's prime minister for the Guardian.
"At least they don't discriminate," the editor flatly deadpanned, "we have to give them credit for that."