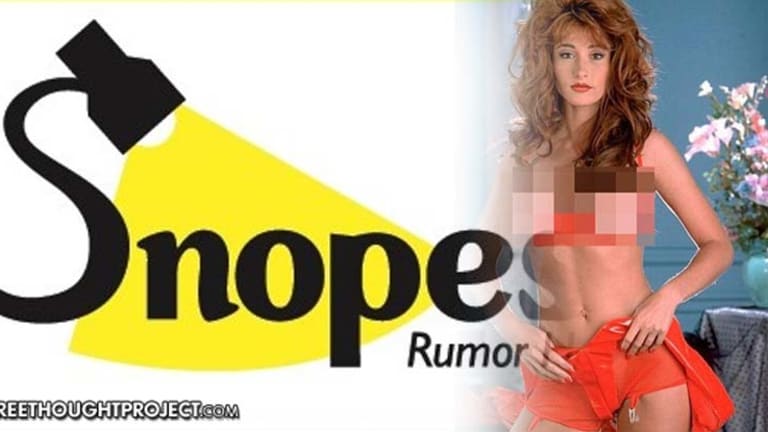 Snopes, the Supposed Arbiter of 'Fake News' -- Accused of 'Defrauding Own Site to Pay for Prostitutes'
Snopes, the company who's been the 'chosen one' in deciding what's real, has been caught in a web of fraud, embezzlement, prostitution and more.
Fraud, embezzlement, and using company funds to pay for prostitution are just a sampling of the accusations against the CEO of fact-checking website, Snopes — a site which, incidentally, is part of Facebook's new panel to combat "fake news."
Facebook's choice to hire Snopes to arbitrate which news items will be allowed to stand and which should receive the Scarlet-Letter label 'disputed' already brought outrage — the site is notoriously left-leaning — but an exclusive report from the Daily Mail on alleged shady dealings should turn Mark Zuckerberg's cheeks a deep shade of red.
David and Barbara Mikkelson, ex-spouses and founders of Snopes, have been hurling accusations allegations at one another in an ongoing bitter legal dispute following their divorce — and many of the claims don't exactly give the company an air of professionalism.
Last month, David remarried — his new wife is a former porn actress and escort — and is now one of the site's fact-checkers. As for the accusations, reports the Daily Mail,
"They are accusing each other of financial impropriety, with Barbara claiming her ex-husband is guilty of 'embezzlement' and suggesting he is attempting a 'boondoggle' to change tax arrangements, while David claims she took millions from their joint accounts and bought property in Las Vegas."
As the Daily Mail notes, the couple met on an online message board with a folklore theme in the early 1990s, and created a fake organization — "The San Fernando Valley Folklore Society" — which, according to a Webby Awards profile, is "an entity dreamed up to help make the inquiries seem more legit."
David, now CEO of Snopes — which the former couple created after marrying in 1995 — told the Los Angeles Times in 1997, as cited by the Daily Mail, "When I sent letters out to companies, I found I got a much better response with an official-looking organization's stationery."
Although they divorced in 2015, the pair remains embroiled in a caustic legal battle — mostly about money — and particularly concerning each other's use of Snopes' funds. Legal documents viewed by the Daily Mail — some of which are verifiable, as presented by the outlet, some not — evince a drawn out personal and corporate quarrel, which a lawyer, unidentified by the outlet, described as "contentious."
Barbara, in court filings, accuses David of "raiding" Snopes' bank account "for his personal use and attorney fees" and embezzling "$98,000 from our company over the course of four years, which were monies he expended upon himself and the prostitutes he hired …"
In a court document from June, she contended, "He's been depleting the corporate account by spending monies from it on his personal expenses," such as purchasing his 'girlfriend's' ticket to Buenos Aires and $10,000 for a "personal vacation" to India.
David later claimed India to be a business prospecting trip to familiarize himself with the country in order to set up a fact-checking site there, and that the $10,000 only financed 22.5 percent of the total cost of the excursion.
Barbara apparently worried her ex-husband would drain Snopes' entire account and said he must be prohibited from using the company's debit card and checks "right away."
Another acrid disagreement concerned David's salary, which Barbara was obligated to approve. As the Daily Mail explains, "David wanted his salary raised from $240,000 to $360,000 – arguing that this would still put him below the 'industry standards' and that he should be paid up to $720,000 a year."
In an April email to his ex-spouse, David wrote, "As I said, based on industry standards and our revenues, my salary should be about 2x to 3x what it is now. I'll settle for $360K with the understanding that it's to be retroactive to the start of the year."
She balked, however, describing that request as "not even in the galaxy of reasonable."
But the greed-tinged financial battle so divided the former 'fact-checking' couple, they even fought over the person assigned to settle disputes as the legal war raged. In fact, court filings show one arbiter subtly suggesting an arbiter step in to arbitrate yet another sub-battle in the ongoing war over money.
In the original settlement, Barbara received $1.5 million in stocks, savings, and other investments, as well as $660,000 upon agreement to give up her claim to their home in Calabasas, California.
David, on the other hand, kept their joint baseball card collection of undisclosed value and two savings accounts with a combined balance of $1.89 million.
Each took half of Snopes' checking account at the end of 2015, with a balance of $240,000, and as the Daily Mail reports, "both of the former couple were due to receive $20,000 a month as a draw against profits, as well as a share of any net profit the company made after those payments." Monthly payments were later increased to $30,000 for both David and Barbara.
But their monetary avarice still didn't cease, as "court documents show that a decision on David's salary for 2016 became bogged down in legal argument when Barbara referred it to an arbiter, and the appointment of the arbiter became itself a matter of dispute."
Since the acrimonious divorce, David hired Elyssa Young — better known as Erin O'Bryn, a longtime escort and porn star, and now his wife — as administrative assistant at Snopes. According to the Daily Mail, Young's escort profiles on professional sites and social media are still active, though it's unclear whether she still works in that field.
However, of particular concern about Young — given Snopes will soon wield the almighty censorship hammer for Facebook — is her deeply political past. The maybe-former escort ran an unsuccessful bid on the Libertarian ticket for U.S. Congress in Hawai`i in 2004, and became the subject of legitimate controversy for a snafu in which she misspelled her Republican competitor's name — on her official campaign website.
Young isn't the only eyebrow-raising Snopes employee — Kim LaCapria, the company's lead 'fact-checker,' boasts openly of being a dominatrix known as "Vice Vixen," and wrote on her personal blog she "played scrabble [sic], smoked pot, and posted to Snopes. That's what I did on my day 'on' too."
David, who is legally prohibited from discussing anything concerning the dispute with Barbara, told the Daily Mailthere is no "standardized procedure" in place for Snopes fact-checking"since the nature of this material can vary widely," but the process "involves multiple stages of editorial oversight, so no output is the result of a single person's discretion."
Rather alarmingly under the circumstances, he added there are no 'set requirements' for Snopes fact-checkers given the broadness of the job "would be difficult to encompass in any single blanket set of standards.
"Accordingly, our editorial staff is drawn from diverse backgrounds; some of them have degrees and/or professional experience in journalism, and some of them don't."
Anyone with even a cursory concern about freedom of speech and of the press is likely already distressed that Facebook's self-appointed mission to slay 'fake news' includes only left-leaning organizations like ABC News, Politifact, FactCheck.org, and, of course, Snopes.
But that distress could turn to sheer horror knowing one of these supposed 'fact-checkers' can't agree on a single point, once made up a fake organization just to appear professional — and is ensnared in a war over seemingly every penny.
Snopes will profit from its arrangement with Facebook — but how those profits will be spent appears entirely up in the air — and for the courts to decide.
However, one point incontestably underpinning the personal battle behind the scene at the company demands an urgent question — with money as the seemingly only motivator, can the public ever be assured Snopes' checked facts are accurate at all?
Perhaps Snopes has finally been Snoped.