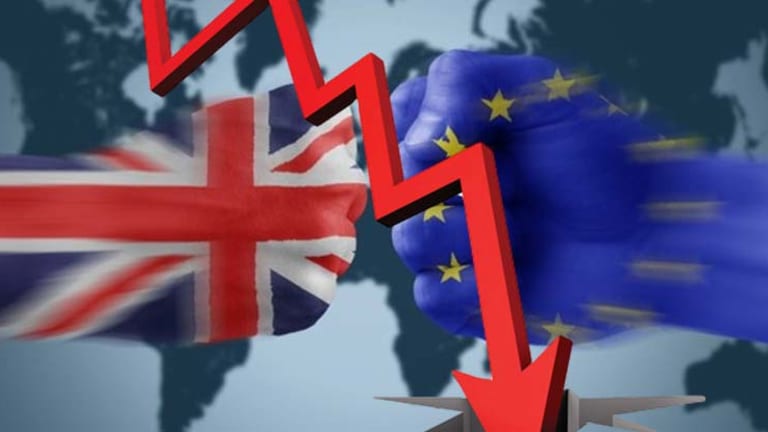 Global Elite Makes Good on Threats to "Make All of You Poorer" After Britain Independence
Despite the elite's best attempts at fear mongering -- Britain Declares Independence -- Potentially deliberate market collapse ensues.
Markets are crashing to 30-year lows. Elites are panicking, stunned by the gall of the U.K. ignoring their warning a vote for Brexit would, for all intents and purposes, be the end of the world as we know it. Prime Minister David Cameron stunningly tendered his resignation.
Britain declares independence!
Breaking ties with the European Union the people apparently felt no longer served a purpose — perhaps not wanting more of that world we know — and France, Italy, the Netherlands, Scotland, and even Northern Ireland might not be far behind. With a voter turnout reportedly exceeding 72 percent, Brexit won by 51.9 percent.
Heads of the European Council, European Parliament, European Commission, and E.U. issued a statement after a meeting in Brussels concerning this historic declaration of independence which states, as cited by Zero Hedge, in part:
"In a free and democratic process, the British people have expressed their wish to leave the European Union. We regret this decision but respect it.

"This is an unprecedented situation but we are united in our response. We will stand strong and uphold the EU's core values of promoting peace and the well-being of its peoples. The union of 27 member states will continue."
Perhaps that marriage of economies and politics will carry on — or perhaps other nations, as noted above, see the perils inherent in such a globalized, centralized governance and seek their own sea legs in the coming months and years.
Cameron's equally shocking decision to resign further complicated matters for the soon-to-be independent Britain, instantly sparking a race for the next leader — with London Mayor Boris Johnson, who had campaigned in favor of the Brexit, appearing the most likely to win the role.
"I will do everything I can as prime minister to steady this ship over the coming weeks and months," an emotional Cameron said, announcing his resignation in a press conference. "But I do not think it would be right for me to try to be the captain that steers our country to its next destination."
Of course, the Brexit undoubtedly struck terror in the hearts of the global elite — Soros, Rothschild, BlackRock, JPMorgan Chase, and their ilk — who warned a split from the E.U. would send markets crashing in a free fall. Prior to the vote, they initiated a campaign of fear — an attempt to scaremonger the common man into staying with the Union, no matter what.
"The Brexit crash will make all of you poorer — be warned," Soros penned in an op-ed for the Guardian on June 20. "My 60 years of experience tells me the pound will plummet, along with your living standards. The only winners will be the speculators [...]
"A vote to leave could see the week end with a Black Friday, and serious consequences for ordinary people."
Now, the British Black Friday has come to pass, indeed — but for over half the populace, swiftly slumping markets are a small price to pay for independence. As they wait out the official exit from the E.U., the interim might, indeed, be financially grim. But they can proudly declare the fact they weren't cowed into a decision by banking elitists they did not otherwise find appealing.
"It's scary, and I've never seen anything like it," James Butterfill, head of research and investments at ETF Securities, summarized the market falling to levels not seen since the 1980s. "A lot of people were caught out, and many investors will lose a lot of money."
U.S. presidential hopeful, Donald Trump, imparted his own opinion on the Brexit, "They took back their country. That's a great thing."
German Chancellor Angela Merkel, her beloved E.U. crumbling, urged for calm and stated, "We are taking note of the U.K. decision with great regret."
While the Brexit is final, and preparations for the official parting of ways will now be underway, crashing global markets — the British pound fell over 10 percent beginning Thursday night — are a developing story with repercussions that won't be fully felt or understood for some time.