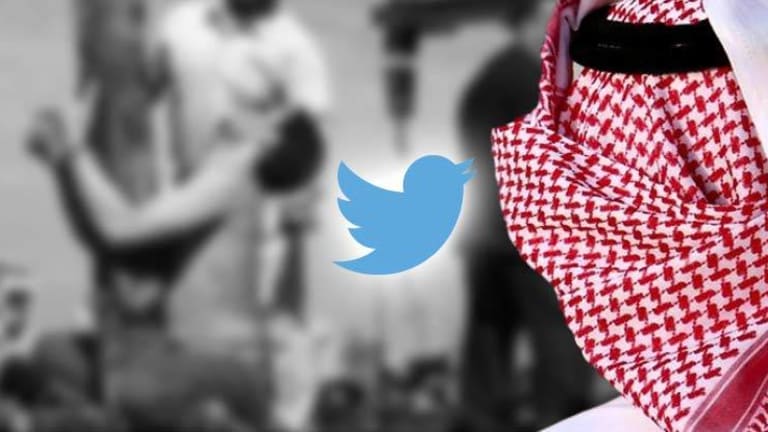 US Ally, Saudi Arabia Sentences Man to 10 Years and 2,000 Lashes for Atheist Tweets
Arrested for posting atheist comments on Twitter, a man in Saudi Arabia has been sentenced to ten years in prison and 2,000 lashes
Riyadh, Saudi Arabia – Criminalized as a terrorist for denying the existence of God on Twitter, a 28-year-old Saudi man was recently sentenced to ten years in prison and 2,000 lashes. Instead of denying that he wrote the tweets or apologizing for their content, the unnamed man stood up for his right to express his views while refusing to repent.
According to Saudi newspaper Al-Watan, the Saudi religious police force known as the Committee for the Promotion of Virtue and the Prevention of Vice discovered over 600 tweets posted by the unidentified 28-year-old. Arrested for denying the existence of God on Twitter, accusing the prophets of lying, and asserting that their teachings encourage warfare, the man stated in court that he has the right to express his beliefs and would not recant in order to receive leniency.
Enforcing a strict interpretation of Sharia law, the Saudi government enacted anti-terrorism laws a few years ago designed to silence dissenters and quash public protests. Fearing a resurgence of the Arab spring, the procrustean Saudi government now equates atheism to terrorism due to the fact that the separation of Mosque and State does not exist in Saudi Arabia.
Besides tracking down atheists on Twitter, the Saudi religious police also arrests people accused of practicing magic, witchcraft, or sorcery. In 2012 alone, the religious police apprehended 215 sorcerers. Caught with illegal contraband, including magic books and talismans, Muree bin Ali bin Issa al-Asiri was beheaded for committing witchcraft and sorcery.
After banning J.K. Rowling's Harry Potter series, the Saudi regime established the Anti-Witchcraft Unit and assigned the religious police force under the authority of the Committee for the Promotion of Virtue and the Prevention of Vice in May 2009. Their website even encouraged citizens to report cases of sorcery to local officials.
With assistance from the NSA, the Saudi government began receiving U.S. signals intelligence (SIGINT) in December 2012. By providing technical assistance and decryption tools, Director of National Intelligence James Clapper gave the Saudi government the ability to improve their surveillance systems and spyware against political dissidents, bloggers, and human rights activists. In 2014, the religious police shut down over 10,000 Saudi Twitter accounts for allegedly criticizing the royal family or spreading "pornographic" materials.
Sentenced to 10 years in prison and fined 20,000 riyals, or roughly $5,330, the 28-year-old atheist must also endure 2,000 lashes, which are routinely broken up into 50 public floggings each week. Known for enforcing draconian laws and inflicting severe punishments, the Saudi court also sentenced Ali Mohammed Baqir al-Nimr in 2014 to execution by beheading and crucifixion for participating in a protest as a teenager.
Unable to distinguish between witches, protestors, atheists, and sorcerers, the Saudi monarchy is clearly out of their goddamn minds. Although local American governments did prosecute people accused of witchcraft during the late 17th century, at least modern-day cops in the U.S. aren't shooting wizards to the death in the streets.
By simply labeling religious and political dissidents as "terrorists," the Saudi government has attempted to silence and intimidate anyone with the courage to question authority. With a youth unemployment rate of 29 percent, Saudi Arabia has better decisions to make than imprisoning and executing its free thinkers.
Andrew Emett is a Los Angeles-based reporter exposing political and corporate corruption. His interests include national security, corporate abuse, and holding government officials accountable. Andrew's work has appeared on Raw Story, Alternet, Activist Post, and many other sites. You can follow him on Twitter @AndrewEmett and on Facebook at Andrew Emett.