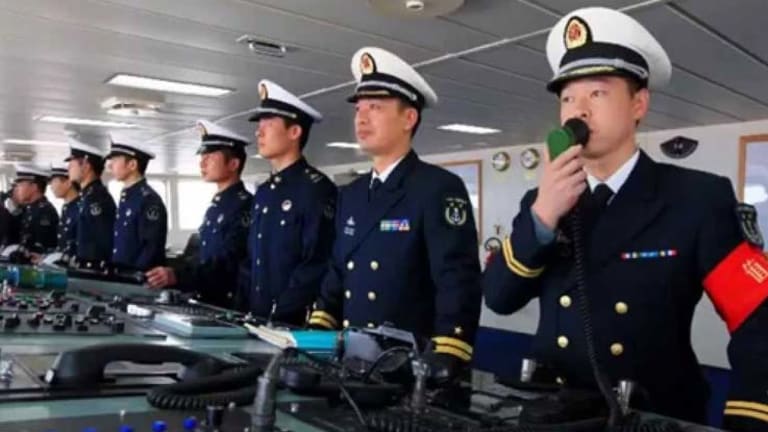 WW III? China Tells Citizens to Prepare for "A People's War at Sea"
China's defense minister urged its people to prepare for "substantial war at sea," amid escalating tensions with the US over disputed waters in the South China Sea.
In continued rejection of last month's ruling by a Hague-based tribunal invalidating China's territorial claims to a vast swath of the South China Sea, on Tuesday, the Chinese defense minister urged for "substantial preparation for a people's war at sea."
Chinese Defense Minister Chang Wanquan also warned of "offshore security threats" and the need to acknowledge the gravity of risk to China's national security; and advised the military, police, and populace to ready for mobilization to defend national sovereignty and territorial integrity, according to state news agency, Xinhua.
None of this bellicose rhetoric and escalation is occurring in a vacuum, of course, and while Americans seem content to analyze whether Donald Trump has experienced a psychological break or bemoan the fact Hillary Clinton hasn't landed in federal custody, the United States meanwhile barrels toward war with China and its ally, Russia.
China's assertions of provocation by the U.S. — backed by the deployment of an armada of ships to the South China Sea, as well as nuclear bombers to the Pacific — its rejection of the tribunal's ruling, and promises to aggressively defend its interests at sea all point toward impending military conflict.
Claiming it wishes to ensure freedom of navigation in the geostrategically important region, the U.S. has conducted a number of military drills in the hotly-contested waters — but its premise of defense against Chinese aggression halfway around the world hardly masks what would be rightly called outright instigation.
"China doesn't want wars, a war with the U.S. in particular," the Global China Timeswrote in an op-ed response to a Rand Corporation report showing China would suffer heavy losses should the two nations engage in military conflict. "The only possible scenario for a Sino-US war is that the U.S. corners China on its doorstep with unacceptable provocations and China has to fight back."
It added darkly, "We will be very prudent about going to war, but if a war is triggered, we will have greater determination than the U.S. to fight it to the end and we can endure more losses than the U.S."
On Tuesday, China's top court ruled there exists a "clear legal basis for China to safeguard maritime order, marine safety and interests, and to exercise integrated management over the country's jurisdictional seas."
Though observers weren't in complete agreement on precisely what the court intended by 'jurisdictional seas,' most felt the country is attempting to establish the basis for a 'defensive' military response against 'trespassers' in the disputed waters.
"It appears that China is establishing the legal basis to enforce violations of Chinese domestic law in the South China Sea," Bonnie Glaser, director of the China Power Project at the Center for Strategic and International Studies, explained to Business Insider.
"There is still ambiguity, however, since China has not clarified what it means by its jurisdictional seas. It remains to be seen whether this announcement from a Chinese court is intended for domestic purposes or will be used to assert sovereignty within the nine-dash-line."
Struck down by the tribunal, China's maritime territorial claim concerns a vast swath of the South China Sea and islands encompassed within a line of nine dashes — and includes the Paracel Islands, the Spratly Islands, Taiwan, and much more.
Of specific concern to the United States is China's "land reclamation" project, where the country is building man-made islands atop coral reefs to construct airstrips and military installations — causing massive damage to the exact marine ecosystems the country's court ironically claimed it sought to protect in Tuesday's ruling.
According to the regulation, anyone engaging in illegal hunting or fishing will be pursued for criminal liability.
"This is kind of an ominous suggestion that they will be prosecuting people who enter the waters that China claims," Hong Kong University law professor, Michael Davis, told CNN.
"The Chinese court's ruling is China's way of saying that it has the right to continue to do what it wants in the South China Sea, despite the verdict from the international court in favor of the Philippines," Robert Kaplan, senior fellow at the Center for a New American Security and author of "Asia's Cauldron," toldBusiness Insider.
In addition to China and the Philippines, which brought the suit, Vietnam, Indonesia, Malaysia, Brunei, and Taiwan also claim territorial rights to this perhaps most disputed region on the planet.
While the court handed down its ruling on land, hundreds of ships and submarines from all three fleets of China's People's Liberation Army conducted extensive "live ammunition" drills in the China's East, North, and South Seas as a show of offensive and defensive capabilities — as proof of the country's resolve not to capitulate to the Hague ruling.
"The drill is aimed at honing the assault intensity, precision, stability and speed of troops amid heavy electronic influences," read a Navy statement cited by Zero Hedge. "An information technology-based war at sea is sudden, cruel and short, which requires a fast transition to combat status, quick transition and high assault efficiency."
Somewhat more forebodingly, China plans to conduct joint naval drills with Russia next month, at an as-yet undisclosed location. While these military exercises wouldn't be cause for concern should they be carried out in undisputed areas, if the action moves into contended waters, direct conflict with the U.S. could easily spark.
"China has held many drills very close to Hainan, where there are not any territorial or maritime disputes because it is so close to undisputed Chinese territory and longstanding Chinese military bases," Shannon Tiezzi, editor of The Diplomat, explained this week on VOA China 360. "However, if the drills start moving south toward the disputed Spratly Islands and make use of some of the new facilities China has built there, that would be much more of a warning sign for the international community."
While Americans appear more concerned with the 'election' of the next president, all the portents point to the potential for the next major war to explode while Obama still occupies the White House.