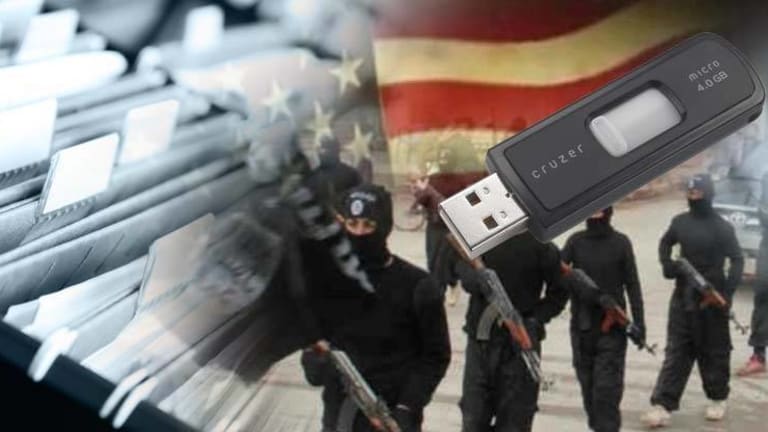 Leaked ISIS Documents Expose Identities and Families of 22,000 Jihadis Including those in the U.S.
In an act of retribution against ISIS leadership, a whistleblower has recently released the identities of 22,000 known and unknown jihadis.
Disillusioned with ISIS leadership, a whistleblower within the terrorist organization just released the identities of 22,000 jihadis hailing from at least 51 countries, including the U.S., U.K., and Canada. Stolen from Islamic State's internal security, the detrimental memory stick contains tens of thousands of documents, including a personal 23-question form each jihadi was required to fill out before induction into ISIS.
After converting to ISIS, a former soldier with the Free Syrian Army referring to himself as Abu Hamed recently stole a memory stick from the head of Islamic State's internal security police, an organization described by insiders as the group's version of Hitler's SS. Hamed stole the memory card and recently gave it to Sky News at a secret location in Turkey, claiming that former soldiers from Saddam Hussein's Iraqi Baath party have usurped ISIS leadership and disregarded traditional Islamic rules. Containing 22,000 names, addresses, phone numbers, and family contacts of Islamic State jihadis, the memory stick has become the largest intelligence disclosure since Ed Snowden and Chelsea Manning.
According to the stolen documents, Islamic State recruits were required to fill out a 23-question form including entries for the "countries traveled through," "previous fighting experience," "who recommended him," and "special skills." Some other categories on the forms included "levels of obedience" and "time and place of death." A file marked "Martyrs" described a brigade of Islamic State fighters who had volunteered and trained to carry out suicide attacks.
Residing among the names of 22,000 jihadis, Junaid Hussain was a computer hacker who became head of Islamic State's media wing. Jailed for six months in 2012 for hacking the email account of an assistant to former Prime Minister Tony Blair and leaking confidential information about him, Hussain was killed by a U.S. drone strike in Syria. His wife, a former punk rocker named Sally Jones, is suspected of plotting attacks in the U.K. with him and remains in hiding in Syria.
Suspected of being Jihadi John before being ruled out, Abdel Bary also filled out a Kafkaesque form before joining ISIS in 2013. Known as a rap artist in London, Bary was pictured in August last year holding the severed head of an executed Syrian army soldier. Bary's whereabouts remain unknown.
Another jihadi from the U.K., Reyaad Khan filled out a questionnaire revealing that he entered the Islamic State in 2013. Khan was killed in an RAF drone strike in July last year after participating in a "jihadi internet warfare cell."
The 22,000 identified terrorists hail from at least 51 countries, including a number of previously unknown jihadis living in the U.S., U.K., Canada, Europe, the Middle East, and North Africa. Many of the men were allowed to return home after visiting a series of known jihadi "hotspots" such as Yemen, Sudan, Tunisia, Libya, Pakistan, and Afghanistan. The memory stick also contains their names, addresses, phone numbers, and family contacts.
According to the whistleblower known as Abu Hamed, ISIS leadership has recently decided to retreat from their headquarters in Raqqa. He has also accused Islamic State, the Kurdish YPG, and the Syrian government of Bashar al Assad of working together against the moderate Syrian opposition.
Although the U.S. government has publicly denounced whistleblowers since the disclosures of John Kiriakou, Chelsea Manning, and Ed Snowden, the intelligence community has suddenly fallen in love with the idea of whistleblowers. But only on the condition that they disclose the secrets of our government's enemies, and not anything regarding U.S. torture, war crimes, or mass surveillance.
[author title="" image="https://"]Andrew Emett is a Los Angeles-based reporter exposing political and corporate corruption. His interests include national security, corporate abuse, and holding government officials accountable. Andrew's work has appeared on Raw Story, Alternet, Activist Post, and many other sites. You can follow him on Twitter @AndrewEmett and on Facebook at Andrew Emett.[/author]