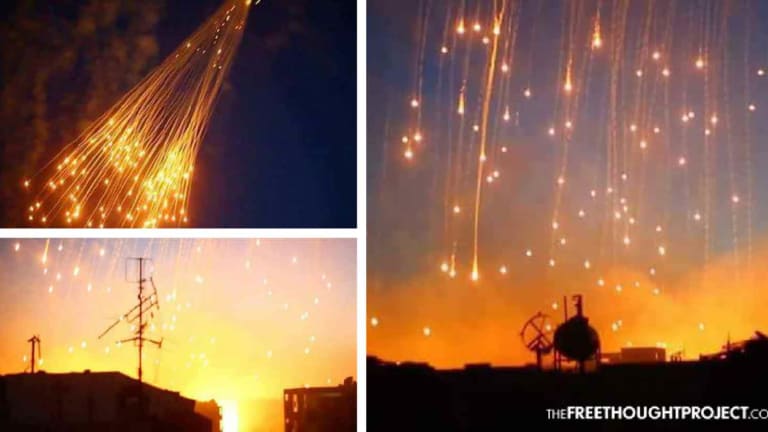 It's Not Terrorism When We Do It—Syrians Report US Use of Chemical Weapons on Town of 200K
The corporate media have become eerily silent in the face of reports that suggest a US-backed coalition showed Raqqa with chemical weapons.
The outrage and empathy on behalf of the civilians in Syria that was expressed by politicians and media personalities alike when they found an opportunity to blame a chemical attack on Assad's government was a distant memory this week. Instead, reports that a US-backed coalition dropped a cluster of airstrikes containing illegal chemicals on a city housing 200,000 people was almost completely ignored by western media.
The US-backed Syrian Democratic Forces (SDF) broke into the Islamic State-held city of Raqqa for the first time on Tuesday. While popular outlets such as Reuters reported that "as artillery and coalition aircraft pounded targets in the city, SDF fighters moved in small groups into the district," there were some key aspects they appeared to leave out.
International outlets and witnesses on Twitter noted that some of the airstrikes resembled cluster bombs or white phosphorus, both of which are internationally banned on residential areas.
Xinhua News, China's state press agency, reported that "Tens of civilians were killed on Thursday when the U.S.-led airstrikes targeted Syria's northern city of Raqqa with white phosphorus," citing a report from Syria's Sham FM radio. Russia's Riafan.ru reported that "Coalition forces led by the United States of America shell Raqqa and suburbs of white phosphorus munitions," citing reports on Twitter, which said the U.S.-backed coalition conducted 20 air raids. Although the total number of civilian deaths has not been confirmed, early reports suggest that nearly 50 people were killed. The U.S. has yet to acknowledge whether white phosphorus was used during the raids. White phosphorus is described as an "incendiary and toxic chemical substance used as a filler in a number of different munitions that can be employed for a variety of military purposes." The chemical was banned internationally after the 1980 Protocol on Incendiary Weapons restricted the "use of incendiary weapons as a means or method of warfare during armed conflict." The use of chemical weapons is clearly prohibited in international armed conflicts. The International Committee of the Red Cross noted that "employing asphyxiating, poisonous or other gases, and all analogous liquids, materials or devices is listed in the Statute of the International Criminal Court as a war crime." If the U.S.-backed Syrian Democratic Forces are successful in regaining control of Raqqa from ISIS, then the question remains of who will control the city moving forward. The SDF announced plans in April to run the city using a civilian council—with the help of more than 3,000 U.S. ground troops—which would further a divided Syria, and would keep the U.S. is at odds with Assad's government. The same president who claimed to be heartbroken over the "innocent babies" who were reportedly killed in April in a chemical attack that was immediately blamed on Assad's government—despite evidence that suggested otherwise—has said nothing about the reports that suggest his country could be guilty of the same crime he condemned. While it is not likely that the United States will fully address the reports, it should be noted that by remaining silent, the mainstream media is also reminding the public of its hypocritical nature. The same MSM that provides obsessive coverage of everything President Trump posts on Twitter, has seemingly ignored the flurry of Tweets from various users suggesting the use of chemical weapons by a U.S.-backed coalition.