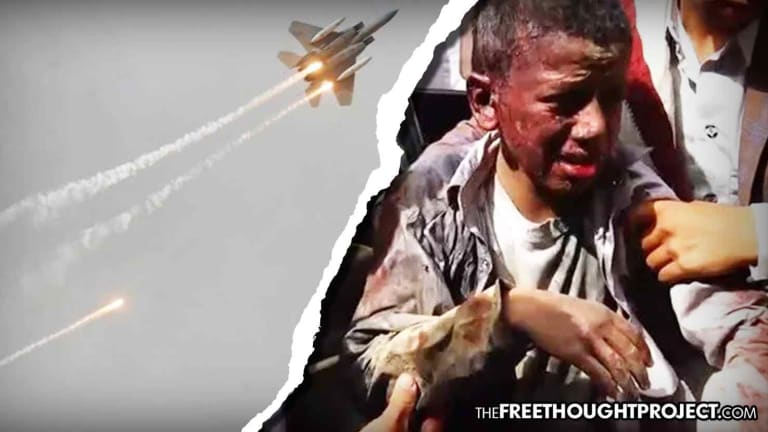 US-Backed Coalition Just Slaughtered Dozens of Children Under 10-Years-old by Bombing a School Bus
As children in the U.S. prepare to go back to school, a United States-backed airstrike hit a school bus and killed at least 43 civilians—mostly children.
Through multiple Democratic and Republican presidential administrations, of Bush, Obama, and Trump, the United States military has been on a steady march of conquest throughout the Middle East and Africa. The cover story for so many years of nonstop military action has been "fighting terrorism" but for anyone paying attention, it should be obvious that their true goal is empire building at the expense of innocent children.
US-backed bombings and terrorist rebel groups have made areas in Iraq, Afghanistan, Syria, Libya and other countries completely uninhabitable, causing an untold number of deaths and creating a massive refugee crisis. In recent years, the situation in Yemen has become increasingly dangerous and deadly, thanks to a US-Saudi led coalition which is bombing civilian targets in the country and created a blockade that has cut off millions of Yemeni people from the outside world.
This week, The Guardian reported that a brand new US-Saudi airstrike hit a civilian bus in northern Yemen killing at least 43 people, most of whom were children.
The International Committee of the Red Cross were stationed at a local hospital that worked to help the injured and identify the deceased.
"Under international humanitarian law, civilians must be protected during conflict. Scores killed, even more injured, most under the age of 10," Johannes Bruwer, of the ICRC Yemen delegation said.
Abdul-Ghani Nayeb, a health department chief in Sa'ada, told Reuters that 43 people were killed and at least 61 injured.
As usual, the perpetrators of this violence are claiming that they did nothing wrong and that they simply hit a military target. The civilians killed are merely considered collateral damage or a means to an end.
A statement released by the Saudi state press called the strike a "legitimate military action" and said that "[The airstrikes] conformed to international and humanitarian laws."
The statement went on to accuse the victims of using children as human shields as if this somehow explains the large number of child casualties.
This attack is just one small incident in a much larger bombing campaign which has displaced over 50,500 households, according to the UN Office for the Coordination of Humanitarian Affairs (OCHA).
"We've said this before and we are saying it again: parties to the conflict are obliged to do everything possible to protect civilians and civilian infrastructure. This is not a voluntary commitment, it is mandatory on all belligerents. So many people have died in Yemen – this conflict has to stop," Lise Grande, the UN's Yemen humanitarian coordinator, told The Guardian on Thursday.
The current situation in Yemen has become recognized by many experts as the world's greatest humanitarian crisis. In addition to the constant bombing, the blockade of the country has led to a massive outbreak of Cholera, a horrific illness that could be solved very easily if people just had access to clean water.
According to the World Health Organization (WHO), Yemen is in the midst of a Cholera outbreak of "unprecedented scale." In fact, this is the worst outbreak of its kind in recorded history.
A statement issued by UNICEF and WHO executive directors said:
"This deadly cholera outbreak is the direct consequence of two years of heavy conflict. Collapsing health, water, and sanitation systems have cut off 14.5 million people from regular access to clean water and sanitation, increasing the ability of the disease to spread. Rising rates of malnutrition have weakened children's health and made them more vulnerable to disease. An estimated 30,000 dedicated local health workers who play the largest role in ending this outbreak have not been paid their salaries for nearly 10 months."
Last week, the WHO warned of a new surge in illnesses, and asked for a ceasefire so clean water and medical workers could reach the ill and wounded.
"We've had two major waves of cholera epidemics in recent years and unfortunately the trend data that we've seen in the last days to weeks suggests that we may be on the cusp of the third major wave of cholera epidemics in Yemen. We're calling on all parties to the conflict to act in accordance with international humanitarian law and to respect the request of the U.N. and international community for three full days of tranquillity and to lay down arms to allow us to vaccinate the civilian population for cholera," WHO emergency response chief Peter Salama told reporters in Geneva.
Obviously, with news of fresh bombings this week, the coalition has no interest in agreeing to a ceasefire. This should come as no surprise considering the fact that the whole strategy behind a blockade is to create a humanitarian crisis.