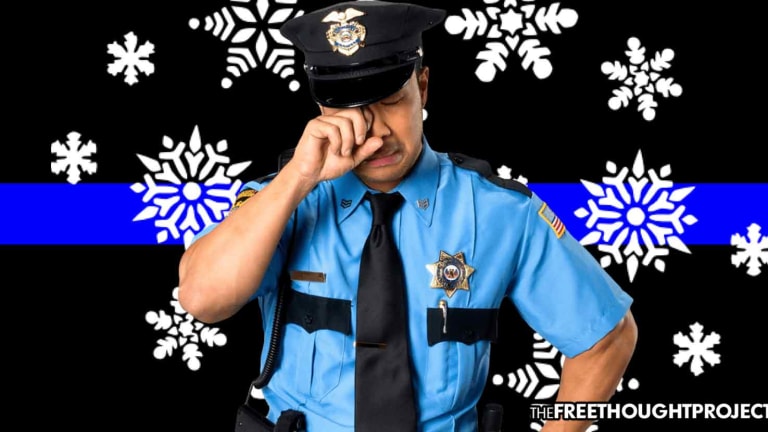 State Senate Passes Bill to Make it a Crime to Say 'Offensive Words' to Cops
The Kentucky Senate has passed a bill that makes it illegal to "accost" cops with "insults, taunts, or challenges a law enforcement officer with offensive or derisive words."
As TFTP reported earlier this month, Senate Bill 211 is another bill, in a long line of bills over the past several years, that grants special privilege to police officers. It makes is a crime to taunt cops in Kentucky and it just passed the state Senate.
The bill passed the Republican-dominated Senate 22-11 and now moves on to the House, where it is predicted to pass.
According to the bill's text, it mandates up to three months in prison for a person who "accosts, insults, taunts, or challenges a law enforcement officer with offensive or derisive words," or makes "gestures or other physical contact that would have a direct tendency to provoke a violent response from the perspective of a reasonable and prudent person."
Taunting or insulting a cop also comes with a fine of $250 and, if the person found guilty is on government assistance—they will be disqualified from assistance for three months.
The bill, which essentially makes cops a protected class, will also strip away at the "defund the police" movement by claiming government entities that fund law enforcement agencies must "maintain and improve their respective financial support."
In other words, the police are saying not only must you continue to pay our exorbitant salaries but if you complain about it during a protest, we will lock you up for three months and take even more of your money.
"We need to send a clear message to those outside this Commonwealth that the welcome mat is no longer there if you plan to come to our Commonwealth to terrorize our people, attack our police, assault communities, assault people, assault first responders and destroy our cities," Sen. Danny Carroll (R-Benton) said, claiming that the bill is in response to the riots over the police killing of Breonna Taylor.
"This is not about lawful protest in any way, shape, form or fashion," Carroll said. "This country was built on lawful protest, and it's something that we must maintain — our citizens' right to do so. What this deals with are those who cross the line and commit criminal acts."
According to WDRB, Sen. Gerald Neal (D-Louisville) disagrees, and argued on the Senate floor that the bill singles out Jefferson County and comes as Louisville is trying to heal from last year's protests over the March 13, 2020 fatal police shooting of Taylor. And, he said, there already are laws in place to address what the legislation wants to do.
"This is a hammer on my district. This is a backhand slap, and I resent it. I personally resent it," Neal said. "This is beneath this body. It's unwise. It's provocative. it's unnecessary. It's unreasonable."
Indeed it is as there are already laws on the books to hold those accountable for committing criminal acts — expanding criminal acts into the realm of free speech does nothing to preserve rights or otherwise protect anything other than Carroll and his cop feelings.
What's more, this bill sets out to treat those who yell at cops worse than murderers by refusing to allow them bail for at least 48 hours.
"Why do I sound outraged by that? You can bond out of jail in under 48 hours if you've been accused of murder, arson or rape," Sen. Morgan McGarvey of Louisville said. "But you can't do it if you taunt somebody because we've decided it's not right up here. We don't like it."
Senator David Yates also opposes the bill, as well as the ACLU, calling it "dangerous" government overreach.
Yates said that language "makes my stomach turn," saying the good officers he knows are too professional to retaliate violently because of words.
"I don't believe that any of my good officers are going to be provoked to a violent response because somebody does a 'yo mama' joke, or whatnot," Yates said. If this bill passes, however, violence will then be justified if an officer moves to arrest someone for their free speech and that person resists.
"When Kentuckians are in so much pain they must take to the streets to be heard, lawmakers should open dialogue, not silence the very people they were elected to serve," ACLU of Kentucky legal director Corey Shapiro said. "The House must reject this draconian measure and protect every Kentuckians' constitutional right to express themselves."
But Carroll says that is why this bill is needed because it will empower cops to go after folks for their speech.
"In these riots, you see people getting up in officers' faces, yelling in their ears, doing everything they can to provoke a violent response," Carroll said. "I'm not saying the officers do that, but there has to be a provision within that statute to allow officers to react to that. Because that does nothing but incite those around that vicinity and it furthers and escalates the riotous behavior."
Libertarian activists with Americans for Prosperity stood against this sentiment, pointing out that this will make people less protected.
"That's why attacking people and destroying property are already illegal acts. Senate Bill 211 will not change that distinction, but will risk punishing Constitutionally protected public participation," Americans for Prosperity state director, Mike Conway said. "The General Assembly knows protecting public safety and upholding constitutional freedoms aren't mutually exclusive—they should reject this flagrant violation of Kentuckians' rights."
The bill will likely become law as early as this week.