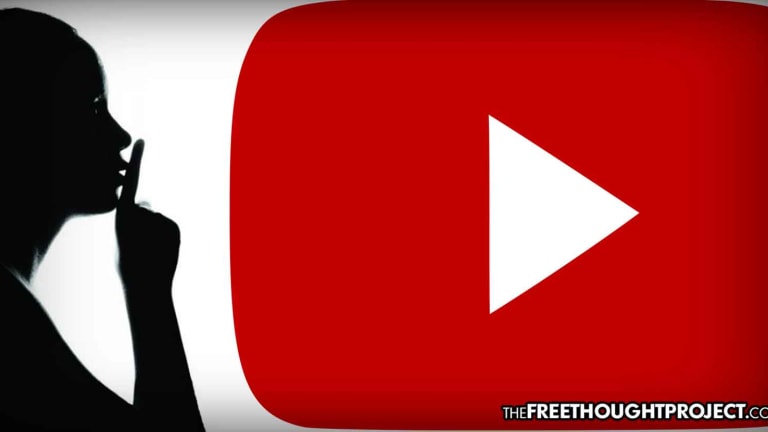 Major Corporations Pull Ads from YouTube for Allowing Rampant Pedophilia Content
YouTube was finally forced to acknowledge the pedophilia content after advertisers have pulled out due to YouTube allowing it.
For years now, the Free Thought Project has been reporting on the sadistic and outright horrifying pedophilia content that fills the murky depths of YouTube. The company who cracks down on peaceful channels and censors alternative media has long allowed this disturbing content on their platform. The problem has become so large that now major advertisers have started leaving.
AT&T and Hasbro are among some of the major corporations who have just announced this month that they will no longer purchase advertising on YouTube because it allows this pedophile content to flourish.
"Until Google can protect our brand from offensive content of any kind, we are removing all advertising from YouTube," an AT&T spokesperson told CNBC.
"Hasbro is pausing all advertising on YouTube, and has reached out to Google/YouTube to understand what actions they are taking to address this issue and prevent such content from appearing on their platform in the future," read a statement from Hasbro last week.
Nestle and "Fortnite" maker Epic Games pulled some advertising as well and Disney reportedly also paused its ads.
While YouTube censors videos of US war crimes, guns, and other videos that peacefully question the establishment narrative, they have long allowed this vile content to exist.
As TFTP has reported numerous times, children are the last ones YouTube appears to be concerned with, instead targeting those who'd dare challenge the status quo.
While there is certainly a free speech issue at hand with some of these videos, YouTube has no problem deleting and demonitizing channels who expose government crimes and corruption. So why do they ignore and allow these actual bad actors?
The Free Thought Project has even been a target of this censorship on multiple occasions. On the same day we were banned from Facebook and Twitter, YouTube doled out a strike to us as well for a video that was three years old which appears on dozens of other mainstream media channels.
The company has been known to target peaceful activists for challenging the paradigm so there is no question that they have the capabilities to remove these videos of child exploitation. However, they appear to be utterly incapable and unconcerned with doing so.
As TFTP reported in 2017, comedian Tosh.0 exposed one of these channels that makes millions promoting these horrific videos. Videos of little girls taped down to beds and children being tortured were featured on this channel and not only was it not immediately removed, but they had over 12 billion views.
One of the videos on this channel was titled, "Escaping from Your Bed In The Morning!!" and featured a young child immobilized on a bed with duct tape. What might be an interesting video to children is certainly a child bondage video for predators, who gorge on the fantasies elicited from the viewing. It had over 40 million views.
Because of the attention we helped to garner over the channel, those videos have since been removed, but not before making the channel owner millions of dollars in revenue from advertisers like AT&T and Hasbro. While that channel was removed, others have come up in its place and are arguably far worse.
Derrick Broze, who writes for the Free Thought Project conducted some extensive research into the dark corners of YouTube last month. What he found was utterly shocking and turns the stomach.
The videos on YouTube depicted small children—often in bondage or in frightening situations—with demon figures standing over them. Some of these demon figures were exposing themselves.
While many of the videos were computer generated, others depicted real children in heart-wrenching scenarios too disgusting to describe.
In response to the advertisers pulling out from YouTube, the company has finally been forced to respond. Although they have been banning peaceful political content for years, they are now promising to go after the child exploitation videos.
According to CNBC, YouTube said it is suspending comments on millions of videos that "could be subject to predatory comments." It's also making it harder for "innocent content to attract bad actors" through changes in discovery algorithms, making sure ads aren't appearing on videos that could attract this sort of behavior, and removing accounts "that belonged to bad actors." YouTube is also alerting authorities as needed.
Broze's eye-opening exposé can be seen below.