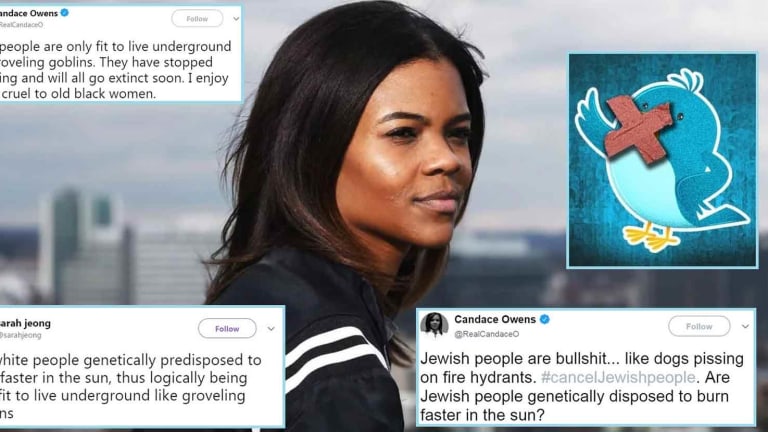 Twitter Suspends Black Woman For Changing NYT Bigot's Tweets From "White" To "Jewish" And "Black"
Tweeting the exact same tweets as NY Times new editor got a black conservative woman's Twitter account suspended when she switched out "white" for "Jewish" and "black."
(ZH) — In response to the New York Times' decision to stand by their most recent hire - open bigot Sarah Jeong, who really hates white people, men (especially white men), and cops - black conservative Candace Owens carried out a thought experiment we mentioned last week in which we replaced the word "white" with "black" to illustrate Jeong's animus.
A sample of Jeong's controversial tweets:
In response, Owens - communications director for activist group Turning Point USA, simply replaced "white" with Jewish and Black, then condensed Jeong's statements into several tweets, for which the Twitter police banned her for 12 hours:
Actually, Twitter only removed (or forced Owens to remove) her tweet about Jewish people, while the one in which she swapped the race from white to black remains as of this writing...
Meanwhile, conservative pundit Ann Coulter responsded to Jeong's bigotry with a bit of a history lesson:
Candace responded to her Twitter ban on Sunday:
As the Daily Caller noted on Sunday, Twitter says the ban was in error;
Twitter on Sunday suspended Owens' account for 12 hours, citing her tweet about Jewish people as a violation of Twitter rules.
Twitter restored Owen's access following a sharp backlash. The social media company chalked up Owens' suspension as an "error."

"Twitter takes reports of violations of the Twitter Rules very seriously," Twitter's support team wrote in an email to Owens, who shared it with TheDCNF. "After reviewing your account, it looks like we made an error."

"This was our mistake and we've apologized to the account owner for the error," a spokeswoman for Twitter told TheDCNF. The spokesperson did not say whether a human content monitor or an algorithm was responsible for suspending Owens' account. -Daily Caller
Owens told Breitbart she thinks Twitter was correct to suspend her!
"I actually AGREE with Twitter" said Owens, in a comment to Breitbart News. "These tweets are an example of hateful conduct. It begs the question — why was it okay when the hate was directed at White people? Why are her tweets still up?"

"In every way imaginable — Twitter has just proved my point. Racism in this country has been sanctioned against white people."

After word of the suspension began to go viral on social media, Twitter reversed itself and reinstated Owens' account. -Breitbart
Was Candace also suspended for her response to Hillary Clinton's recent defense of Lebron James, who President Trump recently dissed over Twitter after James criticized Trump for fueling racial divides in the U.S.?
To which Hillary, or her social media team, replied:
And Candace Owens replied "This is rich. Your husband locked up more black men than any President in the history of the United States. You view Margaret Sanger (who wanted to exterminate the black race) as your idol and Robert Byrd (former Klansmen) as your mentor and dear friend." :
Meanwhile, The Times has chosen to stand by Jeong - claiming that she was simply imitating other racists. Perhaps someday Twitter will let us in on what consitutes racism and harassment - since the goal posts seem to be all over the place depending on who said what.