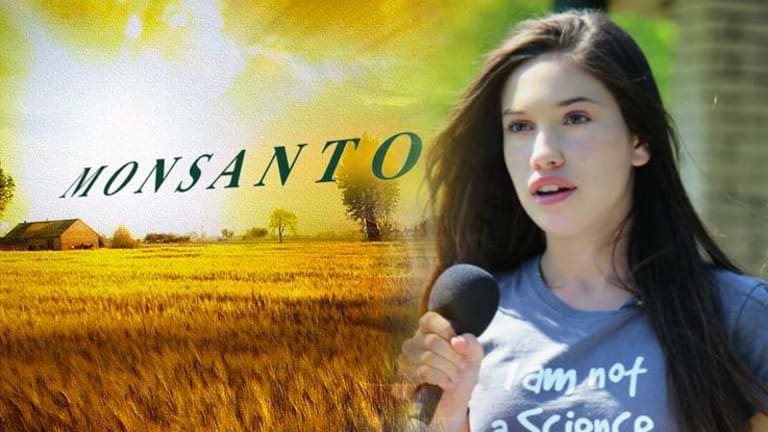 GMO Giants So Threatened by 14-yo School Girl Activist they Hired 'Attack Dog' to Discredit Her
A 14-year-old girl has caused such a stir in the biotech industry that the industry has employed 'attack dogs' to take her down, but they can't.
For decades, the biotech industry has worked to conquer the food industry with its genetically modified (GM) products. Monsanto and other multinational corporations infiltrated the highest levels of federal agencies so their patented Franken-foods could be rubber-stamped for market.
They have been exposed repeatedly for using bogus science, while preventing independent research until the GM crop is approved for sale. They spend millions on advertising to persuade the public that their food is safe for human health and the environment.
The tide is turning, though, as alternative media provides an avenue to counter industry propaganda and bring independent research to light. And it's working, as evidenced by a recent poll finding that nearly 90% of consumers want to know if their food is GM or not. Thankfully, they were unsuccessful in getting the federal government to ban states from labeling GM food.
Rachel Parent has played a big role in educating others with her Kids Right to Know campaign. Her accomplishments include debating Kevin O'Leary on national television, giving a speech at a TEDx event on the right to know, and meeting with former Canadian Health Minister Rona Ambrose.

While the biotech industry pretends that it is not concerned with activists, uncovered documents show that Monsanto and their cohorts are so frightened that they're spending large amounts of money attacking Rachel and other truth warriors.
The advocacy group US Right to Know (USRTK) obtained the documents through a freedom of information request which include internal emails of biotech corporations. They discuss how to counter Rachel's message and enlist the help of university academics to attack her credibility.
"It is mostly scientists that they attack, but Rachel is a standout. The agrichemical industry is plainly quite threatened by this teenage schoolgirl, so that's why they're after her," says Gary Ruskin, the co-director of USRTK."
In August 2014, Monsanto appears to have given $25,000 to a university scientist named Kevin Folta, saying the money "may be used at your discretion in support of your research and outreach projects."
Folta has proved to be a willing attack dog for Monsanto, writing in October 2014, "I'm glad to sign on to whatever you like, or write whatever you like….I'd be happy to write the op-ed on making decisions on facts."
Though Folta denies working on behalf of Monsanto, "documents show Folta wrote articles, blog posts, contributed to industry website GMOAnswers.com, attended public hearings, forums and events to explain and defend GMO technology; he also lobbied Congress and other government agencies."
Folta was also asked to establish a counter-argument to Rachel's perspective on GMO food. The request stated, "How do you agree/disagree with a 14-year old GMO labeling activist Rachel Parent, who is, in her own words 'not anti-science' but 'for responsible science and ethical progress?'"
A few days later, a video surfaced online 'How do you agree/disagree with a 14 year old GMO activist?'"
Folta also planned to set up a website called kidsrighttotruth.com, hoping to attract viewers from Rachel's similarly titled website Kids Right to Know. He wrote to a biotech public relations firm that he would like to attack "the junk information site piloted by Rachel Parent as a figurehead."
Rachel is not being intimidated in her noble effort to spread truth and awareness about the dangers surrounding GM food.
"It was definitely eye-opening," said Rachel. "On one hand I was really surprised and disappointed that a professor from a university would want to target and discredit our website, which is really dedicated to youth.
And on the other hand, I was pleased to know that Kids Right to Know is making an impact… so it was a bit of bitter sweet."