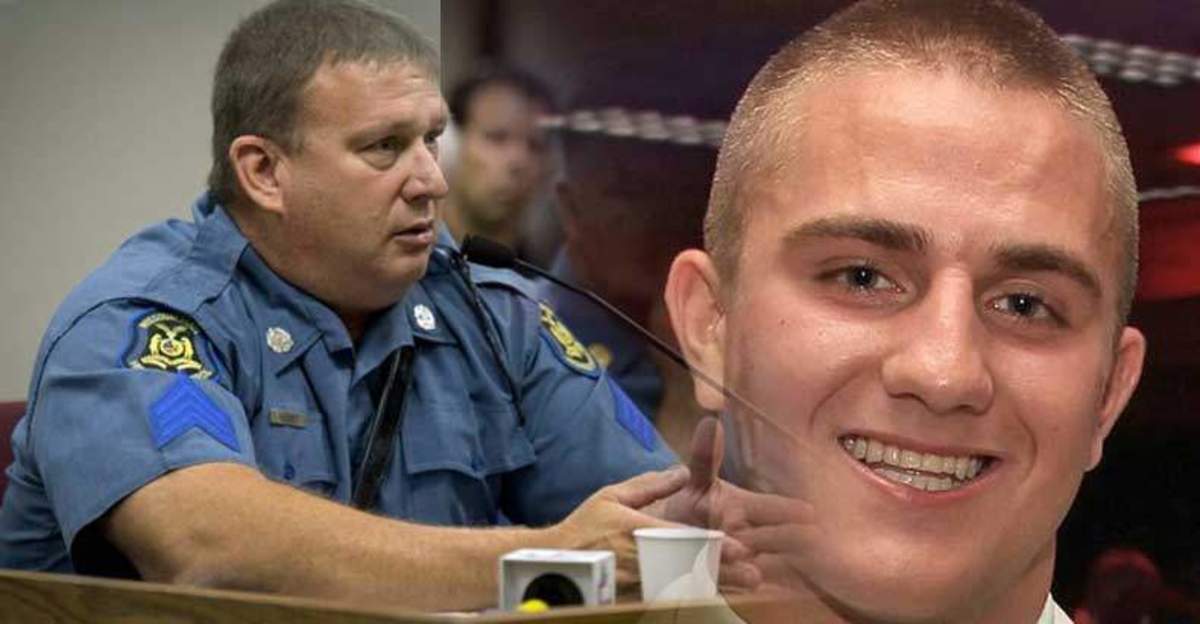 Kansas, MO — On May 31 of last year, 20-year-old college student Brandon Ellingson was stopped for suspicion of driving a boat while intoxicated. Ellingson would not make it out of the water alive.
Trooper Anthony Piercy was the officer who stopped then young Iowa native that day. According to witnesses, Piercy handcuffed Ellingson's wrists behind his back and then pulled an already buckled life vest, with armholes, over his head and upper torso, completely against the recommended use of the vest.
As Piercy drove the dangerously restrained young man back to the office for a breathalyzer, he tumbled out of the boat and into the water. He would never come back up.
An investigation by the Star showed that Piercy only had 2 days of training prior to holding this young man's life in his hands. It also showed that the boat was travelling at over 40 mph which required patrol investigators to hold on or fall out; Ellingson was not given the option to hold on.
Only days after the death of this young man, special prosecutor Amanda Grellner announced that she would not file criminal charges against Piercy, and his death was ruled an accident.
This young college student, who was merely suspected of a misdemeanor, died at the hands of police and no one was held accountable.
Enter Trooper Randy Henry.
According to the Kansas City Star:
Days after Ellingson's death, Henry was interviewed by patrol investigators looking into the incident. At one point during the interview, a recording shows, Henry had questioned whether the highest degree of care was taken with Ellingson that day. When he mentioned a state law pertaining to that, his sentence was cut off and one investigator insisted the recorder be turned off.

Earlier this month, Henry was deposed in the civil suit the Ellingson family has filed against the patrol, Piercy and top commanders. In a letter to the patrol superintendent, Col. Bret Johnson, Pleban stated: "You might want to educate yourself by requesting a copy of the transcript of Sgt. Henry's deposition so that you can fully comprehend his status as a whistle blower."
Since Henry has begun to expose the lack of training, the resultant death of a young man, and the subsequent cover-up of that death by his department, he has since been retaliated against.
Sgt. Henry was demoted to corporal and transferred from his nearly three-decades long patrol at Lake of the Ozarks to Truman Lake.
"Randy Henry doesn't have a horse in the race," Henry's attorney, Chet Pleban told The Star. "He's not on one side or the other. He has testimony to give that's material. The truth is the truth. He went to his superiors to say, 'This is wrong. This is what happened.' And they blew him off. So now here we are."
Since he spoke out, Henry has been forced to undergo multiple mental health evaluations at the demand of his superiors. The exams found nothing
"Ultimately, the mental-health provider warned that because she found nothing wrong with Sgt. Henry, it would be unethical for her to see him a third time at the insistence of the patrol," Pleban wrote to Johnson. "When the mental health route failed, a Professional Standards investigation surfaced."
The departemnt has been silent on the reasons behind any of the investigations.
Craig Ellingson, Brandon's father, has insisted that Piercy should be held accountable for what happened to his son. He is also outspoken about the retaliation, noting that Henry's discipline is wrong.
"It's retaliation," he said. "They shouldn't be doing that."
Crossing the blue line to expose your own department is career suicide and can also be dangerous. The Free Thought Project has exposed countless cases of the proverbial good cop being ousted for merely seeking justice within their own ranks. If this cycle continues, eventually there won't be any good cops left.
Randy Henry deserves commendation for his perserverence in this matter. He's been demoted, transferred, investigated, attacked, mentally examined, and still, he seeks justice. That is what a "good cop" does.
Sponsored Content:
Or, if you would like to help us by subscribing to our sponsor, Legalshield — and have an attorney in your pocket 24 hours a day for just $24.99 a month — you
can click here for details.
🔥 Fuel Our Work:
https://bit.ly/TFTPSub
👕 TFTP T-Shirts:
https://bit.ly/TFTPStore
🎙 TFTP Podcast:
https://bit.ly/TFTPPodcast
📥 TFTP Newsletter:
https://bit.ly/TFTPNews
🌎 TFTP on MeWe:
https://bit.ly/TFTPMewe
🧠 TFTP on Minds:
https://bit.ly/TFTPMinds
🐦 TFTP on Twitter:
https://bit.ly/TFTPTwitter
⚡️ TFTP on Telegram:
https://t.me/TFTPofficial
📲 Need A Lawyer?:
https://bit.ly/TFTPLegalShield