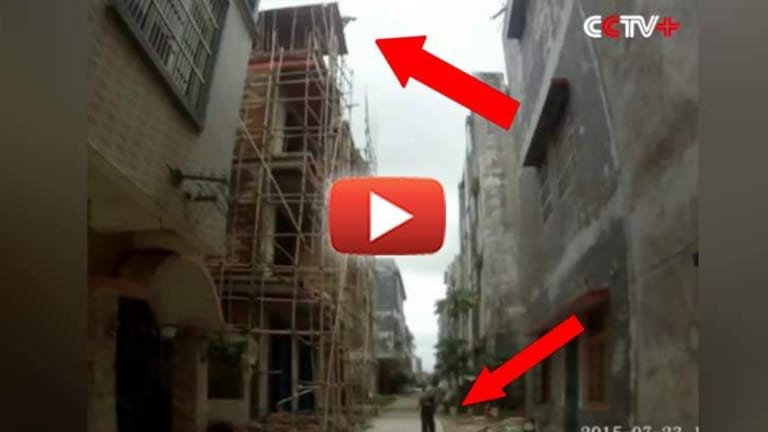 Astonishing Heroism: Police Officer Thwarts Suicide Attempt By Letting the Jumper Land on Him
When a man jumped off of a 4 story building, he was saved by a heroic police officer who sacrificed his own body to break the jumper's fall.
Beihai City, China -- As July quickly becomes one of the deadliest months in history for U.S. police killings, (105 dead), police in China are making headlines in a positive light. In an unparalleled act of heroism this week, a south China cop sacrificed himself to save a suicidal man's life.
On Thursday, Nankang Town police received a call about a suicidal man who was about to jump off the top of a 4-story building.
According to the report, when police arrived at the scene, they found the man walking on the edge of the roof and dangerously leaning over the edge.
As police and firefighters attempted to talk the man down and preparing rescue equipment, the man suddenly jumped.
According to Reuters,
As the man was plummeting towards the ground, police officer Liang Xiao ran forward to try and catch him and cushion his fall. The man fell on Liang with a tremendous impact, striking Liang to the ground heavily.

Both Liang and the man were rushed to hospital. After thorough examinations, doctors at the hospital said both of them are now out of danger.

According to the police, the man with the suicidal attempt is surnamed Chen at 32 years of age. The cause for his suicidal jump is still under investigation.
The actions of this police officer went above and beyond the normal call of duty. His selflessness and bravery should serve as an example for police officers around the globe.
Real heroes put themselves in harm's way, not to bust people for possessing a plant, but to save lives, and protect those in need. Had this man been walking on a building ledge in New York, he may have very well been shot for it.
This is what a real hero looks like.