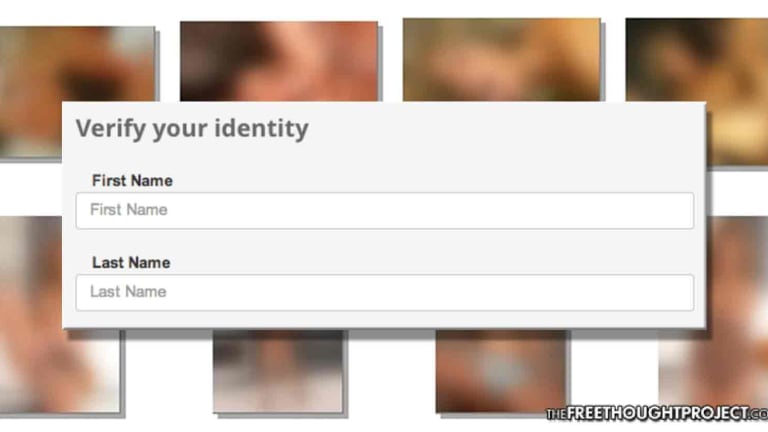 UK Citizens Will Now Be Forced to Identify Themselves Online Before Viewing Porn
The UK will now require internet users to verify their identity before they can access 100% entirely legal online porn. Civil liberties be damned.
In one of the most invasive moves by the State in recent history, the UK government will now require internet users to verify their identity before being able to access online porn.
In an Orwellian move — ostensibly made to 'protect the children' — the UK government is set to announce that by April 2018, people in the UK will have to prove they are 18 before being allowed access to porn websites. What could possibly go wrong?
As the BBC reported on Monday, websites will be legally required to install age verification controls by April 2018 as part of a move to make the internet safer for children.
If a porn site refuses to go along with this Orwellian move, they will be essentially banned from the internet by rules set out in the Digital Economy Act.
According to the BBC:
Under the plans, firms supplying payment and other services to the pornography websites could be notified about any breach.

A regulatory body will be asked to oversee and enforce the new rules.

It is thought this could be the British Board of Film Classification which already sets age limits for films and computer games.

'Most robust protection'

Digital minister Matt Hancock will formally begin the process, which was the subject of a 2016 consultation during David Cameron's government, in a written statement to the Commons later.

Mr Hancock said: "All this means that while we can enjoy the freedom of the web, the UK will have the most robust internet child protection measures of any country in the world."
"Steps like this to help restrict access, alongside the provision of free parental controls and education, are key," Will Gardner, from internet safety charity Childnet said.
Of course, on the surface, this may seem like it's for the children. However, it is nothing short of total online surveillance.
It is estimated that 28,258 users — every single second — access porn on the internet. Those numbers are staggering, and allowing government access to all those identities would be a death blow to online privacy.
Allowing the government to play the role of parent online is not only a massive concession to the nanny state but also opens the gate to total online surveillance.
There are already dozens of highly effective third-party programs — many of which are completely free — that block children from accessing adult content online. Parents should be the ones stopping their kids from seeking out porn online, not the State.
But what about child porn?
Child porn is a very real problem and it victimizes countless innocent children globally. However, this act does nothing to stop it.
Child porn is not accessed through legitimate porn websites. Pedophiles seek out their depraved fantasies on the dark web where users browse these horrific images and videos anonymously.
If the UK government was genuinely concerned about the well-being of British children, then they would stop ignoring the rampant child rape taking place across the country.
However, that is simply not the case.
As RT reported earlier this year, children reporting violent sexual crimes are not being taken seriously by the police, Britain's victims' commissioner, Baroness Newlove, has warned.
Newlove said the authorities are failing young people that come forward with stories of abuse, making them feel like criminals themselves.
In some cases, children said they were simply not believed or told that they were wasting the police's time.
"They didn't care because we were three teenage girls," a young woman said in describing how the police reacted to her call about an assault.
"It's like we were wasting their time. They couldn't be bothered with us."
Instead of stopping pedophilia, the government is going to track its citizens' porn habits. Stellar idea.
Fret not child victims, now everyone will be kept safe as internet users are forced to identify themselves before fapping.