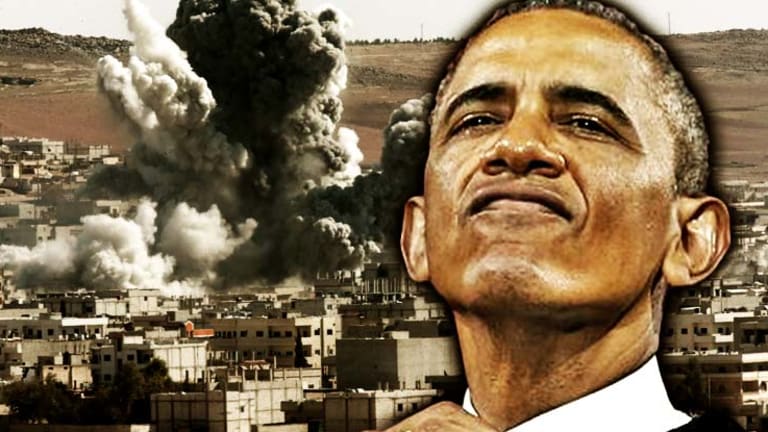 Peace Prize-Winning Obama Gets DoD's Highest Honor for Dropping 50K Bombs on Muslims in 2 Years
The Nobel Peace Prize recipient was just given the DoD's highest honor for dropping tens of thousands of bombs on Muslims.
U.S. President Barack Obama was given the Department of Defense Medal for Distinguished Public Service "as a token of appreciation for his service as commander in chief" at a farewell ceremony on January 4. The medal is the highest honorary award at the Department of Defense and is presented by the Secretary of Defense. However, critics have said the award is similar to an employee giving his boss a "participation trophy" for supervising.
The award comes days before a new report revealed President Obama authorized the United States military to drop more than 26,000 bombs in 7 countries during the 2016 calendar year, according to an estimate by the Council on Foreign Relations. More than 24,000 of those bombs were dropped in Iraq and Syria as part of Operation Inherent Resolve, which is the U.S. led coalition against the Islamic State. The report itself says the actual number of bombs dropped is signficantly higher because does not release complete info about the number of munitions used for each mission.
The total number of bombs dropped was at least 3,000 higher than 2015, and at least 22,000 of those were in Iraq and Syria against the Islamic State as well. The estimated total for the two years is almost 47,000 bombs dropped, which means the real total is likely over 50,000.
The U.S. coalition has been questioned by many for its execution of the campaign because the U.S. allowed Islamic State to continue oil smuggling operations for over one year after the bombing campaign started in September 2014, until a change of policy in November 2015. U.S. officials said they would not attack much of the oil trade infrastructure because of the threat to civilians, who the US claimed played a significant part in the smuggling. This policy changed without credible public explanation, and during the same week that Russia began targeting ISIS oil. The strikes became part of a race with the Russians who began bombing operations in Syria less than 2 months before that in September 2015.
The first reported strike by the U.S. on Islamic State oil trucks happened on November 16, which is at virtually the same time that the Russian airstrikes on ISIS oil were beginning. On November 18, Russia released video of the airstrikes from multiple days before, which likely means the U.S. airstrikes were after Russia began targeting ISIS oil. It is not proven which strikes were first, however Pentagon officials admit watching ISIS oil for over a year before they started bombing, but the first U.S. strike was likely within hours of the first Russian strike.
U.S. officials have also been criticized by aid groups and western news media for not admitting to a credible number of civilian deaths caused by U.S. airstrikes in Syria. The official total civilian deaths admitted by U.S. officials was raised to 188 in the operation which is over 2 years old. Humanitarian groups and local sources say the number is much higher, with multiple estimates in the thousands.
In July 2016, over 100 civilians were killed in multiple U.S. airstrikes in the town of Manbij, inlcuding 77 in one attack. One of the U.S. airstrikes hit a children's hospital.
Dozens of civilians were killed by U.S. bombs in Daquq, Iraq while attending a funeral in an area where there was said to be no ISIS presence.
The U.S. bombed two hospitals in the same month, in the same city during operations in Mosul, Iraq. Both attacks caused an unknown number of civilian deaths.
U.S. officials revealed in November 2016 that the military investigated 257 allegations of civilian casualties and deemed only 31 of them credible, just over 10 percent of the total.
More than 60 Syrian soldiers were killed and over 100 injured in U.S. airstrikes on Syrian military positions near Deir Ezzor in September 2016. The Syrian soldiers were fighting a critical battle against ISIS when the attacks happened, which the U.S. called a mistake. The attack lasted for almost one hour, involved multiple planes, and warnings from Russian officials were ignored.
The incident was part of a chain of events which led to the U.S. and Russia ending joint negotiations for a ceasefire in the Syrian proxy war in September. Russia accused U.S. officials of aiding the Islamic State in a United Nations Security Council meeting.
It has become common knowledge that U.S. officials watched Islamic State grow for 2 years before taking action, based on leaked intelligence reports. Audio of a conversation between Secretary of State John Kerry and Syrian oppposition groups shows that the U.S. was allowing Islamic State to grow as part of a strategy to weaken the Syrian government. Hillary Clinton and others also knew that Saudi Arabia and Qatar were funding Islamic State, according to leaked emails published by WikiLeaks.
The CFR report also showed that the U.S. dropped about at least 1,337 bombs in Afghanistan, where the U.S. is still fighting the Taliban after 15 years of war. Nearly 500 bombs were dropped in Libya as Islamic State fighters have moved into the country while other Al Qaeda groups have been fighting for control of the country since the fall of Muammar Gaddafi in 2011.
There were 34 American bombs dropped in Yemen, where the U.S. is supporting Saudi Arabia's bombing campaign, despite continuous civilian deaths. Somalia was listed at 14, which is likely too low given the extended U.S. campaign against Al-Shabaab, an Al-Qaeda affiliated group.