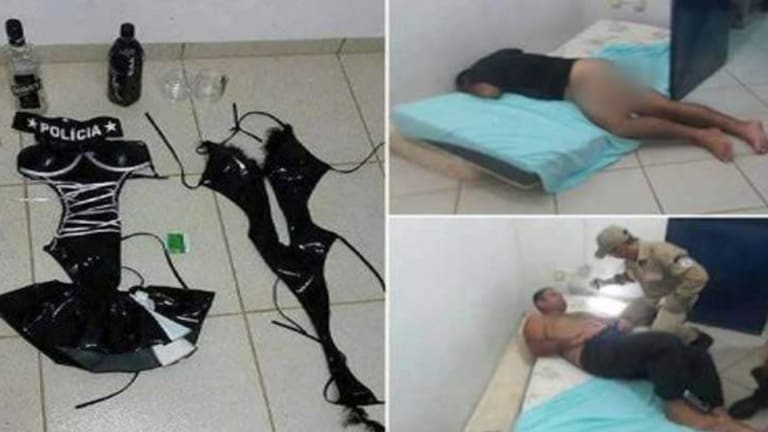 28 Women Escape From Prison After Seducing And Drugging Guards
In an escape resembling that of a Hollywood movie, 28 women managed to break out of a heavily guarded prison using drugs and lingerie.
Cuiaba, Brazil - This Thursday, women at the Nova Mutum public jail in Brazil formed a brilliant escape plan that involved seducing and drugging the male guards at the prison. The plan sounds like something out of a movie, but it actually worked, and 28 women were able to escape.
According to police chief Angelina de Andrades Ferreira, when police arrived on the scene many of the prisoners were already gone, and the guards were found passed out, drugged and naked. There were also multiple firearms stolen from the prison as well.
The inmates took three rifles, multiple shotguns, two 38 caliber revolvers, and extra ammunition for each with them.
The chief says that a number of the inmates and a girlfriend on the outside organized the escape. Somehow, the inmates were able to get ahold of drugs and police dominatrix outfits, which they used to seduce and drug the guards at the prison. The women then handcuffed the officers, stripped them and took their weapons. They also took the guards keys, which they then used to unlock all of the prison's cells.
"The plan was to seduce them," Ferreira told reporters. "They served them cheap whisky with some substance to knock them out, then unlocked the central gate which accesses the internal cells. Whoever wanted to escape left by the front door. From the moment they drank the whisky the agents don't remember a thing. One was found dizzy, trying to wake up. Another slept for the whole afternoon and couldn't even be questioned," Ferreira said.
The director of the prison who was supposed to be in charge claims that he was asleep at the time and had nothing to do with the incident. The guards and director will all be charged with aiding in a prison break and willful embezzlement for their negligence in the situation.
As of Friday, 9 of the 28 prisoners had been found and arrested, but the other fugitives are still at large.
John Vibes is an author, researcher and investigative journalist who takes a special interest in the counter culture and the drug war. In addition to his writing and activist work he is also the owner of a successful music promotion company. In 2013, he became one of the organizers of the Free Your Mind Conference, which features top caliber speakers and whistle-blowers from all over the world. You can contact him and stay connected to his work at his Facebook page. You can find his 65 chapter Book entitled "Alchemy of the Timeless Renaissance" at bookpatch.com.