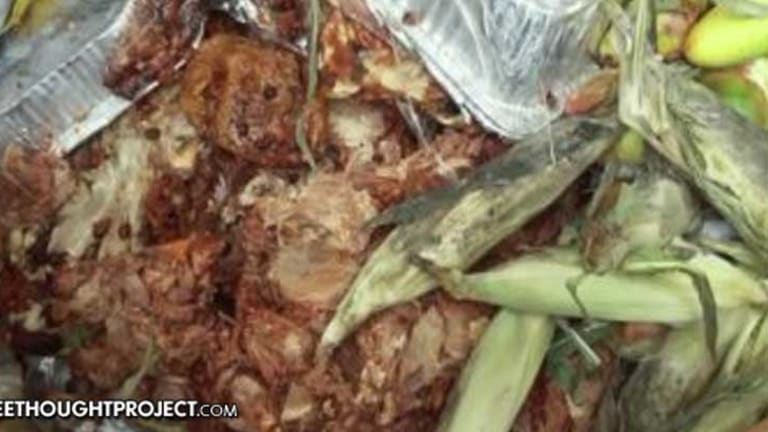 3,000 Homeless People Denied Food As City Forces Charity to Bleach the Food and Throw it In Dumpster
Feeding the homeless in the 'Land of the Free' has become a revolutionary act as the police state clinches its iron fist on those who want to do good.
Kansas City, MO -- Every year, for the last five years, volunteers with Kookers Kare - a group of barbecue chefs with hearts as big as their stomachs - have worked together to feed thousands of hungry homeless people. However, this year, 3,000 homeless people expecting that food, were denied it, thanks to the cold and callous hand of the state.
Every year, after the annual food festivities have finished, selfless volunteers round up thousands of pounds of leftovers from the massive cookoff and prep them for distribution to the less fortunate. Every year, this has gone off without a hitch -- until this year.
After volunteers collected the food to be distributed to the homeless, the same food, which was just deemed safe enough to dish out to the cook-off attendees, was then labeled for destruction by Kansas City Health Inspectors.
Volunteers were heartbroken when they were forced to destroy "perfectly good barbecue" by covering it in bleach and then throwing it in a dumpster.
"It was the whole gamut. If you can think of the most magnificent barbecue spread, that's what we threw away yesterday by the hundreds of pounds," said Bill Derke, associate director of Hope City.
According to ABC 7, this year, that 'magnificent barbecue spread' was more than 3,000 pounds of meat and 1,200 pounds of sides. All that food is then distributed to ministries with food kitchens like Hope City on Kansas City's East Side.
"And everybody out there is like, 'All right! We are going to eat beans, potatoes, brisket, burnt ends, ribs, it's awesome,'" Derke said.
However, just as Derke prepared to dish out this fantastic feast to those who could not feed themselves -- here come the bureaucrats. The health inspectors forced the group to destroy 700 pounds of completely edible food.
Because they felt like they opened up a can of worms, the health inspectors delayed the serving of all the food and the entire 4,200 pounds of food will now be wasted.
"They were expecting lunch and for it to be a really good lunch and just having it taken away it was a bummer. We were all bummed out," Derke said.
Health officials say it was destroyed because it wasn't from a permitted establishment, and they couldn't track where the food had been, therefore they couldn't ensure its safety, reports ABC 7.
Kookers Kares president said if health inspectors had any questions they should have just asked. He said his group has a refrigerated truck at American Royal, and his team of food safety experts only collect food that's piping hot or ice cold. Instead, hundreds already went hungry and it appears as many as 3,000 people won't get meals as a result, according to the report.
Just how the food inspectors confused perfectly good food for something that should be taken from the hungry, covered in bleach, and tossed in the dumpster, is unknown. However, Kookers Kares promises not to let it happen again next year.
But the health inspectors aren't showing any signs of loosening their grip. 
Unfortunately, in the land of the free, feeding the homeless has become a revolutionary act. Cities across the country are cracking down on good people who want to feed the needy.
Last December, the Dallas, Texas city council enacted Ordinance No. 29595, which makes it illegal to serve food to the homeless without jumping through a statist myriad of bureaucratic hoops, including a fee, training classes, and written notices.
However, the folks over at the aptly named organization Don't Comply, took to the streets just outside the Austin Street Shelter in Dallas, while well armed, and successfully fed thousands of homeless people.
[author title="" image="https://tftpstagingstg.wpengine.com/wp-content/uploads/2016/03/magorist-e1456948757204.jpg"]Matt Agorist is an honorably discharged veteran of the USMC and former intelligence operator directly tasked by the NSA. This prior experience gives him unique insight into the world of government corruption and the American police state. Agorist has been an independent journalist for over a decade and has been featured on mainstream networks around the world. Follow @MattAgorist on Twitter and now on Steemit[/author]