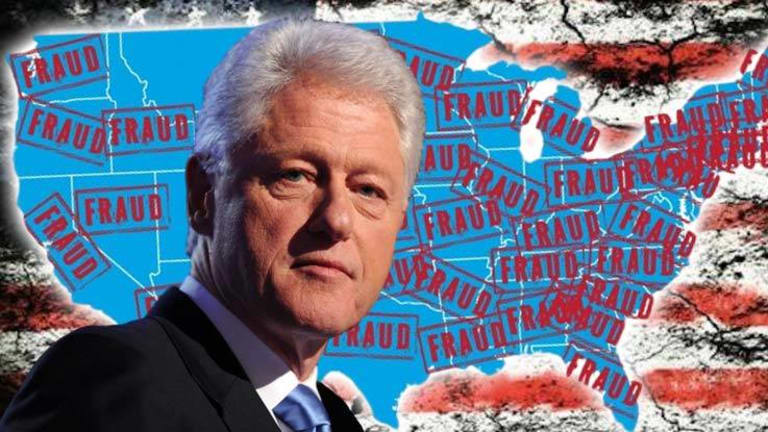 Mass Awakening - Tens of Thousands Call for Bill Clinton's Arrest for Breaking Election Laws
Although former president Bill Clinton has repeatedly been caught breaking election laws for his wife, he has yet to face criminal charges.
As more people continue to upload videos of Bill Clinton appearing to repeatedly violate Massachusetts election laws, a petition on Change.org has garnered over 83,000 signatures calling for the former president's arrest. Although Clinton's spokesman denied that the former president broke any rules on Super Tuesday, several videos and photos on Twitter and YouTube prove otherwise.
"This is a call for the immediate arrest of President Bill Clinton for clear, knowing and egregious violation of the campaign laws to swing an election in a significant way," the petition asserted in a letter to Massachusetts Attorney General Maura Healey. "It could not be any clearer in the Massachusetts General Laws. 'Campaigning within 150 feet of a polling station, or in any way interfering with the right to vote'. Choosing the critical battleground state of Massachusetts, Bill Clinton should immediately be subject to arrest and prosecution."
[ads1]
According to the National Association of Secretaries of State, Massachusetts electioneering law states that "within 150 feet of a polling place…no person shall solicit votes for or against, or otherwise promote or oppose, any person or political party or position on a ballot question, to be voted on at the current election." Yet, on Super Tuesday, Bill Clinton appeared in several videos and photos campaigning for his wife within 150 feet of numerous polling stations throughout Massachusetts.
In a video uploaded to
Fmr President Bill Clinton and @marty_walsh Meeting election workers in West Roxbury #wcvb#SuperTuesdaypic.twitter.com/BiHK3eGSoc
— Sera Congi (@seracongi) March 1, 2016
">Twitter, Bill Clinton and Boston Mayor Marty Walsh can be seen stepping inside a polling station at the Holy Name Parish School's gymnasium in West Roxbury and shaking hands with several election clerks early on Tuesday. Although an official from Walsh's office claims the mayor and former president were not campaigning inside the polling station, Walsh has publicly endorsed Hillary Clinton for president. Due to the fact that Bill Clinton does not even have a residence in Massachusetts, his only purpose for visiting polling stations on Super Tuesday was to endorse his wife.

When a woman asked for a photo with him in West Roxbury, Clinton replied, "As long as we're not violating any election laws."
Bill Clinton also visited a polling station inside the Newton Free Library alongside Newton Mayor Setti Warren and Reps. Ruth Balser and Kay Kahn. The library posted numerous photos of the former president campaigning for his wife inside the facility, and well within the 150 feet electioneering law. While visiting a polling station in New Bedford on Tuesday, Clinton appeared with a megaphone to support his wife in front of a large crowd of voters reportedly within 150 feet of the station.
Besides campaigning for his wife in New Bedford, Clinton's entourage of Secret Service agents, police motorcades, and supporters caused massive delays in an attempt to discourage Bernie Sanders supporters from voting in low-income neighborhoods. While recording a video depicting Clinton's motorcade blocking the streets, a Sanders volunteer named Angela Grace observed, "I haven't seen one person be able to come in and be able to vote in here. Everything is blocked off. No person can park here. They are affecting the voting at this poll. It's ridiculous. It's fraud and illegal. From one side of the street to the other, there's no way anybody can get down here to vote."
In addition to the videos and photos of Bill Clinton clearly violating election laws by campaigning for his wife within 150 feet of multiple polling stations throughout Massachusetts, videos of Clinton supporters voting without registration and caucus employees suddenly changing the number of votes have recently appeared on YouTube. Recorded on video, a female official in Nevada can be heard ordering a group of Hillary supporters to enter without registering to vote. A male official immediately shushed her, saying, "Don't yell it."
When questioned why the officials were allowing unregistered voters to enter the caucus, a male official responded, "They will register after the caucus."
Another video appears to depict caucus employees altering the ">number of votes after people already left the room.
Accustomed to telling lies, Clinton claims that instead of campaigning for his wife on Super Tuesday, he was merely thanking election clerks and voters throughout several polling stations across Massachusetts. Despite the fact that Clinton has been caught in videos and photos repeatedly breaking election laws with thousands of people calling for his arrest, no prosecutor appears willing to charge the former president as the evidence mounts against him. If Clinton remains unaccountable for his crimes and above the law, Hillary will continue using her husband to sway every undecided vote her way.
[author title="" image="https://"]Andrew Emett is a Los Angeles-based reporter exposing political and corporate corruption. His interests include national security, corporate abuse, and holding government officials accountable. Andrew's work has appeared on Raw Story, Alternet, Activist Post, and many other sites. You can follow him on Twitter @AndrewEmett and on Facebook at Andrew Emett.[/author]