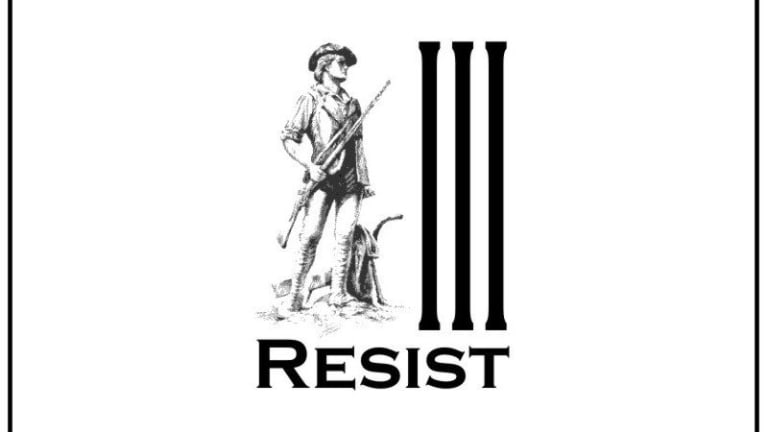 Activist Makes His Own List: Addresses of CT Legislators Who Voted in Favor of Gun Control
Kimberly Paxton
www.TheDailySheeple.com
February 28th, 2014 
Sometimes you just have to fight fire with fire. And that is exactly what Mike Vanderboegh has chosen to do. The state of Connecticut wants to make a list – a list of gun owners. So, Vanderboegh has created his own list – a list of those state legislators who are insisting that certain firearms be banned or registered.
If you recall, most of the gun owners who own these weapons have refused to register them, with tens of thousands of residents engaging in acts of quiet civil disobedience.
The state responded by sending out letters, demanding that gun owners across the state turn in all of their newly-banned, unregistered firearms and magazines or face felony prosecution.
Vanderboegh, who is himself a member of at least one list (the SPLC has profiled him on their "Hatewatch" blog, which is really kind of a badge of honor in certain circles), has responded to this by compiling a list of his own: it is a list of all of the legislators in the state of Connecticut who voted in favor of the recently passed gun registrations laws in the state. Vanderboegh is the leader of the Sipsey Street Irregulars, a group of patriot activists who identify with the 3% of American Colonists who fought back against tyranny during the Revolutionary War.
Here is the post, A Sipsey Street Public Service Announcement: The Connecticut Tyrants List:
The state of Connecticut is making lists of firearm owners to raid. It seems obvious to me that it is thus only fair to list those anti-constitutional tyrants who will have blood on their hands the moment the first Connecticut citizen is shot by the CT state police while carrying out their orders. I will be sending these folks my own email later today.

CT State Senators voting Yes on "An Act Concerning Gun Violence Prevention and Children's Safety, also known as Public Law 13-3 or Connecticut Senate Bill No. 1160," 3 April 2013. List includes home addresses. Photos and home phone numbers of these tyrants are available here: https://www.cbia.com


John W. Fonfara, 99 Montowese St., Hartford 06114-2841

Eric D. Coleman, 77 Wintonbury Ave., Bloomfield 06002-2529

Andrea Stillman, 5 Coolidge Ct., Waterford 06385-3309

Gary LeBeau, 501 Canyon Ridge Dr., Broad Brook 06016-5602

Kevin Kelly, 240 York St., Stratford 06615-7952

Steve Cassano, 1109 Middle Tpke, E Manchester 06040-3703

Anthony J. Musto, 15 Maymont Ln., Trumbull 06611-2111

Beth Bye, 99 Outlook Ave., West Hartford 06119-1432

Andres Ayala, PO Box 55106, Bridgeport 06610-5106

Terry B. Gerratana, 674 Lincoln St., New Britain 06052-1833

Michael A. McLachlan, 47 W Wooster St., Danbury 06810-7731

Bob Duff, 50 Toilsome Ave., Norwalk 06851-2425

Toni Boucher, 5 Wicks End Ln, Wilton 06897-2633

Paul Doyle, 38 Thornbush Rd., Wethersfield 06109-3554

Carlo Leone, 88 Houston Ter., Stamford 06902-4449

Toni N. Harp (no longer in the Legislature, she is now the Mayor of New Haven, CT).

John McKinney, 986 S Pine Creek Rd., Fairfield 06824-6348

Martin M. Looney, 132 Fort Hale Rd., New Haven 06512-3630

Donald E. Williams, Jr., 41 Malbone Ln., Brooklyn 06234-1563

Edward Meyer, 407 Mulberry Point Rd., Guilford 06437-3204

Dante Bartolomeo, 167 Reynolds Dr., Meriden 06450-2568

Gayle Slossburg, 14 Honeysuckle Ln., Milford 06461-1671

Joan V. Hartley, 206 Columbia Blvd., Waterbury 06710-1401

Leonard Fasano, 7 Sycamore Ln., North Haven 06473-1283

Joseph J. Crisco, Jr., 1205 Racebrook Rd., Woodbridge 06525-1822

L. Scott Frantz, 123 Meadow Rd., Riverside 06878-2521

CT House members voting Yes on "An Act Concerning Gun Violence Prevention and Children's Safety, also known as Public Law 13-3 or Connecticut Senate Bill No. 1160," 3 April 2013. Photos and home phone numbers of these tyrants are available here:

Catherine Abercrombie, 64 Parker Ave., Meriden 06450-5945

Ernest Hewett, 29 Colman St., New London 06320-3558

Peter Tercyak, 150 Belridge Rd., New Britain 06053-1008

Brenda Kupchick, 85 Liberty St., Madison 06443-3258

William Tong, 99 Chestnut Hill Rd., Stamford 06903-4030

Gary Holder-Winfield, 480 Winchester Ave., New Haven 06511-1920

James Albis, 369 Coe Ave., Apt 14, East Haven

David Alexander, 277 Pearl St., Enfield 06082-4368

Bryan Hurlburt (Stepped down to take a position with the USDA's Farm Service Agency.)

Diana Urban, 146 Babcock Rd., North Stonington 06359-1334

Gail Lavielle, 109 Hickory Hill Rd., Wilton 06897-1135

Claire Janowski, 263 Hany Ln., Vernon 06066-2740

Edwin Vargas, 141 Douglas St., Hartford 06114-2422

Angel Arce, 248 Franklin Ave., Hartford 06114-1841

Susan Johnson, 120 Bolivia St., Willimantic 06226-2818

Joe Verrengia, 160 Colonial St., West Hartford 06110-1814

David Arconti, Jr., 141 Great Plain Rd., Danbury 06811-3844

Tom Vicino, 92 Carter Hill Rd., Clinton 06413-1230

Joe Aresimowicz, 248 Lower Ln., Berlin 06037-2231

David Kiner, 5 Cranberry Hollow, Enfield 06082-2200

Toni Walker, 1643 Ella T Grasso Blvd., New Haven 06511-2801

Patricia Widlitz, 12 Island Bay Cir., Guilford 06437-3058

Timothy Larson, 33 Gorman Pl., East Hartford 06108-1450

Christina Ayala, 506 Brooks St., Bridgeport 06608-1303

Terry Backer, 125 Jefferson St., Stratford 06615-7810

Roland Lemar, 6 Eld St., New Haven 06511-3816

Roberta Willis, PO Box 1733, 30 Upland Meadow Rd., Lakeville 06039-1733

Tom O'Dea, 37 Holly Rd., New Canaan 06840-6406

David Baram, 5 Warbler Cir., Bloomfield 06002-2233

Matthew Lesser, 1160 S Main S.,t Apt 110, Middletown 06457-5034

Christopher Wright, 35 Ruth St., Apt 49, Bristol 06010-3218

Arthur O'Neill, 617 Bucks Hill Rd., Southbury 06488-1952

Brian Becker, 14 Candlewood Dr., West Hartford 06117-1009

Rick Lopes, 208 S Mountain Dr., New Britain 06052-1514

Elissa Wright, 51 Pearl St., Groton 06340-5732

Elizabeth "Betty" Boukus, Legislative Office Bldg., Rm 4017, Hartford 06106

Geoff Luxenburg, 45 Chatham Dr., Manchester 06042-8522

James Maroney, 22 Saranac Rd Milford 06461-9401

Larry Butler, 70 Blackman Rd., Waterbury 06704-1203

Juan Candelaria, 28 Arch St., New Haven 06519-1511

Brandon McGee, 43 Warren St., Hartford 06120-2117

Robert Megna, 40 Foxon Hill Rd., Unit 54, New Haven 06513-1166

Charles "Don" Clemons, 130 Read St., Bridgeport 06607-2021

Michelle Cook, 499 Charles St., Torrington 06790-3420

Patricia Miller, 95 Liberty St., Apt A4, Stamford 06902-4732

John Shaban, 29 Ledgewood Rd., Redding 06896-2916

Bill Aman, 878 Strong Rd., South Windsor 06074-2006

Philip Miller, 24 Bushy Hill Rd., Ivoryton 06442-1108

Victor Cuevas, 17 Keefe St., Waterbur,y 06706-1616

Mike D'Agostino, 575 Ridge Rd., Hamden 06517-2519

Russ Morin, 495 Brimfield Rd., Wethersfield 06109-3209

Richard Smith, 25 Jeremy Dr., New Fairfield 06812-2109

Prasad Srinivasan, 268 Grandview Dr., Glastonbury 06033-3946

Bruce Morris, 315 Ely Ave., Norwalk 06854-4619

Stephen Dargan, 215 Beach St., West Haven 06516-6133

Paul Davis, 335 Smith Farm Rd., Orange 06477-3127

Ted Moukawsher, 48 W Elderkin Ave., Groton 06340-4933

Mitch Bolinsky, 3 Wiley Ln., Newtown 06470-1812

Stephen Walko, 7 Charter Oak Ln., Greenwich 06830-6911

Mike Demicco, 6 Deborah Ln., Farmington 06032-3031

Mary Mushinsky, 188 S Cherry St., Wallingford 06492-4016

Patricia Dillon, 68 W Rock Ave., New Haven 06515-2221

Sandy Nafis, 49 Whitewood Rd., Newington 06111-2133

Larry Cafero, Jr., 6 Weed Ave., Norwalk 06850-2224

Terrie Wood, 50 Saint Nicholas Rd., Darien 06820-2823

Joe Diminico, 26 Finley St., Manchester 06040-5616

David Yaccarino, 1804 Hartford Tpke., North Haven 06473-1248

Elaine O'Brien, 1321 Hill St., Suffield 06078-1024

Kim Fawcett, 234 Collingwood Ave., Fairfield 06825-1877

Chris Perone, 8 E. Rocks Rd., Norwalk 06851-2919

Christie Carpino, 29 Sovereign Rd., Cromwell 06416-1136

Lonnie Reed, 60 Maple St., Apt. 44, Branford 06405-3562

Andy Fleischmann, 25 Sherwood Rd., West Hartford 06117-2739

Mae Flexer, 452 Main St., Danielson 06239-2104

Emmett Riley, 150 Yantic St., Unit 160, Norwich 06360-4248

Daniel Fox, 14 Carter Dr., Stamford 06902-7013

Matt Ritter, 169 N Beacon St., Hartford 06105-2246

J. Brendan Sharkey, 600 Mount Carmel Ave., Hamden 06518-1606

Jason Rojas, 128 Langford Ln., East Hartford 06118-2369

Gerald Fox, III, 66 Fairview Ave., Stamford 06902-8129

Mary Fritz, 43 Grove St., Yalesville 06492-1606

Livvy Floren, 210 Round Hill Rd., Greenwich 06831-3357

Henry Genga, 5 Elaine Dr., East Hartford 06118-3515

John Frey, 2 Copps Hill Rd., Ridgefield 06877-4013

Linda Gentile, 158 Hodge Ave., Ansonia 06401-3236

Robert Sanchez, 269 Washington St., New Britain 06051-1024

Minnie Gonzalez, 97 Amity St., Hartford 06106-1001

Ezequiel Santiago, 991 State St., Bridgeport 06605-1504

Jeffrey Berger, 134 Gaylord Dr., Waterbury 06708-2181

Auden Grogins, 155 Brewster St., Apt 5L, Bridgeport 06605-3111

Hilda Santiago, 86 South Ave., Fl 3, Meriden 06451-7624

DebraLee Hovey, 296 Fan Hill Rd., Monroe 06468-1329

Bob Godfrey, 13 Stillman Ave., Danbury 06810-8007

Antonio Guerrera, 194 Catherine Dr., Rocky Hill 06067-1096

Brian Sear, 11 N Canterbury Rd., Canterbury 06331-1209

Elizabeth Ritter, 24 Old Mill Rd., Quaker Hill 06375-1319

Tony Hwang, PO Box 762, Fairfield 06824-0762

Joseph Serra, PO Box 233, Middletown 06457-0233

Gregg Haddad, 28 Storrs Heights Rd., Storrs Mansfield 06268-2322

John Hampton, 33 West Mountain, Simsbury 06092

Charlie Stallworth, 35 Wickliffe Cir., Bridgeport 06606-1929

Themis Klarides, 23 East Ct., Derby 06418-2640

Noreen Kokoruda, 85 Liberty St., Madison 06443-3258

Jonathan Steinberg, 1 Bushy Ridge Rd., Westport 06880-2104

Jack Hennessy, 556 Savoy St., Bridgeport 06606-4125
Delivered by The Daily Sheeple
- See more at: https://www.thedailysheeple.com/patriot-activist-makes-his-own-list-the-home-addresses-of-ct-legislators-who-just-voted-in-favor-of-gun-control_022014#sthash.BhSySqc6.dpuf