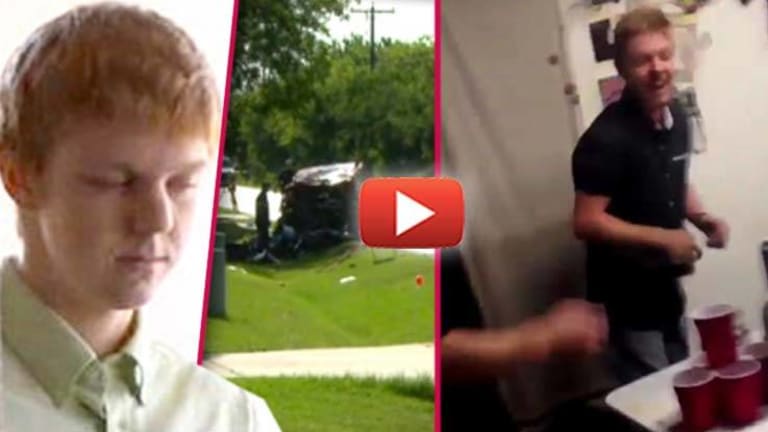 "Affluenza" Teen Who Got Away with Killing 4 People Because He Was Rich, Broke the Law AGAIN
Spoiled teen murderer Ethan Couch is on the run after a video of him violating his probation recently surfaced.
Fort Worth, TX -- Ethan Couch, the 18-year-old who killed four people while driving drunk in 2013, is on the run from police and is rumored to have fled the country after violating his probation. While he was on trial, Couch's defense was that he had "affluenza," or he was so rich and spoiled that he was totally unaware of consequences, and thus, not responsible for his actions.
Surprisingly, his plea was accepted by the court and he ended up getting a slap on the wrist, with ten years of probation. Probation is not an easy thing to go through, but for someone who is responsible for taking four lives, it is obviously a way more lenient sentence than most people would receive.
Recently, Couch was in the news again after a video of him surfaced at a party where he was bonging beers, drinking under-age, and violating the terms of his probation. When the video went viral and was seen by his probation officer, their office attempted to get in contact with him but, they were unable to. After checking his home, they discovered that both Couch and his mother were missing.

Tarrant County Sheriff Dee Anderson recently told K5 news that if he had a top 10 most wanted list, Couch would be No. 1.
"We're working every angle we can work, I've got a bunch of my fugitive guys working on it. He had a good amount of time to get a good head start, and we all know what kind of resources this family has to get out of town. Get out of the country. Who knows?" Anderson said.
"Now we've got to deal with this mess, now we have to spend more time, more resources, more taxpayer dollars out looking for someone who should be locked up. He's going to have to look over his shoulder the rest of his life. Anytime he gets anywhere we could apprehend him, we're going to find him. And we're going to keep looking and we're not going to stop," he added.
"With the wealth and the wherewithal that his family has, it's going to be a tough assignment for us to find him," Anderson admitted.
Most average people have their lives entirely ruined, or at least temporarily disrupted by drunk driving charges, even when no one has been hurt. If someone is killed, jail time is basically guaranteed. The fact that Couch got off so easy, especially considering his brazen "affluenza" defense, shows how corrupt and criminal the US justice system really is.
Amy George, a vice-president of the local Mothers Against Drunk Driving chapter, says that Couch has learned nothing from being responsible for the deaths of four people.
"He has clearly shown he is not remorseful and has not taken this seriously. Thirty-five years since MADD was founded, and to still see sentencing like that? It shouldn't happen, shouldn't happen," she said.
Scott Brown and Wm. Reagan Wynn, attorneys for the Couch family, made a statement on Tuesday night saying that they had no information about the family's whereabouts.
" width="790" height="444" frameborder="0" allowfullscreen="allowfullscreen">
John Vibes is an author and researcher who organizes a number of large events including the Free Your Mind Conference. He also has a publishing company where he offers a censorship free platform for both fiction and non-fiction writers. You can contact him and stay connected to his work at his Facebook page. You can purchase his books, or get your own book published at his website www.JohnVibes.com.