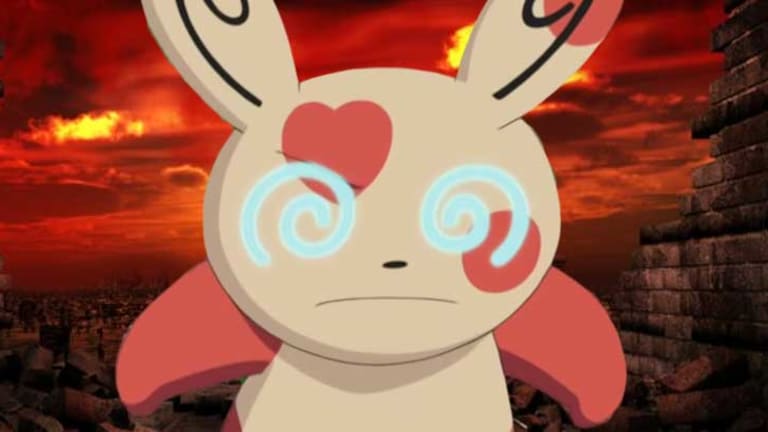 Three Critical Stories Americans Missed While Obsessing Over Pokémon
While the mainstream media and Americans alike are consumed with Pokémon -- world war 3 is looming and people are coming together like never before.
When browsing through the mainstream media abyss, there is no shortage of stories about people hunting down Pokémon on their office desks, in hospital rooms, and even in bathrooms. One teenage girl reportedly found a dead body while looking for Pokémon.
Pokémon is everywhere.
While there is certainly no harm in playing video games, focusing solely on distractions can be detrimental to a free society. Bread and circus anyone?
The week following America's anniversary of the declaration of independence quickly morphed into a gruesomely solemn time for the country as innocent blood spilled out into the streets.
Starting on Tuesday, a graphic cell phone video surfaced showing two officers execute Alton Sterling at point blank range as they held down his arms which prompted outrage in a Baton Rouge community and eventually nationwide.
Following the police killing of Alton Sterling, in a shocking video streamed on Facebook Live, Philando Castile, 32, is seen bleeding to death after a Minnesota police officer shot him through his driver-side car window. His girlfriend, Lavish Reynolds, captured the horrific scene on her cell phone, narrating the tragic events and streaming them live on Facebook.
These two deaths were enough to shake Americans out of their slumber and thousands took to the streets across the country to protest these needless murders.
While Americans peacefully protested these killings in Dallas, a murdering psychopath shot 12 police officers, killing five of them.
As the mainstream media and politicians alike capitalize on these tragedies to push their agendas, the dead air is filled with Pokémon.
Here at the Free Thought Project, however, we like to push through the haze to focus on important stories that the world is not being told.
Below are three hard-hitting incidents that have been swept under the rug in thie Pokémon induces hysteria.
Crips, Bloods Come Together in Baton Rouge with Powerful Message -- "All Lives Matter"
As factions across the country, from the mainstream to the grassroots, attempt to use the recent tragedies to breed divide, an unlikely and inspiring union has emerged. Late Sunday night, during protests in Baton Rouge, Bloods and Crips came forward with a powerful message -- black, white, all colors are uniting to fight injustice.
Speaking with 11 Alive news, two individuals dressed in red and blue, claiming membership with the rival Bloods and Crips gangs, said they are unified to keep the peace.
"Crips, Bloods...but you're putting that aside right now?" asks the reporter.
"Because, black lives....all lives actually. We're making a statement. We're making a point. All this racism, targeting people, individuals, is not cool," says the man with the blue bandana over his face.
The paradigm-shattering notion of saying all lives matter is likely going to stir controversy. However, hearing it from people who are supposed to be divided is awe inspiring. When people set aside their differences and get over superficial differences used to divide them, progress is made.
It is for this reason, that you will likely not see this story on FOXSNBCNN.
NATO and US Agree to Deploy Military Forces Against Non-Existent Russian Threat
As the airwaves were flooded with news about the shooting in Dallas on Friday, NATO leaders agreed to the deployment of military forces to Eastern Europe to bolster Baltic states against the threat of Russian incursion.
This move, that could likely kick off World War III, has been almost entirely ignored by the mainstream as Pokémon hysteria continues.
"These battalions will be robust and they will be multinational," NATO Secretary-General Jens Stoltenberg told a news conference following the first session of the alliance summit, Reutersreported. "They make clear that an attack on one ally will be considered an attack on the whole alliance."
The only problem with US and NATO military forces responding to a Russian threat -- is that there is no Russian threat.
This move by NATO is a reaction to US saber rattling propaganda, designed solely to bolster the military industrial complex. In fact, hacked emails of General Philip M. Breedlove, former head of the US European Command and supreme commander of NATO forces, reveal that the general has been attempting to push conflict with Russia for years.
Muslim Man Dies Saving Hundreds of Lives by Hugging a Suicide Bomber
As their murderous attacks in the Middle East continue, the world is finding out that ISIS is not representative of Islam. 
In a vicious attack on Thursday, at the Sayyed Mohammad Shrine in the town of Balad, something amazing happened. Thanks to a selfless Muslim hero, the death toll from the blast was far less than it should've been.
According to local news sources, Najih Shaker Al-Baldawi – a local resident of Balad, physically stopped the suicide bomber from entering the shrine before he detonated his suicide vest by hugging him, killing them both in the process.
According to a Joint Operations spokesman in Iraq, the attack caused 70 injuries. Instead of hundreds dying, only 37 were killed because of the heroic actions of a single Muslim man.
The idea of a Muslim man saving lives by fighting ISIL extremism is damning to the Islamophobic narrative pushed by certain sects of the mainstream and some in the alternative media as well -- which is why this story was ousted in favor of Pokémon.
Ironically enough, in 1998, a secret Army intelligence analysis suggested a new way to take out enemies: blast them with electromagnetic energy until their brains overload and they start to convulse. Amazingly, it was an idea inspired by Pokémon.
But don't believe us, read the secret US Army records, right here, FOIA-document