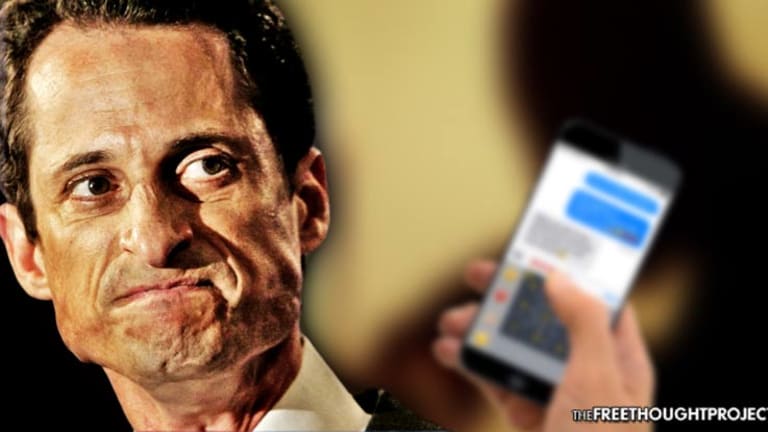 Scope of Anthony Weiner's Pedophilia Unveiled by Prosecutors, Laid Out in Gruesome Detail
To make sure that Weiner ends up in jail, the US Attorney for the district of New York has laid out—in gruesome detail—the specifics of his pedophilia.
This week, the prosecution documents were filed and released on the disgraced former Congressman, who was charged with obscene crimes against a minor in a pedophilia scandal that Hillary Clinton names as one of the reasons she lost the election. Anthony Weiner, who was once a strong contender to be the mayor of New York has been exposed, thanks to these newly released court records, as a sicko who needs to be in prison.
Prosecutors filed these documents in Manhattan Federal Court on Wednesday asking that the judge use the sentencing as an opportunity to send a message to other perverted pedophiles.
The Government respectfully submits this memorandum in connection with the sentencing of Anthony Weiner, which is scheduled for September 25, 2017, following his guilty plea to transferring obscene material to a minor. Although the defendant's self-destructive path from United States Congressman to felon is indisputably sad, his crime is serious and his demonstrated need for deterrence is real. The non-custodial sentence that Weiner proposes is simply inadequate; his crime deserves time in prison. For the reasons set forth below, the Government respectfully requests that Court sentence Weiner to a term of imprisonment within the range of 21 to 27 months.
To make sure the judge hands down the maximum sentence for this convicted pedophile, US Attorney for the district of New York, Joon Kim, graphically detailed the scenario in the prosecutor memorandum as it unfolded.
In the evening of January 23, 2016, a 15-year-old girl (the "Minor Victim") initiated contact with the defendant by sending him a direct message on Twitter. Over the next several hours, the Minor Victim and Weiner exchanged a series of messages, ranging from the mundane to the provocative. Early in the exchange, the Minor Victim revealed to Weiner that she was in high school. Despite knowing he was communicating with a high school student, Weiner participated in increasingly suggestive exchanges, telling the Minor Victim, among other things, that he thought she was "kinda sorta gorgeous." Their communications continued the next morning on Facebook messenger, then moved to Kik, and at some later point, Confide and Snapchat. The latter three all are messaging and photo-sharing applications that delete messages and images once viewed.
As January turned to February, their intermittent exchanges grew more lascivious. This was despite the fact that there could be no reasonable doubt in Weiner's mind that he was chatting with a minor – in addition to having revealed that she was a high school student, the Minor Victim told Weiner that she was getting her learner's permit. She explained in Facebook chats that she has "parents that wouldn't approve of some of the things" she does, and that she likes "older guys," "undefinedut that's illegal." The defendant correctly observed, "You are young," in one Kik message.
Against that backdrop, between February 17 and 23, 2016, Weiner and the Minor Victim participated in three video chat sessions on Skype.
There is no dispute that the Minor Victim repeatedly suggested that she and the defendant participate in video chats on Skype. Those suggestions were not, however, one-sided. For example, Twitter records reveal that during their first exchanges the night of January 23, 2016, at some point after the Minor Victim had suggested that they Skype, the defendant said "Leave the complex stuff for Skype." That night as well, after a suggestive exchange, the defendant said "Maybe Skype someday." Thus, although it was the Minor Victim who initially sought out Weiner, as the Government readily concedes, Weiner immediately responded to the Minor Victim's overture and willingly participated in the offense conduct thereafter.
It was then that the Minor Victim made clear that she was not just a minor – she was, in fact, only 15 years old. That did not stop Weiner. During the latter two Skype sessions, on February 18 and 23, 2016, and in a Snapchat communication on March 9, 2016, the defendant used graphic and obscene language to ask the Minor Victim to display her naked body and touch herself, which she did. He also sent an obscene message to the Minor Victim on Confide, describing what he would do to her, if she were 18. Part and parcel of these disturbing – and criminal – exchanges, the defendant also sent the Minor Victim adult pornography. In approximately March 2016, after several months of intermittent exchanges, communications between the defendant and Minor Victim largely stopped. The Minor Victim made efforts to re-engage, but was met with limited responsiveness.
The instant conduct was revealed to the public and law enforcement in September 2016, when the Daily Mail published the Minor Victim's account of her communications with Weiner after she participated in a paid interview.
The description of Weiner's conduct that his victim provided to investigators was truly sickening.
"He had some rape fantasies. It would just be him showing up at my house when my dad was out of town," the girl told the Mail. "And just start undressing me, being forceful, asking me if I want to be dominated, strange questions."
Weiner reportedly once told the girl, "I would bust that tight p–y so hard and so often that you would leak and limp for a week," and sent her bare-chested pictures of himself.
Naturally, Weiner's defense attempted to blame the victim, saying she wanted to generate material for a book and possibly influence the presidential election, according to the AP.
The defense claimed that Weiner "responded to the victim's request for sexually explicit messages not because she was a teenager, but in spite of it."
However, that did not work. The prosecutor answered back by noting:
While the Government does not contend that Weiner engaged in inappropriate sexual exchanges with other minors or that he is a pedophile, his professed ambivalence towards the Minor Victim's age is belied by the defendant's own statements to the court-appointed evaluator during his evaluation. Moreover, the defendant has acknowledged an interest in legal, adult, teen-themed pornography. In the context of this admitted interest, his insistence that he deserves a lighter sentence because the Minor Victim's age meant nothing to him rings hollow. Even if the Court were to credit Weiner's claim of ambivalence to the Minor Victim's age, that purported ambivalence is part of the problem. That his victim was a minor – and therefore his conduct a serious crime – did not deter Weiner from forging ahead.
In spite of the sickening details, laid out in the prosecutor memorandum above, Anthony Weiner pled guilty to a single charge of transferring obscene material to a minor after turning himself in to the FBI.
As more and more high-level politicians and elite get busted for their sick crimes against children, those who ridiculed and shouted down those who investigated pizzagate as some crazed conspiracy theory kooks begin to show their true colors. While pizzagate may not have happened in that pizza parlor, the idea of the ruling elite engaging in unspeakable crimes against children is a very real problem and certainly no laughing matter.