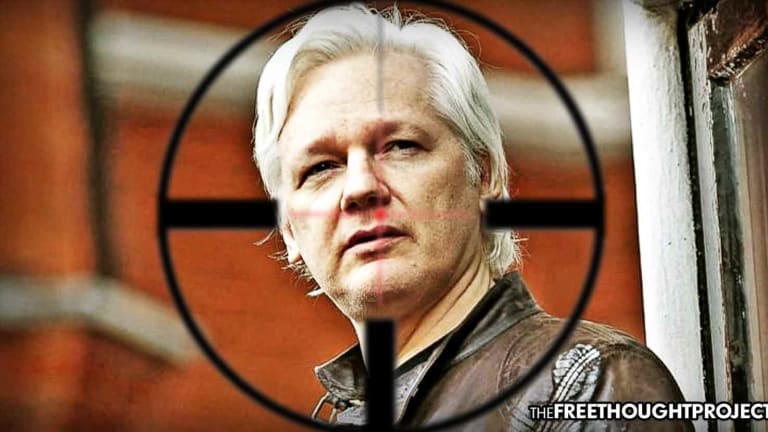 US Gov't Accidentally Reveals They're Charging Julian Assange, Paving the Way for Persecution of All Journalists
The US government accidentally copied and pasted information from sealed documents indicating that they have already charged Julian Assange for his journalism.
(ZH) — Update: The ACLU has published a statement declaring the US's decision to prosecute Assange to be "unprecedented and unconstitutional".
* * *
Mere hours after the Wall Street Journal reported that the DOJ was preparing to indict Wikileaks' founder Julian Assange, the Washington Post discovered that Assange has already been charged under seal by the Eastern District of Virginia, which has been handling the yearslong probe into Wikileaks' disclosures of classified government information.
The revelation was apparently the result of a copy-and-paste error in another, unrelated, court filing, according to Seamus Hughes. That case involved Seitu Sulayman Kokayi, a 29-year-old who had been charged with both enticing a 15-year-old girl into sex by sending him pornographic i mages while also having "substantial interest in terrorist acts."
Assistant US Attorney Kellen S. Dwyer, urging a judge to keep the matter sealed, wrote that "due to the sophistication of the defendant and the publicity surrounding the case, no other procedure is likely to keep confidential the fact that Assange has been charged." Later in the filing, Dwyer wrote that the charges would "need to remain sealed until Assange is arrested."
That Kokayi case involved previously classified information and prosecutors were planning to use information obtained under the FISA act. Kokayi was indicted last week and is set to be arraigned on Friday. His case has been sealed since September.
Since the revelation was made in error, no other details about the charges against Assange were revealed.
Dwyer is also assigned to the WikiLeaks case. People familiar with the matter said what Dwyer was disclosing was true, but unintentional.
Joshua Stueve, a spokesman for EDVA, said "the court filing was made in error. That was not the intended name for this filing."
Assuming he is charged, it's still not clear whether Assange would wind up in a US courtroom to face trial. He has been living in the US embassy in London since 2012, fearing he would be arrested if he steps outside. While the relationship between Assange and his Ecuadorian hosts had deteriorated significantly this year - he sued the government in an Ecuadorian court after the embassy cut off his Internet access and took other punitive measures reportedly in response to his slovenly habits and penchant for food-mooching. But he lost the suit, and is now appealing.
Even if he is charged, Assange's coming to the United States to face trial is no sure thing. Since June 2012, Assange has been living in the Ecuadoran Embassy in London, afraid that if he steps outside he will be arrested.

When he first sought asylum in the embassy, he was facing possible extradition to Sweden in a sex crimes case. He has argued that case was a pretext for what he predicted would be his arrest and extradition to the United States.

In the years since, the Swedish case has been closed, but Assange has said he cannot risk leaving the embassy because the United States would attempt to have him arrested and extradited for disclosures of U.S. government secrets. Throughout that time, the United States has refused to say whether there are any sealed charges against Assange.

If Assange were to leave the embassy and be arrested by British authorities, he would likely still fight extradition in the British courts.
The DOJ has for years refused to reveal whether charges have been pending against Assange under seal, though it was widely believed that they were. But. seeing as filings like Dwyer's are probably vetted by multiple readers, the fact that an error of such magnitude was allowed to be made is almost suspicious in and of itself, particularly considering the timing with other reports about the DOJ's efforts to indict Assange (before leaving office, Attorney General Jeff Sessions had confirmed that arresting Assange remained "a priority").
It's almost as if somebody had tried to warn him (Assange and Wikileaks have also been cited as unindicted co-conspirators in indictments against a Russian troll farm handed down by the Mueller probe).