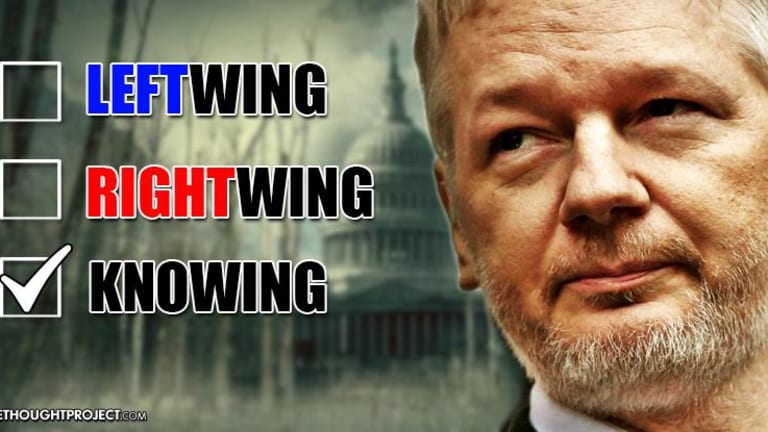 Assange Destroys Liberals and Conservatives, Shows How They're the Same in Epic Tweet Storm
Julian Assange, founder of WikiLeaks called out the hypocrisy by using one of the issues liberals and conservatives seem to agree on—the call for his assassination.
The false left vs. right paradigm has been used and abused in the United States for years, and yet in 2017, there is still a sense among Americans that there is actual difference between liberals and conservatives.
WikiLeaks founder Julian Assange called out the hypocrisy on Twitter by using one of the issues both Democrats and Republicans seem to agree on—the call for his assassination.
Assange began the Tweet storm over the weekend, with a Tweet that
Hello snowflakes. I will do a small tour now of some censorship double standards that I have a deep personal experience of, namely...
— Julian Assange (@JulianAssange) July 1, 2017
">said "Hello snowflakes," and then went on to note that he will focus on "some censorship double standards," such as the "threats to kill" he has received on Twitter. "I don't think people should threaten to kill others, but I don't think companies should be in the game of determining what is a threat and what is not because any such system will be played by those with greater access to the internals of the system," Assange wrote.

Assange then went on to describe the "system" run within social media platforms such as Twitter, in which "biases about how close to the in-group that runs the censorship system the complainer is and their relative social standing of the complainant."
Comparing the process on Twitter to the process that is seen in the modern day "justice system," Assange noted that both can lead to the same result because it typically happens that "those people who need justice the most are the least likely to get it."
Assange then posted a link to a video showing a compilation of politicians referring to him as a "terrorist" after he received asylum from Ecuador, and began living at the Ecuadoran Embassy in London in 2012.
From former Vice President Joe Biden, to former House Speaker Newt Gingrich, to former Secretary of State Hillary Clinton, to former White House Deputy Chief of Staff Karl Rove, to Senate Majority Leader Mitch McConnell—both Republicans and Democrats alike seemed to be reading the same script as they ">called Assange a "criminal," a "high-tech terrorist," and an individual who should be prosecuted to the fullest extent of the law.
Assange went on to reference Hillary Clinton's infamous "Can't we just drone this guy?" comment, that was made when she was the head of the State Department. At the time, Assange and WikiLeaks were threatening to release a trove of documents referred to as "CableGate."
These confidential cables would give insight into the internal communications within the State Department, leaving officials such as Clinton in search of a way to stop Assange and his organization for good.
Assange then turned to the mainstream media—an entity that has worked hand in hand with the U.S. government to demonize Assange for releasing credible information to the public. The list included a Tweet from Politico's Michael Grunwald in August 2013, saying that he "can't wait to write a defense of the drone strike that takes out Julian Assange," and a Washington Times Op-Ed from Jeffrey Kuhner calling for Assange's assassination in December 2010. "Julian Assange poses a clear and present danger to American national security," Kuhner wrote. "The WikiLeaks founder is more than a reckless provocateur. He is aiding and abetting terrorists in their war against America. The administration must take care of the problem—effectively and permanently."

Assange proceeded to add "#TolerantLiberal" when re-tweeting a torrent of posts calling for his assassination. Out of the nearly 30 Tweets Assange shared, several were then deleted by the original user.
The thing to remember is that Assange gained both international attention and international scrutiny for releasing thousands of classified documents that revealed U.S. soldiers killing and torturing innocent civilians in Iraq and Afghanistan. By showing Americans the reality of the war crimes that are being committed by their military and funded by their tax dollars, Assange did the public a service that most politicians and mainstream media pundits would never dare to do.
The issue of the sanctity of innocent life is one that should cross "party lines," and should be of the utmost importance. However, the fact that both liberals and conservatives have united together for a number of years to call for the assassination of the man who has risked his live to reveal the truth to the public, says everything about the fact that there is no true difference between the "left" and the "right."