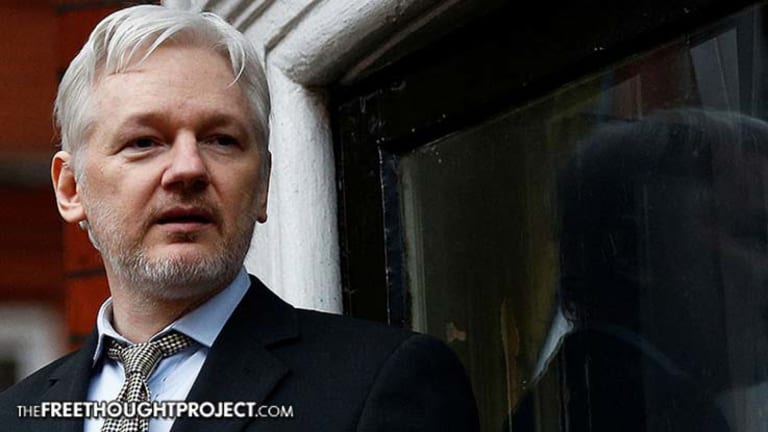 Julian Assange Emerges in New Interview -- Denies Rumors of WikiLeaks CIA Takeover
After weeks of a silent Assange, the WikiLeaks head has emerged in an audio-only interview, in which he dispels rumors of CIA co-opt.
(ZeroHedge) -- After weeks without a public appearance, which prompted many to speculate that Julian Assange has disappeared, or worse, the curious public demanded evidence that the Wikileaks founder is all right.
As Inquisitr reported, those pushing the theory that Julian Assange, an alleged candidate for Time's person of the year award, is missing or even dead have cited a number of seemingly strange coincidences in the past few weeks. Those include an incident in November when WikiLeaks tweeted insurance files and SHA-256 hashes that did not match previous tweets. To put it simply, this indicated to conspiracy theorists that WikiLeaks and Julian Assange were no longer in control of the Twitter account.
Another piece of evidence came from an interview with John Pilger, who claimed that it took place on October 30. But those who watched the interview noted that it had several strange points, like the fact that Assange's audio had been edited together and there were no references to current events. Regated compiled a list of all the major points cited in the conspiracy theory, including the incident of the hashes not matching and the Pilger interview.

It got to the point where on Thursday WikiLeaks urged people to stop asking for Assange 'proof of life'. "Please stop asking us for 'proof of life'. We do not control Assange's physical environment or internet connection. @MashiRafael does," the whistleblowing website tweeted on Thursday.
However, on Saturday, the concerned public may have finally gotten their answer when Julian Assange emerged and gave an audio interview as part of the Free Connected Minds conference. The first indirect proof of life came earlier today, when Craig Murray, the former British Ambassador to Uzbekistan, human rights activist and writer, reported that he had "just got back after a long chat with Julian Assange. We were joined for a light supper by the ever interesting and ebullient Yanis Varoufakis. Another of those brilliant evenings that will live in the mind. Julian is very aware of the persistent rumours about his position or health. He is fine apart from a cold, and buoyed by recent events."

Subsequently, the FCM conference released the full 1-hour recording of the conversation with the supposedly sick Assange, which can be heard below.
Many topics were discussed and touched upon by the (at times unintelligible) Assange, among them the manipulated role of the media - a sensitive topic these days, what the role of the West has been in creating ISIS, the issue of public ignorance in society today.
More importantly, Assange clearly states, 50 minutes into the interview, that his team remains in control of Wikileaks, explicitly telling moderator Youmna Naufal that "CIA taking over WikiLeaks is false."
While there was much more in the full interview, which is below, the take home message is that Assange "sounds" to be safe and sound, for the time being.
https://soundcloud.com/user-266487710/julian-assange-fcm16-full-interview-audio