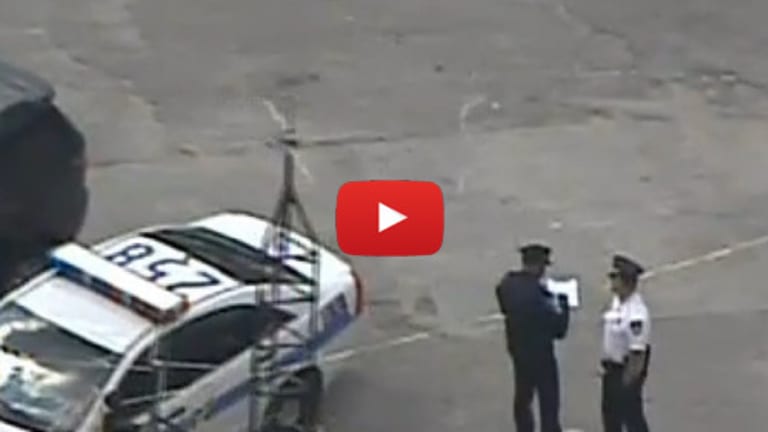 Baltimore Police Claim Handcuffed Man Shot Himself in Jail
John Vibes
August 6, 2014

According to Baltimore police, 38-year-old Tyree Woodson was able to sneak a gun past them at the time of his arrest, get the gun into a holding cell and later shoot himself while handcuffed in the bathroom. Tyree Woodson died this Tuesday of a gunshot wound, and now a day later there are more questions than answers about what happened in his holding cell bathroom.
The police department is claiming that the weapon did not belong to them, and that they have no clue where it came from.
"We don't know how the weapon made its way into the police station, let alone into the bathroom,"Deputy Commissioner Jerry Rodriguez told CBS News. "We know it was not our weapon."
Woodson was allegedly wanted on attempted murder charges, and if that is the case then it is certain that the arresting police would have taken extra care in searching the suspect. The idea that a person who police described as a violent criminal would not be thoroughly searched immediately after he was apprehended is a bit hard for some people to believe.
Some local activists have already demanded an independent investigation, but as usual the police will be conducting their own internal investigation.
In recent years, there have been countless stories of nearly impossible suicides that apparently occurred while suspects were in police custody. Last year, 17-year-old Jesus Huerta of North Carolina, died in the back of a squad car while he was handcuffed and after he was searched.
In that case the police conducted and internal investigation and determined that the case was a suicide.
Another similar situation occurred this year in Louisiana, when 22-year-old Victor White, III was killed with a gun in the back of a police car while handcuffed, that case too was ruled a suicide, even though he was shot in the back.
John Vibes is an author, researcher and investigative journalist who takes a special interest in the counter culture and the drug war. In addition to his writing and activist work he is also the owner of a successful music promotion company. In 2013, he became one of the organizers of the Free Your Mind Conference, which features top caliber speakers and whistle-blowers from all over the world. You can contact him and stay connected to his work at his Facebook page. You can find his 65 chapter Book entitled "Alchemy of the Timeless Renaissance" at bookpatch.com.